The food of summertime is one of my favourite things about the season and here in Saskatchewan, we're enjoying summer weather in full force. While we've had plenty of barbequed meals already to celebrate this month's many special days, there's so much more to summertime food than just barbeque and for a cool and refreshing meal on a hot day, there's nothing better than a hearty salad.
Personally, I tend to favour pasta salad recipes since they're so versatile. I'm actually not overly fond of the traditional pasta salad with ham and cheese that so many seem to love. But a pasta salad loaded with vegetables is a hit with me every time and so this weekend I decided to put a few twists on the Creamy Pesto Pasta Salad recipe on the Kraft What's Cooking website to create a Greek-style pasta salad perfect for a light summer supper.
Creamy Greek Pesto Pasta Salad
A flavourful and hearty pasta salad loaded with vegetables, perfect for a light supper or side dish.
Ingredients
3/4 cup pesto
1/4 cup Kraft Real Mayonnaise
2-1/2 cups whole wheat rotini pasta, cooked, drained and rinsed
1/2 cup sliced black olives
3 Tbsp. chopped sun-dried tomatoes
1/2 cup feta cheese, chopped
1/2 cup cherry tomatoes, halved
1/2 cup fresh spinach, torn
Instructions
Mix pesto and mayonnaise in large bowl until well blended.
Add remaining ingredients; mix lightly.
Refrigerate at least one hour or overnight if desired.
Nutrition Information:
Yield:

4
Serving Size:

1 grams
Amount Per Serving:
Unsaturated Fat:

0g

The addition of feta cheese, cherry tomatoes and spinach gave this salad some extra heartiness and nutrition to help take it from side dish to main course. The sun-dried tomatoes and pesto dressing contribute great flavour to the salad as well; I have to admit, I'm a bit of a sucker for anything involving pesto.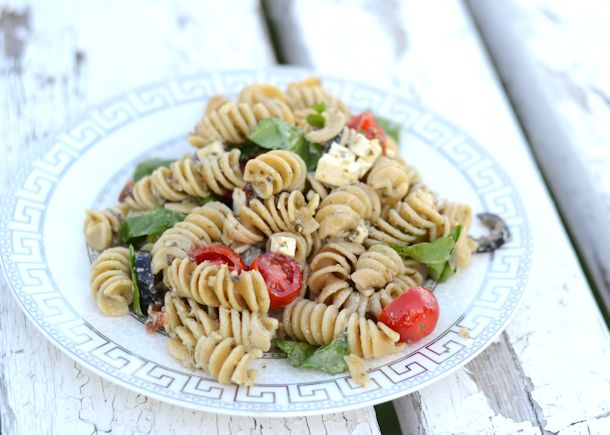 And to make a light supper a little heartier, this salad is a perfect accompaniment to grilled chicken. While it would be ideal just served on the side, I actually think that the next time I make it, I may grill a chicken breast and add the strips to the salad. What better way could there be to keep cool on a hot day?
While my Greek salad may not suit everyone, there are plenty of other delicious pasta salad recipes on the Kraft What's Cooking website as well and I can't wait to give a few of them a try. Next time I think I'll be making the Creamy Tortellini Primavera Salad; the blend of fresh spring vegetables and cheese-filled pasta sounds like it would suit my tastes perfectly. Check out the recipes for yourself and find a new favourite for your family to enjoy on the next long weekend!