Picking out the perfect Mother's Day gift can be a challenge, but this year, why not give a gift that Mom will love and that can help make a difference in the lives of other women as well! The Canadian Women's Foundation has teamed up with Winners and HomeSense to offer a gorgeous line of uplifting home décor items that make a perfect gift for Mom, and the net proceeds of the items will be used by the Canadian Women's Foundation to assist Canadian women experiencing violence. And with prices between $5.99 and $24.99, they're great value too!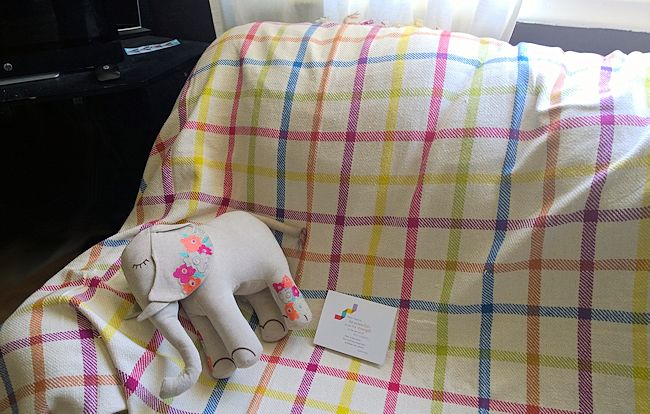 The Shop for Hope line has something for everyone, from comfy throws and inspiring pillows to sweet candles, jewellery boxes and teacups in stylish and feminine designs. Adding a few new items to your home to freshen up its look for spring is always a great decision and when you can also support such a worthy cause, it makes updating your décor even sweeter! But the collection is only available until May 11, 2014, so don't wait too long!
I received the beautiful Shop for Hope throw and plush elephant so that I could see for myself how beautiful these items were and I fell in love with both of them as soon as they arrived. While I love my chocolate-brown living room walls, they do give the room a fairly dark look that doesn't suit the freshness of spring. Simply by tossing the throw onto my couch and placing the adorable elephant nearby, I was able to instantly brighten the look of the room to make it more fresh and fun for the season!
Winners, HomeSense and the Canadian Women's Foundation are so excited about this fabulous partnership that they've put together a very special giveaway just for you! One lucky Mommy Kat and Kids reader is going to win a prize pack containing one of every item from the Shop for Hope collection, a $250 value! To enter to win, just take a look at the items in the collection and leave a blog comment about which one is your favourite.
More than two-thirds of Canadians know a woman that's experience violence and in a country as progressive as Canada, that's a statistic that simply shouldn't exist. But every year the Canadian Women's Foundation helps over 30,000 women and girls to move out of violence, out of poverty and into confidence. On a day that honours and celebrates the most important woman in our life, what better gift could there be than one that helps other women to live a better life as well? Shop the collection until May 11, 2014 at Winners and HomeSense stores and show your support!