Before having children, I prided myself on being low-maintenance. I lived mostly in jeans, never accessorized with jewellery and didn't usually fuss with makeup. But after having two boys and being the only female in the house for such a long time, I started embracing my inner girl in a big way. Still, I wanted fashions and accessories that were unique as well as pretty. And it was a big bonus if those stylish new items could also help create a better life for someone else!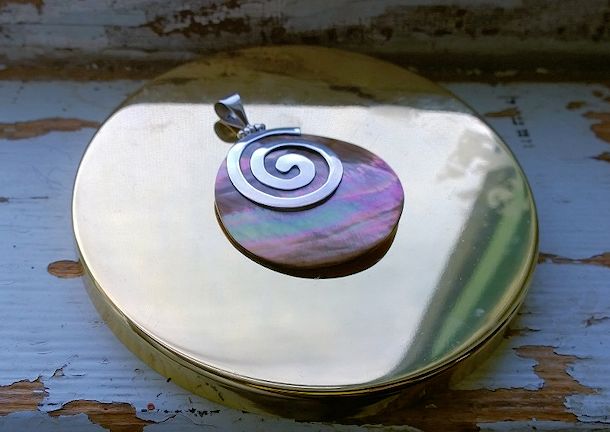 That's why I love shopping at Jinja Jewelry. The company offers handmade jewelry created by talented Balinese artisans offered at an incredible price. The pieces are unique and striking, but in addition, Jinja Jewelry is passionate about fair-trade ethics, so all the artisans are paid a fair wage for their creations!
I received a beautiful Jinja Pendent to review and I loved the natural beauty of the piece. The polished brown mother of pearl circle had its own unique look and colour, which was enhanced by the shining silver spiral at the top. The pendent didn't come with a chain, but as I have quite a bit of silver jewellery, finding one that worked well with it was no problem at all. And I noticed right away that while the pendant is striking and noticeable because of its size, it's also understated enough for everyday wear thanks to its neutral colours.
Finding new and original jewellery is always exciting for me, but finding it at Jinja Jewelry is an extra special experience since I know that the creators of these beautiful pieces are able to provide their families with a brighter future because of my purchase. Take a look at the selection and find a special new accessory that you can't live without. This beautiful and meaningful jewellery is sure to put a smile on your face every time you wear it!