When I want to know absolutely anything, I fire up my laptop and search the Internet for an answer. Whether I'm looking for a cute new spring outfit or I want to find a substitution for semolina flour, I know that I'll be able to find what I need online somewhere. But it never occurred to me that Canadians may be searching differently than the rest of the world!
Now, just in time for Canada Day, Bing, the search engine designed to help people make more informed decisions faster, has announced their Top 50 Canadiana Search Terms! This year, Canadian Tire took the top spot, rising eight places since 2012! Who else made it into the top ten? A long winter and dreams of sunshine no doubt helped Air Canada claim second place. And Canadians clearly have our country's best interests at heart since Environment Canada took spot number five!
Of course, it stands to reason that this list would find both Rob Ford and Justin Bieber taking a spot in the top ten considering how often the two have made headlines this year. MLS, The Bay, TSX, the Toronto Maple Leafs and OLG round out the top ten.
To treat you to some of the things Canadians love best, Bing has put together a special prize pack containing items from the top ten worth $100! The prize contains a $25 Canadian Tire gift card, a leather luggage tag in honour of Air Canada, $10 in OLG scratch tickets, a $20 donation to The Nature Conservancy of Canada in honour of Environment Canada and a set of four HBC collection patio glasses from The Bay! To enter to win, just leave a blog comment about one of these top 50 search terms that is something you might search for!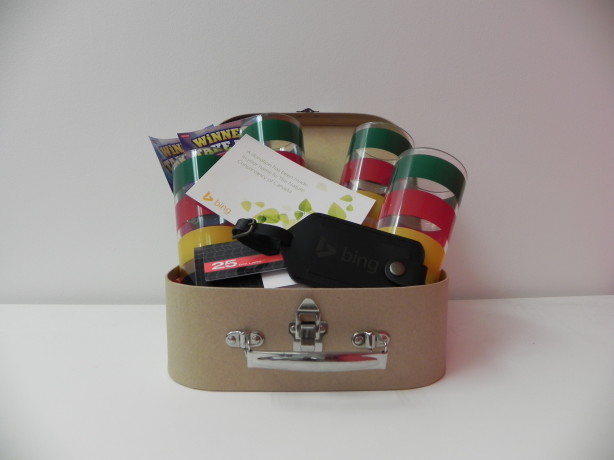 I had so much fun checking out this list from Bing, and I have to admit that there were a few surprises. I would have thought for sure that Tim Hortons would make the top ten, and considering how popular Poutine is, I would have guessed it would rank higher than spot 45. Still, it's clear that us Canadians have our own unique style and the way we search online is just one of the many ways we show our Canadian pride!
a Rafflecopter giveaway