I love baking but occasionally I just don't have time for it. Whether it's an especially busy time of year with school and work or it's the middle of summer and turning on the oven would sweat us out of the house, baking cookies from scratch, while delicious, simply isn't always an option.
When that happens, I sometimes buy store-bought cookies for lunches and treats instead, and no brand of cookies makes my boys quite as happy as Voortman. I have to admit, when I think about Voortman cookies, I immediately picture the soft round turnover cookies with a fruit centre that my mom used to occasionally buy for a treat when I was a child. But the company has expanded its line so much since then! From low-sugar options to fun new flavours, there's something for every taste!
I recently received a package of Voortman cookies to review and it goes without saying that my boys were delighted to have the chance to test out different types of cookies. The Vanilla Wafer Cookies and Cookies'n Cream Wafer Cookies were the ones that they especially loved; I rarely think to buy these when I'm looking for treats but they're such a kid-friendly choice that I really need to start getting them more often!
Personally, I fell in love with the Mini Coconut Crunch cookies, a type of cookie I had never seen from Voortman before. These crunchy cookies have an irresistible coconut flavour and the mini size is perfect for those times when I'm craving a little sweet snack without going overboard.
For those on restricted diets, Voortman also offers a line of sugar-free cookies. Alternatively, a new line of Omega-3 enriched cookies provide a little extra health boost along with that sugary snack. Best of all, Voortman was the first Canadian food company to completely eliminate the use of Trans fats in its products! But if my boys' reactions to these cookies are any indication, eliminating unhealthy fat from the cookies certainly didn't make them any less delicious!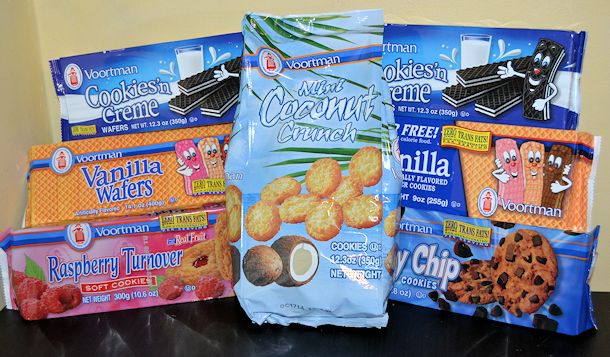 If you'd like to enjoy a little sweet indulgence courtesy of Voortman, you're in luck! The company is very generously offering one lucky Mommy Kat and Kids reader a cookie prize pack just like the one I received! To enter to win, just leave a blog comment about which variety of Voortman cookies you love most.
It's been awhile since we've had Voortman cookies and I appreciated the chance to remember why these tasty treats are such a Canadian favourite. Grab a package of your favourite Voortman cookies to celebrate the end of the school year with your kids and enjoy some sweet fun with these cookies that have been loved by families for generations!
a Rafflecopter giveaway