I have been fascinated by the concept of meal planning for a few years now. I have repeatedly heard that it is one of the best ways to save money on the grocery budget and I know it must be a huge stress saver as well to not have to worry about what to make for supper each day.
But I have to admit, I always thought the process was far too complicated for me to be able to manage.
Then Unilever, the makers of numerous dinnertime favourites including Hellman's, Knorr and Ragu, gave me the chance to chat with expert meal planner Sandi Richard and I had high hopes that her advice might help me to finally figure out this concept and start enjoying the benefits of meal planning.
Luckily for me, Sandi understands that busy parents don't have time for a complex and confusing system when it comes to meal planning. The process should start, she says, with a simple sheet of paper (you can download a blank "Eat Sheet" on her website) and a family meeting.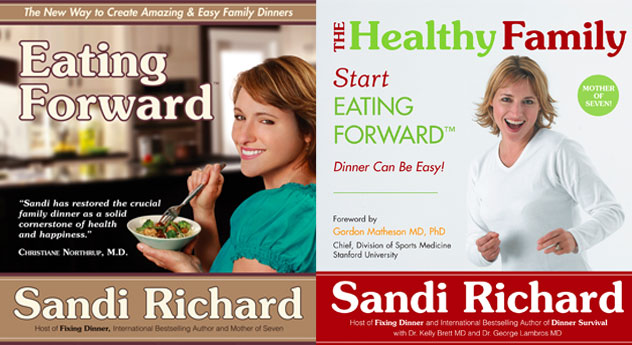 Sandi was full of practical tips and the first one was that only five meals per week should be planned. She said there should be one day when parents can feel fine about ordering out and one day when eating grilled cheese and soup is acceptable, so five meals can take a family through the week without a problem.
To decide on those five meals, she suggests just using a blank sheet of paper and filling in each of the meals. But to make the process work, getting input from the entire family is crucial!
What I loved about Sandi's system is that every member of the family contributed their own meal ideas to the menu. Since my boys are sometimes picky about their food, this method allows them to choose meals that they're sure to eat, but also allows me to choose meals I love that will introduce my boys to different tastes.
And as Sandi says, if tacos end up on the menu every single week, there's nothing that's really so bad about that!
By using this method and creating different meal plans each week for about three weeks, a kid-approved rotation of meals is created that can be used over and over again.
And all with minimal stress and no need for a complicated system! Sandi makes it clear that over-planning leads to failure, so simplicity should always be the goal!
I loved the idea of having children involved in the meal planning process, but I wanted to take that even further and have my boys actually get involved in the cooking as well. And once again, Sandi had the perfect advice!
She suggests choosing a simple, assembly only meal and letting a child between 8-12 prepare it on their own from start to finish. A simple Parmesan Crusted Chicken recipe was her personal favourite, and I loved the idea of having Zackary make one of the week's supper meals himself!
The result of having a child cook one of the meals, Sandi explains, is that with copious praise for the dish, the child is more willing to eat the meal and will also want to make it again.
And once it's been added to the rotation of meals, a child will usually request another recipe to create! The benefits of this are two-fold. First, the parent experiences less stress since the child is cooking one of the weekly meals. Second, the child is learning essential cooking skills that will be beneficial for a lifetime!
I loved chatting with Sandi Richard and really appreciated the "Love Every Meal" philosophy that she and Unilever are embracing. "Dinner is not a test and we have to stop treating it like one," Sandy says.
A little simple planning can help take the stress out of mealtime and prevent parents from feeling like they've failed their family when dinner rolls around. And to top it all off, Sandi says every family she has worked with has saved a minimum of 50% on their grocery bill once they start using this system!
Quick and easy is a philosophy I use a lot when it comes to cooking and so a meal planning system that embraces that same philosophy is one that I am much more likely to try.
Start this simple meal rotation with your family and see how some basic meal planning techniques can save you money and minimize your stress when dinnertime rolls around!
Parmesan Crusted Chicken
A simple and delicious main dish easy enough for children to prepare! Just pop the chicken breasts in the oven when your child has finished the preparation!
Ingredients
4 boneless skinless chicken breasts
1/2 cup Hellman's mayonnaise
1/4 cup grated Parmesan cheese
4 tsp. Italian bread crumbs
Instructions
Mix Hellman's mayonnaise and Parmesan cheese in a small bowl.
Dip chicken breasts in mayonnaise mixture and place on baking sheet.
Sprinkle chicken breasts with Italian bread crumbs.
Bake at 425 degrees for 20 minutes and serve.
Nutrition Information:
Yield:

4
Serving Size:

1 grams
Amount Per Serving:
Unsaturated Fat:

0g