I love mixed grain products for the added nutritional benefits they provide, and Ancient Grain products tend to be a special favourite. I generally enjoy Ancient Grain blends in things like bread and tortillas, but now General Mills is bringing the blend of grains to breakfast with brand new Multi-Grain Cheerios + Ancient Grains! This combination of Multi-Grain Cheerios with puffed and toasted kamut, spelt and corn is a fun new addition to breakfast and one I couldn't wait to try.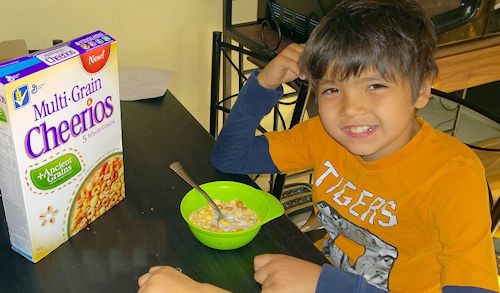 I have to admit, I had expected the cereal to incorporate the grains into the Cheerios themselves, so it was interesting to experience the blend of puffed kamut, spelt and corn combined with Cheerios when I poured a bowl each for my boys. Zackary and Benjamin liked the new flavour and texture the different grains added to the cereal as well as the slightly sweet cinnamon and spice flavour!
And I liked the added nutrition that the added Ancient Grains provided. With just 110 calories per bowl and nine essential vitamins and minearls, this cereal is such a great choice for providing long-lasting energy for a busy day.
If you'd love to add the benefits of Ancient Grains to your lifestyle, General Mills is ready to help! The company is very generously offering one lucky reader a Multi-Grain Cheerios + Ancient Grains prize pack containing a NutriBullet, a Lululemon yoga mat and block and three boxes of Multi-Grain Cheerios + Ancient Grains, a $170 value! To enter to win, just leave a blog comment about why you'd love to try this new cereal.
New Multi-Grain Cheerios + Ancient Grains is available in stores now and is a great addition to a healthy lifestyle. Grab a box for yourself and see what you think of this delicious blend of Ancient Grains and Multi-Grain Cheerios!
a Rafflecopter giveaway