Some time ago I had the chance to play Big Fish Games' iPad release of Midnight Castle and I came away quite impressed by this immersive hidden object adventure. Today, the company is back at it again with the much-anticipated release of Awakening Kingdoms for iPad and iPhone, the next title in the Awakening series. This hidden object adventure sees you, the royal steward, in charge of the kingdom after a devastating war has left the castle and its land in ruins. You are tasked with not so envious job of returning it to its former glory.
The game is made up of mini-quests assigned by the kingdom's inhabitants with the core of the gameplay being hidden object adventures. You'll need to find an assortment of items hidden in plain sight against a lushly drawn backdrop. The faster you find the objects, the bigger the reward of shiny gold Bolgins and vital Crystals!
As the game progresses, new areas of the map will reveal themselves with new characters to meet and quests to complete. The rewards collected throughout the game are then used to restore sections of Skyward Castle and remove the curse left behind by the evil dark mage, Dreadmyre.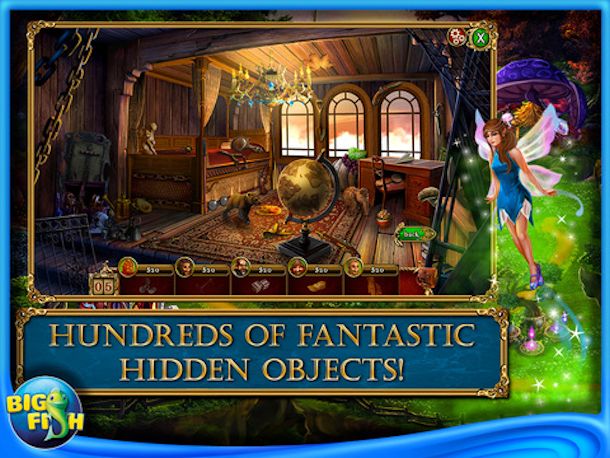 The graphics of the game, much like Big Fish Games' previous titles, are quite stunning. Little bits of animation will appear in the background, like a wise old tree whose eyes will open and blink a few times before he goes back to sleep. The background music echoes the imagery with soothing tunes that change based on the part of the map you're exploring.
With so many games today rooted in hyperactive violence, it's refreshing to play something that requires patience and concentration instead. This is a game that could occupy players for hours at a time as you're always left wanting to complete just one more quest! The game is rated for ages 4 and up on iTunes, which I think is entirely appropriate. I would caution parents to check their account settings though, as Awakening Kingdoms does offer in-game purchases of Crystals and Bolgins. Left unchecked, youngsters might just rack up charges on your account!
Awakening Kingdoms is available today on iTunes as well as PC and is absolutely free to download and play. It is a fun game choice for all ages that has high entertainment value, an enchanting fantasy world to explore and a polished gaming platform. Download your copy today and restore the kingdom to splendor once more!