Calling all ghosts, ghouls and goblins! This All Hallows' Eve, while wicked witches are brewing their cauldrons and zombies are creeping through the night, we suspect that you and your kids will be chanting "trick or treat!"
With all the candy enjoyed this Halloween, it's important to take care of those pearly whites. Luckily with the great Arm & Hammer™, Spinbrush™ and Orajel™ products, you can ensure that your costume does the scaring and not your teeth.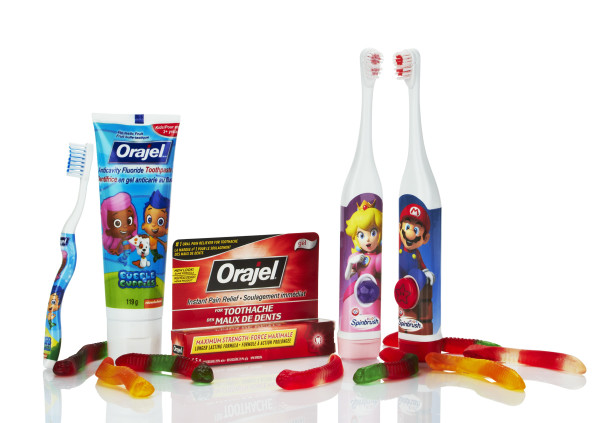 Personally, my boys enjoy brushing their teeth a lot more when they have fun toothbrushes to use.
The new Arm & Hammer™ Spinbrush™ Super Mario Bros Toothbrush lets kids brush their teeth with their favourite Super Mario character. Zackary and Benjamin have been obsessed with Super Mario for years, so these new brushes are sure to be a hit with them!
With any kids brush, it's important that the design works for their unique needs. Look for a toothbrush that is designed with a smaller brush head (best for smaller mouths) and a brush head that helps remove plaque and massage gums.
Battery powered toothbrushes are a great option for kids as it makes tooth brushing time that much more fun.
To help fight against cavities, strengthen teeth and add fun to your kids brushing routine, try new Orajel™ Bubble Guppies Kids Anticavity Fluoride Toothpaste Gel and Manual Toothbrush.
These are the perfect tools to help transition kids from fluoride-free to fruity fluoride toothpaste, featuring fun characters from the hit television show Bubble Guppies.
The manual toothbrush's coloured bristle guide shows children where to place their toothpaste, while the soft bristles are gentle on young teeth and gums. Plus the handle provides a comfortable grip for little hands!
Colourful, great-tasting toothpaste is such an easy way of making brushing more fun. Just remember that children under the age of three should always be supervised by an adult when brushing.
For the parents that sneak one too many treats from the candy bag, Orajel™ has what you need to make sure your sweet tooth doesn't cause you pain.
With Orajel™ Maximum Strength Toothache Pain Relief Gel, you can enjoy sweets and know that if a stubborn toothache happens as a result, you will be able to get instant relief.
I've had a twinge of sensitivity when snacking more times than I can count; so having a tube of Orajel in the cupboard is a must for me! Now seize the eerie night with beautiful, clean and white teeth…and Happy Halloween!