Thanksgiving is the official kick-off of the holiday season for most families and ours is no exception. But between the colder weather, the extra treats and the decrease in time spent outdoors, it's also the season when colds and flues start to attack with a vengeance.
And that's certainly been the case this year! My oldest son coming home from school with a cough has gradually led to every single member of our family spending at least a day in bed with a fever and a hacking cough.
Now that we're all pretty much recovered, I know I need to do more to ensure we're getting proper nutrition during the holiday months.
Since a good breakfast is always a great place to start, I decided to create a hearty, nutrient-rich muffin recipe that would help my boys start the day off with plenty of energy and plenty of nutrients too!
These muffins are already a healthy breakfast choice thanks to the fibre in the bran and the antioxidants in the mixed berries, but to increase their nutrition even more, I like to add two scoops of Orange Naturals ND Shake Kids Vanilla Mix to the batter.
It adds a great vanilla flavour to the muffins and also increases the protein and vitamins that my boys and I are getting. The versatility of this shake mix is one of my favourite things about the product!
For more great recipes and ideas on how you can incorporate Orange Naturals into your favourite recipes to help boost your health, make sure to check out the Naturally at Home blog or subscribe to the Naturally at Home newsletter!
It's a great way to discover healthy new meals for your family while also seeing how Orange Naturals products can help you sail through the holiday season feeling healthy and happy.
I always feel so helpless when my boys are sick, since often there's nothing I can do to make them feel better other than ensuring they're getting plenty of rest and drinking lots of fluids.
But by being proactive with our nutrition this winter, I'm sure they won't be sick often. And with so many great tinctures, homeopathics and supplements from Orange Naturals to help, I'm looking forward to a healthy winter!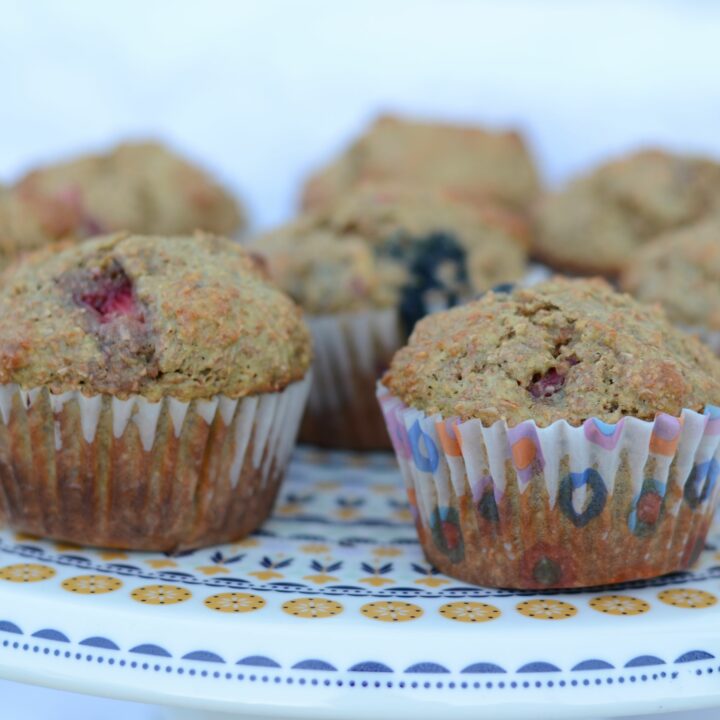 Berry Bran Muffins
Quick and healthy muffins perfect for a hearty winter breakfast.
Ingredients
1 1/2 cups natural bran
1 cup buttermilk
1/3 cup canola oil
1 egg
2/3 cup brown sugar
1/2 tsp. vanilla
1 cup flour
1 tsp. baking powder
1 tsp. baking soda
1/2 tsp. salt
2/3 cup frozen mixed berries, halve or quarter large berries
Instructions
Grease muffin tins or line with muffin papers and preheat oven to 400 degrees.
Mix buttermilk with bran. Let stand while beating together oil, egg, sugar, and vanilla.
Mix egg mixture with bran mixture until combined.
Sift flour, baking soda, baking powder and salt together until thoroughly mixed.
Add flour mixture to bran mixture and stir together just until combined.
Add berries and fold in gently. Spoon into tins.
Bake at 400 degrees for 15 to 20 minutes.
Notes
One tbsp lemon juice added to one cup of milk can be used in place of buttermilk.
Nutrition Information:
Yield:

12
Serving Size:

1 muffin
Amount Per Serving:
Calories:

165
Total Fat:

7g
Saturated Fat:

1g
Trans Fat:

0g
Unsaturated Fat:

6g
Cholesterol:

16mg
Sodium:

290mg
Carbohydrates:

25g
Fiber:

4g
Sugar:

12g
Protein:

4g
Disclosure: I am part of the Orange Naturals Mom Ambassador Program and I receive special
perks as part of my affiliation with this group. The opinions on this blog are my own.