Skin sensitivity is something that I've known quite a bit about ever since I was a child. My younger sister suffered from severe eczema when she was little and used to wake up screaming in the night because she was itching so badly.
When we grew up and had our own children, my boys dealt with some mild irritations and allergies of their own and my oldest niece suffered from the same severe eczema as my sister once had.
Needless to say, I've done my fair share of research into ways to minimize skin irritation. And if your family ever has negative skin reactions, Canadian dermatologist Dr. Sandy Skotnicki has some great tips to help avoid allergic reactions and other skin sensitivity issues!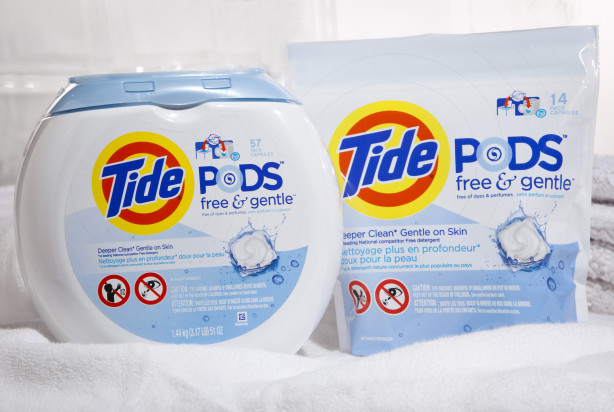 Avoid fragrances and or botanicals in your daily washing, soaps, detergents and moisturizers, as they can be both irritants and allergens. Test out a detergent like the new Tide Pods Free & Gentle. For people with sensitive skin seeking a detergent free of dyes and perfumes, Tide Pods Free & Gentle provides a deep clean that leaves behind no dyes or perfumes on fabrics, for gentleness on skin.
Stick to non-foaming "soaps" in the shower. They do not strip the skin of its natural oils.
Only shower or bath once a day. Water dries out the skin.
Make sure that you keep bathing times to under 15 minutes and avoid using hot water.
After bathing, pat dry. Rubbing your body with a towel will remove moisture and further dry out your skin.
My boys luckily don't seem to react to synthetic scents at all but I know many children that do, including my niece. So I always appreciate companies that recognize the need for scent-free products suitable for sensitive skin.
Tide has offered scent-free liquid laundry detergent for years, but now the company is making laundry easier than ever for parents in need of scent-free products with new Tide Pods Free & Gentle!
Having visited the fabric care facility and talked so often with the people behind the products at P&G, I know that customers have been asking for a scent-free version of Tide Pods since shortly after the original Tide Pods were released. I also know that the creators of Tide would never release a product until it's been thoroughly developed and tested to prove it can live up to the Tide name.
Sure enough, Tide Pods Free & Gentle do just that. Not only are they the ideal choice for sensitive skin, but the pods also provide the deep cleaning power that consumers expect from Tide.
Now that's the best of both worlds for anyone with sensitive skin! And paired with Ultra Downy Free & Sensitive or Bounce Free & Sensitive, clothes come out of the wash cleaner and last longer too!
The new Tide Pods Free & Gentle are available now at stores across Canada and if you're a parent that's longed to experience the convenience of pod laundry detergent but haven't been able to find a scent-free way to do so while still getting a great clean, this is a product you have to try. See what you think of the new Tide Pods that are perfect for sensitive skin!