It's hard to believe it, but Christmas is only about six weeks away and my boys are already starting to get excited. The hunt to find the perfect toys for under the tree has begun and this year, VTech has a great new option for parents that want to combine fun and learning! The new VTech InnoTab Max is the ultimate learning tablet for kids between three and nine years of age and is sure to be a hit this holiday season.
So what sets the VTech InnoTab Max apart from previous VTech tablets? The 7-inch, high-resolution multi-touch screen is part of the tablet's appeal. And the included kid-friendly cover protects the tablet when it's being used by smaller children, yet is removable when an older child wants a more adult-style tablet experience.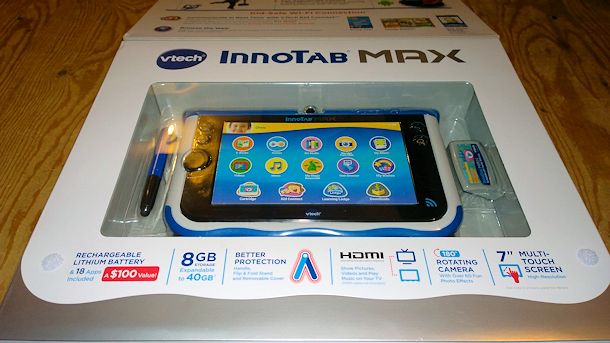 But what really makes the VTech InnoTab Max so great is the fact that it can be loaded not just with VTech apps, but also with educator-supported Android apps. Kids can now enjoy the best of both world with both VTech and Android content, yet you won't have to worry about your child downloading anything inappropriate!
To top it all off, the Kid-Safe Wi-Fi connection lets kids send and receive voice messages, photos, drawings and more to and from iPhone and Android smartphones, so you can stay connected to your child even when you're away from the house. You can start group chats or post messages and reminders on the Family Bulletin.
If you have a child that would love to learn with VTech, you're in luck! The company is very generously offering one Mommy Kat and Kids reader their own VTech InnoTab Max, a $120 value! To enter to win, just leave a blog comment about why you think your child would love this tablet.
From the 180-degree rotating camera with over 60 photo effects to the versatile parental controls that let kids browse websites safely to the rechargeable battery so your child can play all day, there's just so much potential for fun and learning packed into this tablet. Find it at toy stores across North America and get ready for squeals of delight on Christmas morning!