It takes a special combination of elements for a toy to really appeal to a toddler. Bright colours, music, lights and plenty of interactive pieces help to keep little ones entertained for hours at a time and VTech has been an expert at creating toys that fit those requirements for a long time now. This holiday season is no exception and if you're shopping for a toddler, the VTech Go! Go! Smart Animals Zoo Explorers Playset is sure to be a top choice.
The set features thirteen track pieces that can be combined in different ways to create a fun-filled course for the VTech SmartPoint animals. A Rhino SmartPoint animal is included with the set and kids will love moving him around the track and seeing how he responds to the seven special SmartPoint locations on the track with different phrases, music and sounds. Even better, the set is compatible with other SmartPoint animals too!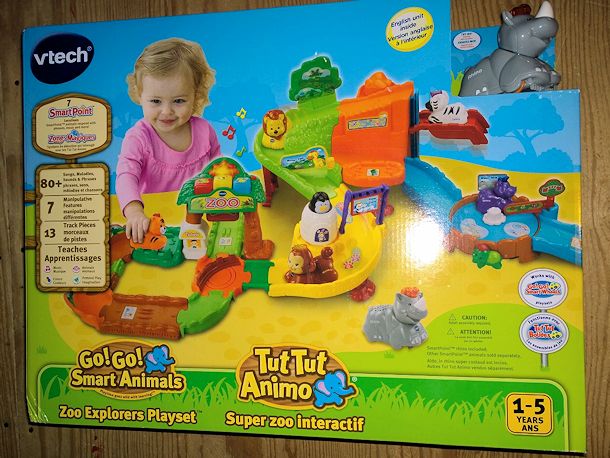 The Zoo Explorers Playset also features a variety of manipulative features to help develop motor skills. Kids can spin a small turtle on the side of the water tank to see the water spin around, stack an igloo and a penguin on the polar zone platform, turn the gate to send their SmartPoint animals in different directions and slide the elevator up and down.
Of course, because this is a VTech toy, there's also plenty of educational content in this playset. With two different modes of play, kids can choose between learning animal names and characteristics or colours and music. There's so many different ways to have fun and learn new things with the Go! Go! Smart Animals Zoo Explorers Playset!
If you know a child that would love to spend time playing with this set on Christmas morning, you won't want to miss this! VTech Canada is very generously offering one lucky Mommy Kat and Kids reader their own Go! Go! Smart Animals Zoo Explorers Playset, a $50 value! To enter to win, just leave a blog comment about your favourite feature of this toy.
This set is perfect for children up to five years of age and I have a three-year-old nephew that I know will absolutely love learning and exploring with the track and the SmartPoint Animals. If you have toddlers on your Christmas list, make sure you check out this fun set and other Go! Go! Smart Animals toys from VTech!