As soon as we get close to the end of the year, I start planning my goals for the New Year ahead. While I don't exactly make New Year's Resolutions, I do set a list of goals for myself that I plan to accomplish in the coming months. This year, keeping my home and business organized is one of those goals and the job will be a little easier with some great products from Master Lock!
7149D Storage Security Box
This locking security box is essential for keeping important papers organized and safely contained, something that's often a struggle for me. In fact, recently I wasted hours hunting all through the house looking for my birth certificate and eventually ended up spending money ordering another one to save me from having to search any further. Now that I have this convenient storage box, our family's birth certificates, SIN numbers, mortgage papers and banking information are all carefully and securely stored so that I can access them when I need them.
5900D SafeSpace Portable Safe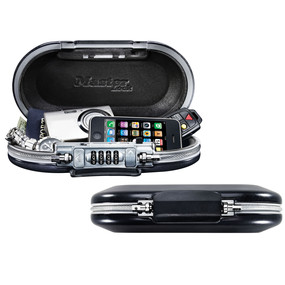 This handy portable safe is so useful both for at home and for travelling. I have recently started using mine to store our passports when at home so that I always know where they are. When the time comes to make a trip, I simply add our travel insurance information to the safe and pop it into my luggage. I used to have a tendency to keep our passports either in an open drawer or in my purse, both of which were neither organized nor secure. Thankfully the 5900D ended that bad habit for good!
5422D Key Safe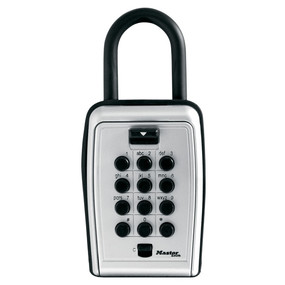 One of the worst consequences of being somewhat disorganized is forgetting or losing keys. I remember years ago I once locked myself out of the house in the winter when my oldest son was just a toddler. Luckily I had my phone. I called my husband, who had to leave work and rush home to open the door for me. The feeling of helplessness being locked out of my home in the cold with a child was one I never want to experience again. And with this clever Master Lock Key Safe, I won't have to. I store both a car key and a house key in the safe and keep it locked and hidden in the back yard. If I ever lock myself out of the house again, the spare key will be waiting for me, yet still be secure.
Master Lock wants to help you get organized in 2015 as well, so the company is very generously offering one lucky Mommy Kat and Kids reader a prize pack containing all three of the items mentioned above, a $110 value! To enter to win, just leave a blog comment about which one of these products you would find most handy.
I'm so excited to continue the process of organizing my household in the coming months and thanks to these handy Master Lock products, I've gotten a good start already. Take a look at the great selection of household storage and security products available and see which ones might help organize your life in the coming year!
Master Lock New Year Giveaway