When I was young, the basement in our house once flooded quite badly. I don't remember all the details but I do remember that so many important things were ruined, from personal documents to papers from my parent's law practice to cherished memorabilia. For years after that, if we needed something and couldn't find it, the assumption was that it had been destroyed when the basement flooded.
That event really helps me understand now, as an adult, why it's so important to protect valuable and important items from the unexpected. A flood is only one of the risks that can threaten a house and I want to know that our most cherished possessions are safe from harm no matter what. So I was thrilled when I was given the chance to review the SentrySafe Alarm Safe.
This digital safe has all the features I wanted to help keep important items safe. It's been tested to survive in a fire of up to 1700 degrees Fahrenheit for up to one hour and is verified water resistant for up to 24 hours in as much as eight inches of water. But that's just the start of what makes this safe such a perfect choice for a family!
Because theft is always a risk, the SentrySafe Alarm Safe also features a loud alarm if the safe is tampered with in any way. The alarm sounds not only if somebody attempts to pry the safe open, but also if five wrong attempts to open the safe are made or if somebody tries to move the safe. One of the worries I have with a safe is the thought that somebody could just pick it up and take it out of the house, so I love that SentrySafe has come up with a way of ensuring that doesn't happen.
Because this safe does seal up so tightly, there are a few precautions that need to be taken with it. Mainly, since moisture is kept out of the safe, moisture in the air can also be sealed inside when it's shut. Opening the safe periodically to let the air circulate is a good way to avoid this. And a desiccate pouch is helpful for absorbing any moisture that might get trapped inside. Just remember to replace it every now and again! For extra insurance against damage, store pieces with moving parts that might be damaged by moisture, like that Omega watch, in an airtight container for extra protection!
To make a good thing even better, the SentrySafe Alarm Safe even features a lifetime fire replacement warranty. If your safe is in a fire, it will seal automatically and need to be pried open after. But that doesn't mean you won't have a place to keep your treasures, because SentrySafe will send you a brand new safe of equivalent value to replace the old one and help you get back on your feet!
Personally, I don't have too many valuables except for the odd piece of jewellery. But I do have plenty of important papers including the boys' social insurance numbers, our family's birth certificates, our passports and the insurance and mortgage papers for our home. I really disliked having those papers just tucked into a drawer, especially since I remembered that our birth certificates were among the papers ruined in the flooded basement when I was young. Now I know that all that important paperwork is safe and sound in my SentrySafe Alarm Safe!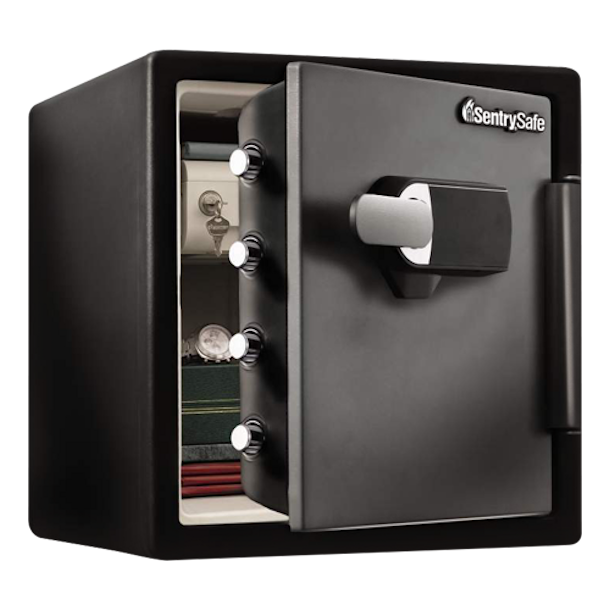 If you want to ensure that your valuable and important items are kept safe from the unexpected, you're in luck! SentrySafe is very generously offering one lucky Mommy Kat and Kids reader their own SentrySafe SFW123TDC Alarm Safe just like the one I received, a $300 value! To enter to win, just leave a blog comment about what you'd be storing in your safe if you won.
I love the added security that having the SentrySafe Alarm Safe has added to my life, and knowing that I'll have my important items even if disaster strikes is so reassuring. In fact, SentrySafe even offers a $50,000 fire protection guarantee, providing up to $50,000 in insurance protection for your valuables when you enrol in the program. I love it when a company stands behind its products the way SentrySafe does! If your valuable items are currently unprotected, check out the range of SentrySafe products and make it a mission to get them properly secured. You'll feel so much better knowing they're safe no matter what!
SentrySafe Giveaway