About a month ago I had the chance to review the new Live Clean Coconut Milk Shampoo and Conditioner. I'm a huge fan of coconut so it wasn't a big surprise that I loved these products. But even if I hadn't been such a fan, I'm sure I'd still love this shampoo and conditioner since they leave my hair so soft, smooth and manageable! Now, Live Clean is expanding its Coconut Milk line even further with three fabulous new products! New Live Clean Body Wash, Hand Soap and Body Lotion are a treat for your skin that any coconut lover will adore.
I received the three new products to test out and I was pretty excited about it. Coconut Milk is so nourishing and since my skin is quite sensitive, I looked forward to some extra protection and moisturizing. The body wash had a nice foamy texture that cleansed without drying my skin, and when I hopped out of the shower, the lotion locked in moisture and protected my skin while also leaving behind a delicious light coconut scent.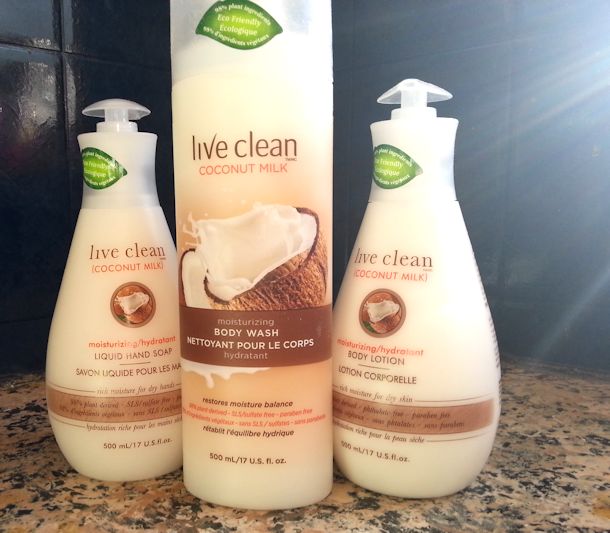 I decided to put the hand soap in the kitchen for family use and I'm so glad that I did! My hands often get quite dry and rough when working in the kitchen due to all the cooking and cleaning I'm doing, so having a hand wash that kept my hands clean but also left them feeling soft and moisturized was a dream come true!
Live Clean wants you to experience the decadence of its new Coconut Milk products for yourself, so the company is very generously offering two lucky Mommy Kat and Kids readers a prize pack containing Live Clean Coconut Milk Body Wash, Body Lotion and Hand Soap, a $21 value! To enter to win, just leave a blog comment about whether or not you enjoy coconut.
I'm so happy that Live Clean has further expanded its Coconut Milk collection so that my skin and hair can both benefit from the moisturizing and nourishing properties of coconut milk. With warm summer weather just around the corner, these products are a great way to get your skin and hair looking and feeling great!