April is National Oral Health Month and as most people know, oral health is a topic I'm pretty passionate about!
As if dealing with my own problem teeth wasn't motivation enough, having both of my boys undergo dental surgery as a result of childhood caries made me especially dedicated to keeping their teeth strong and healthy.
Whether you're teaching your kids about proper dental health or you're trying to beat a few bad habits yourself, Church & Dwight has three great tips and some must-have products for Oral Health Month that will help you take care of your family's teeth!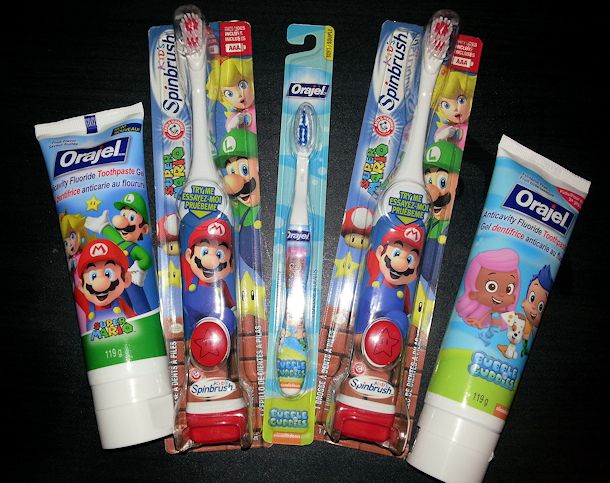 Teach good habits at a young age
Many of us know that good (and bad) habits are hard to break. Teach your children good oral health care habits early on, as it will get them in a daily routine and help avoid future dental troubles.
Did you know that according to the World Health Organization, 60-90% of children experience tooth decay?. Introduce toothpaste with fluoride like Orajel™ Super Mario ™ Kids Fluoride Toothpaste after the age of 2 years or when your dentist recommends it to help fight cavities from the get-go.
To make teeth time extra fun, try new Spinbrush™ My Little Pony ™ or Super Mario ™ battery brushes so kids can practice healthy habits with the help of their favourite characters. Children under age 3 years should use the brush under adult supervision.
Keep your mouth as clean as a whistle
While most of us know this, it's a good reminder to make sure you're brushing and flossing at least twice a day to achieve optimal oral health.
Check out the New Arm & Hammer™ Spinbrush Manual brush to blast away plaque and keep your smile shining bright.
For all the sweet tooths out there, it can be hard to resist those decadent desserts. But foods high in sugar, even fruit and wine, can stain your teeth.
Try Arm & Hammer™ Truly Radiant™ Rejuvenating Paste to tackle tough stains left on your teeth from one too many sweet treats.
Look out for red flags
Make sure you're looking out for signs of trouble in your mouth. Bleeding, red or swollen gums? Bad breath that won't go away? According to the Canadian Dental Association, these can be signs of gum disease that should be looked at by a dentist.
Take all the preventative measures you can, such as staying away from tobacco and practicing good overall lifestyle habits that will help you be your healthiest, and best self.
My boys had the chance to test out the new Spinbrush Super Mario battery brushes and I've been very impressed with how well they brush as a result.
These brushes don't feature an automatic shut-off after a set length of time, something my boys are accustomed to having, so as a result I've been telling them when their brushing time is up.
The end result…they're brushing longer! And since Zackary and Benjamin are both huge Super Mario Bros. fans, they're always excited to brush their teeth.
Good dental hygiene is one of those little things that makes a big difference in overall well being, and products from Arm & Hammer and Orajel are great for making dental care easy and fun. Try a few of the new items for yourself and show off your best smile!