It's so easy to fly off to an exotic country like Mexico and spend the entire trip lounging on the beach or sipping cocktails by the pool.
While I'm certainly a fan of that relaxing atmosphere myself, there's a lot to be said for getting away from the hotel or resort and taking part in some of the unique activities the country has to offer.
And for a true once-in-a-lifetime experience, there's simply nothing better than swimming with whale sharks.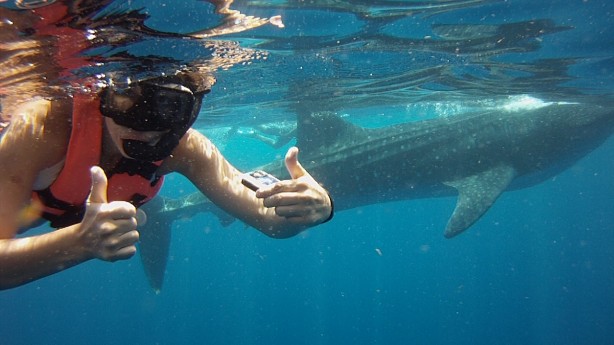 Thanks to Viator, a company that specializes in helping travellers book the best and most original tours and excursions when travelling, I had the chance to take part in a whale shark diving experience with a group of bloggers from around the world, and I couldn't have been more excited.
The idea of actually swimming beside the largest fish in the world out in the open ocean seemed completely magical to me. But I couldn't help being a little nervous too, especially when our guide started explaining the precautions we needed to take.
Our group was put into pairs and I teamed up with Alex of Crazy Sexy Fun Traveler for the event. Each pair would jump into the water with a guide in shifts and start swimming with whale sharks for as long as possible.
Generally, the pairs swim between two to three times and when the swimming is over, it's not because time has run out. It's because the swimmers are exhausted!
Alex and I were the very first to jump in the water and we messed up badly. We swam in the wrong direction, caught just a flash of a whale shark's tail and then floundered blindly trying to figure out where to go. We climbed out of the water feeling discouraged, but eager to try again.
Spending some time watching the others jump into the water and seeing how the whale sharks glided along helped us see what we needed to do the next time it was our turn to try.
Sure enough, our second swim was absolutely spectacular. By jumping in the direction the whale shark was heading instead of the exact spot it was at the time, we were able to snorkel right beside the sharks with a perfect view.
It's impossible to describe the feeling of swimming beside such a magnificent and peaceful creature as it moved through the water, but the video that the tour company created for Alex and I does a pretty good job of capturing the experience!
Most pairs only swim three times at most on a whale shark trip, but since Alex and I had messed up our first jump so badly, we insisted on going once more at the end to make up for it.
Snorkelling beside these massive creatures was something that I wished I could do all day, but we soon hopped back on the boat and headed to Isla Mujeres for a swim in the crystal clear water and a delicious ceviche lunch.
Then it was time to head back to our apartment and leave the whale sharks behind. But the memories are ones that will last forever!
Whale shark season in Mexico runs from late May to late September, so if you're planning a trip this spring or summer, make sure to visit Viator online and see about booking this experience.
The minimum age for children is five years, so it even makes a great family activity as long as your children can swim well and ideally have tried snorkelling before. And swimming with whale sharks is sure to be an event that you'll remember for the rest of your life!
Looking for other adventure experiences in Mexico? Check out this article from Ruth about Rio Secreto, a stunning cenote and underground river that offers guided tours to visitors!