I've always found that summer seems to fly by, but this year that's been even more true than usual! Since we sold our house at the end of July, packing and moving took up the first half of the season. And now, before I could blink, it's almost time to start school again!
With all the stress and disorganization of the last few months, I'm especially determined that my boys will be starting school feeling their best this year. These are the three ways that I make sure Zackary and Benjamin are happy, healthy and ready for learning come September!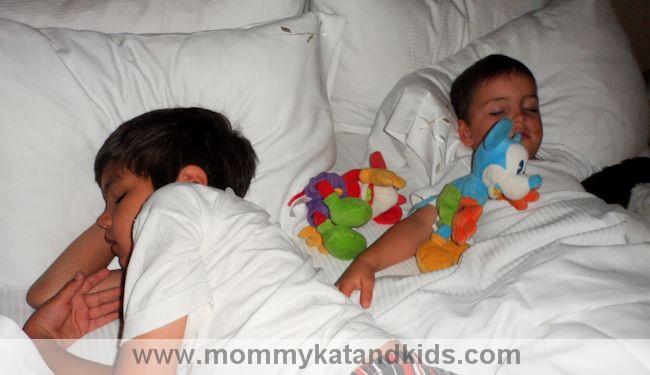 1) Sticking to a Bedtime Routine
As hard as I try, I find that my boys' usual bedtime routine tends to fall to pieces over the summer months. Vacations, outdoor fun and other summer activities result in bedtime being irregular at best and non-existent at worst. Two weeks before school starts, I make a move to change that with a set bedtime schedule. Starting at 7:30, I turn off all electronics, give the boys a dose of Orange Naturals Sleep Tight for Kids, have them brush their teeth and then read them a bedtime story. Starting this before summer ends ensures that they'll be well rested when the first day of school arrives!
2) Making a Nutritious Breakfast
My boys are occasionally picky eaters, but I've never had to pressure them to eat a good breakfast. Even so, the meals they eat during the summer tend to not be as nutritious as the regular breakfasts they eat during the school year. That's why I make sure to stock up on whole-grain cereal, fruit and ND Shakes Kids in Chocolate and Vanilla so that my boys have plenty of nutritious choices for that all-important first meal of the day. Making sure they have full stomachs and the essential nutrients their bodies need help ensure school success!
3) Encouraging Intellectual Stimulation
My boys get plenty of exercise in the summer, but they generally aren't working their brains as much as they do during the school year. Luckily, getting their minds working a little more can be done in a lot of fun ways! A few new chapter books for my oldest are enough to get him reading every day in the weeks leading up to the new school year. And since most board games are educational as well as fun, sitting down as a family to play a game together twice a week or so helps ensure my boys are thinking and learning before school starts!
For more great advice and ideas for starting the new school year feeling great, make sure to subscribe to the ONatural newsletter! It's full of tips, recipes and practical advice from real people, just like you!
As sad as I am that summer is coming to an end, I can't wait to see what new adventures await my family as we dive into another school year and prepare for our upcoming move to Ontario. And with products from Orange Naturals and some solid routines to keep us on track, I'm sure we'll be able to tackle the new school year feeling great!
Disclosure: I am part of the Orange Naturals Mom Ambassador Program and I receive special perks as part of my affiliation with this group. The opinions on this blog are my own.