I'm a nut for vegetables and because of that, I've loved the salads from Eat Smart for quite some time now. The convenient bagged kits include fresh greens, healthy superfoods, add-ins such as croutons, nuts or berries and a tasty dressing so that creating the perfect fresh and healthy side dish takes just seconds. Now, Eat Smart has taken lunch to a whole new level too with a new line of scrumptious salads packed with plant-based protein!
I was a vegetarian for over six years in my twenties, and while I did start eating meat again after having children, I still eat quite a lot of vegetables, legumes and other plant-based foods. At the same time, I also favour meals that are high in protein and low in simple carbohydrates. The new Eat Smart Plant Powered Protein salads looked like the perfect lunch choice for my dietary goals and I was thrilled when I got the chance to try them out myself.
I decided to test the Eat Smart Plant Powered Protein Sweet Kale salad first, since the Gourmet Sweet Kale Vegetable Salad kit is one of my absolute favourite bagged salads from the company. To make the salad filling and nutritious enough for lunch, the kit contained dried cranberries and a power seed blend of sunflower, pumpkin, hemp, flax and sesame seeds. The salad itself was a nutritious mix of broccoli, green cabbage, Brussels sprouts, kale and chicory all paired with a scrumptious poppy seed dressing. I added the seeds and cranberries to the greens right in the container, mixed in the dressing and got ready to dig in!
While the Power Seed Blend had been designed to boost the protein of the salad, I loved the flavour that it added as well. The crunch from the sunflower and pumpkin seeds was the perfect compliment to the crisp vegetables and complimented the sweet cranberries beautifully. The salad was ideally sized for lunch and with the added protein, I was full and satisfied when I finished.
The fact that the salad container doubles as a bowl when all the ingredients are added makes these new kits the perfect choice for a busy day running errands. In fact, I'd personally love to see a fork added to the packaging so that I could grab one for a healthy lunch when I was away from the house! And because the salad is a good source of protein, fiber and vitamins, it gives me the energy I need to make it through that dreaded mid-afternoon slump.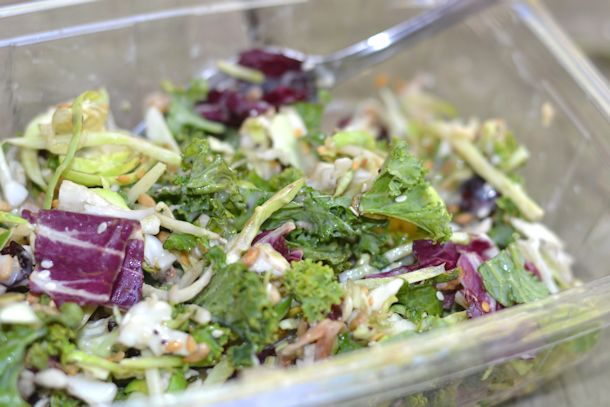 The Eat Smart Plant Powered Protein salad kits are also available in a BBQ Ranch variety featuring slivered almonds, chia seeds, roasted soy nuts, freeze dried corn and a blend of vegetables topped with BBQ Ranch dressing, and in a Super Caesar variety containing dry roasted Edamame, sunflower seeds, chia seeds, Parmesan cheese and a blend of vegetables with classic Caesar dressing. While the Sweet Kale salad was my personal favourite, the BBQ Ranch was a close second! The crunchy chia seeds, soy nuts and corn were addictive!
Having tried Eat Smart Gourmet Vegetable Salad kits with superfoods, I didn't need another reason to love the company. But Eat Smart has given me one anyways with these delicious new high-protein salads! Eat Smart Plant Powered Protein salad kits are available now at stores across North America and once you've tried one, you're sure to fall in love. The flavour of these salads is fabulous and they have just as much protein as a comparable salad containing meat, with all the added nutritional benefits that the plant-based proteins provide. Pick up one to test out and see just how filling and delicious plant-based nutrition can be!
I was selected for this opportunity as a member of Clever Girls and the content and opinions expressed here are all my own.