A few years ago, I had the chance to review two Tail Wags helmet covers for my boys. They loved the fun blow fish and piranha designs, and I loved the way the covers made wearing a helmet more fun. Now, Tail Wags is innovating once again with brand new helmet covers designed to provide extra shade for bikers on those hot summer and fall days!
New Sun Lidz are fun helmet covers that feature a hat beak in the front and a shade cover in the back to provide sun protection while also dressing up the look of a helmet. I had the chance to review one of the new Sun Lidz recently, so I chose the Scary Skulls for my oldest son. The fun red-eyed skull design was rough and tough, but still kid-friendly!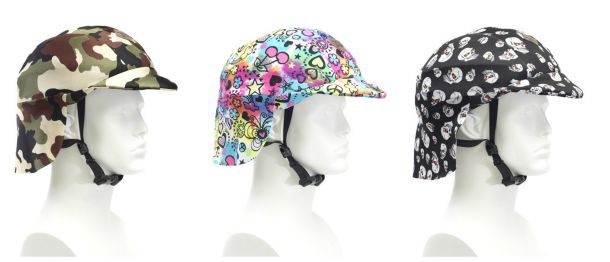 The one-size-fits-all Sun Lidz stay in place on a helmet thanks to a fully elasticized bottom that wraps securely around both child and adult-sized helmets for a perfect fit. The beak provided shade for the face while the lightweight material ensured that the helmet still had good air flow. And the back cover protected the neck from sunburn and helped keep the head cool. Best of all, the Sun Lidz helmet cover can be worn on its own as a hat too!
Of course, the fact that my oldest son loved the Sun Lidz cover was a big plus as well. The fun skull design was one that he thought was very cool, and he liked the fact that his head stayed cool when biking even on a hot day. He also liked wearing the cover on its own as a hat instead of his regular cap since the cover in the back kept his neck and ears shaded.
If you have a child that could benefit from a little added sun protection while biking, you won't want to miss this giveaway! One lucky Mommy Kat and Kids reader is going to win their choice of any Sun Lidz helmet cover, a $30 value! To enter to win, just leave a blog comment about which helmet cover you would choose if you won.
I still love the original Tail Wags Helmet Covers for the fun special touch they add to a regular helmet, and now the new Sun Lidz are a great choice for anyone that likes biking even on the hottest days. The added sun protection the covers provide is effective and makes comfortable biking so simple. Check out the full selection and find a Sun Lidz design that you or your child will love. Biking in comfort never looked so fun!