Fall has always been one of my busiest times of year, but it's also a time when I want to make sure that my family is eating healthy. And on one of those busy nights when my boys have extra-curricular activities and I've had a busy day of work, making a nutritious dinner that we'll all enjoy can be a challenge!
That's why I've fallen in love with the new Sobeys Seafood Steamers! The newest food option at Sobeys fish counter isn't just delicious; it's also a great quick and easy option for a healthy dinner.
Using a special oven-safe bag that was inspired by the French cooking method en papillote (steaming fish in a parchment paper pouch), fish is customized to suit my family's tastes then sealed in a handy pouch I can bake to perfection at home!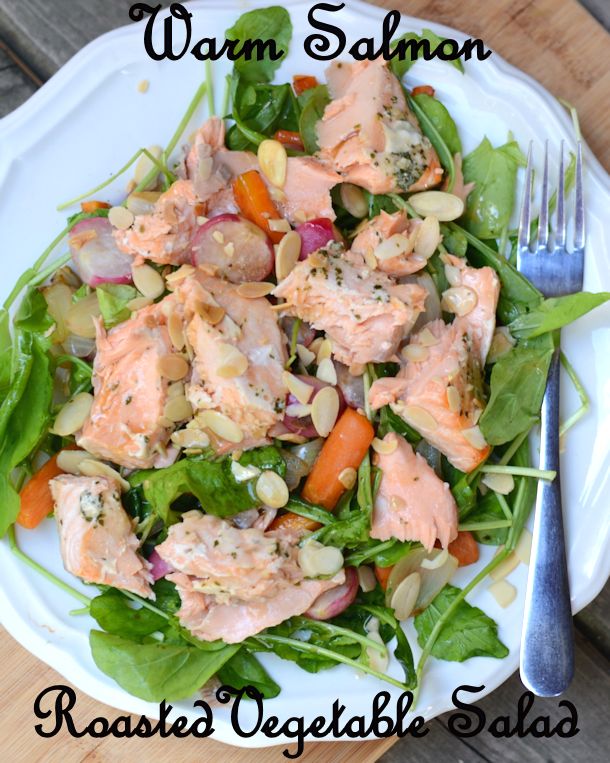 I decided to try the Seafood Steamer in one of Sobeys' delicious-sounding recipes, so I headed to my local Sobeys fish counter to customize my meal. I found two beautiful boneless salmon fillets and requested them prepared with the Garlic & Parsley butter.
A few minutes later, my Seafood Steamers were ready! Then it was time to get cooking, and the Warm Salmon and Roasted Vegetable Salad seemed like a perfect healthy fall dinner!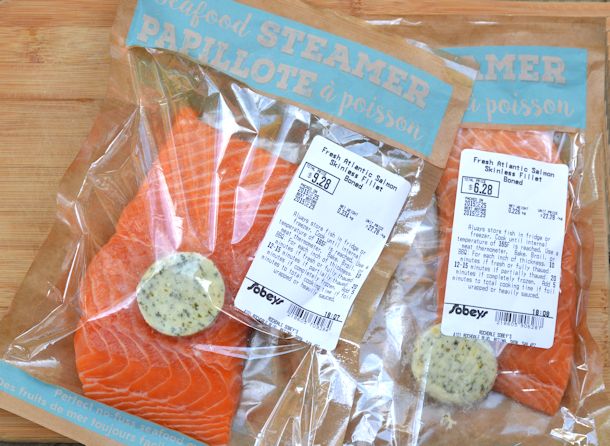 The fish was incredibly moist and tender cooked in the Seafood Steamer bags, and the garlic and parsley butter was the perfect compliment to the vegetables. I loved the idea of using the juices from the fish to create the warm vinaigrette and it added such fabulous flavour to the greens.
I did make a few adjustments to the salad dressing based on my personal preferences. Gourmet champagne mustard instead of the grainy mustard and my favourite chardonnay wine vinegar instead of the apple cider vinegar gave the dressing a little more zing.
I also used toasted almonds instead of the walnuts because they were what I happened to have on hand, and the taste and crunch they added was delicious. Arugula was the perfect salad green for the salad with its peppery flavour, and the sweetness of the maple syrup was the ideal finishing touch to the Warm Salmon and Roasted Vegetables salad.
But what really impressed me is how filling this Salmon and Roasted Vegetable Salad was! And of course, thanks to the Seafood Steamer that took the guesswork out of cooking the meal, the entire salad was ready in just over half an hour.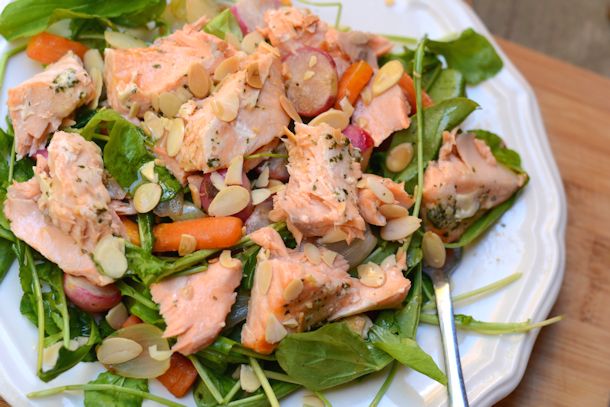 No Sobeys near you, or you're looking for a last-minute dinner with what you have on hand? Not to worry! Since first making this recipe, my husband and I have had this Warm Salmon with Roasted Vegetables salad many more times even without first purchasing the Seafood Steamers.
I simply place two salmon fillets on greased foil, sprinkle with garlic powder and dried parsley, and top with about a teaspoon of butter. Then I use the foil to create a pouch for the salmon and bake for about 20 minutes! No matter how you whip it up, this salad is one you'll love making again and again.
Looking for other great seafood recipes? These Tangy Jalapeno Scallops are a delicious dinner party-worthy appetizer!
Warm Salmon and Roasted Vegetable Salad
A hearty dinner salad made with steamed salmon and roasted carrots, radishes and shallots.
Ingredients
8 shallots, or pickling onions, peeled and quartered
4 carrots, peeled and cut into one-inch sticks
1 bunch radishes, tops trimmed, halved
2 tbsp. olive oil
1/2 tsp. salt
2 12 oz salmon fillets in Seafood Steamer bags with Garlic-Parsley Butter (or see alternative below
1 tbsp. apple cider vinegar
2 tsp. maple syrup
1 tsp. grainy mustard
8 cups loosely packed arugula
1/3 cup coarsely chopped, toasted walnuts
Instructions
Preheat oven to 400 degrees. In bowl, toss together shallots, carrots, radishes, olive oil and salt. Arrange in single layer on large baking sheet.
Roast in oven, turning occasionally, 25 mins. or until vegetables are lightly golden and tender. Set aside.
At same time, cook fish in Seafood Steamer bags until done, 20-25 mins. (No Sobeys nearby? Just sprinkle two fillets with garlic powder and parsley, top with a teaspoon of butter and seal in a foil pouch!)
Use melted butter and juices from Seafood Steamer bags to make warm vinaigrette by whisking the liquids from the bags with vinegar, maple syrup and mustard.
Gently toss arugula with roasted vegetables. Transfer to plates. Break salmon into large pieces and scatter over salad. Sprinkle with walnuts, drizzle with vinaigrette and season to taste with salt and pepper.
Notes
If desired, substitute white wine vinegar for apple cider vinegar and/or toasted almonds for toasted walnuts.
Recommended Products
As an Amazon Associate and member of other affiliate programs, I earn from qualifying purchases.
Nutrition Information:
Yield:

2
Serving Size:

2 Servings
Amount Per Serving:
Calories:

570
Total Fat:

29.3g
Saturated Fat:

5.3g
Trans Fat:

0g
Cholesterol:

36mg
Sodium:

815mg
Carbohydrates:

34.4g
Fiber:

4.7g
Sugar:

12.1g
Protein:

46.1g