Recently I shared some tips and ideas for getting a home sparking clean and ready for Thanksgiving fun. But as every family knows, there's more to holiday cleaning than just tidying up before the big day!
After the turkey is finished and the pie has been devoured, a house can often need even more tender loving care than it did to be ready for Thanksgiving!
Thankfully (get it?), Mr. Clean was ready and willing to help me out with the post-Thanksgiving cleanup too.
With plenty of Mr. Clean Magic Erasers and a bit of time, these five magic eraser uses are how I gave our little apartment and our favourite things a thorough cleaning when the fun was over and the food was finished.
After buying some new home decor items and dishware for the big day, I had to deal with the sticky residue left after removing price tags. A Mr. Clean Magic Eraser removed the residue with ease!
I wore my favourite dress and shoes for our meal, but the cute suede wedges were looking a little worse for wear after. The Magic Eraser cleaned them to perfection so that they look like new again!
Using the best silver for our meal is always a treat. To keep the antique set that once belonged to my grandmother looking its best, I've said goodbye to silver cleaner. Mr. Clean Magic Eraser removes the tarnish gently and safely!
I'm a pretty good cook, but every once in a while I end up with burnt-on gunk in a pan, especially when I'm cooking a lot of food at once during the holidays! A Magic Eraser scrubs off the stains and is safe for non-stick pots and pans too.
Cleaning the oven is one of my most hated chores but after baking turkey, pie and more, I inevitably have a mess to clean up. From the oven door to the grates to the sticky bottom, Mr. Clean Magic Eraser makes the cleaning job quicker and provides great results!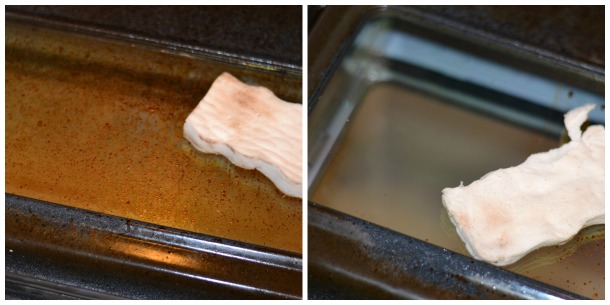 And these are just a few magic eraser uses among dozens! It's also a must for removing scuff marks, getting rid of crayon scribbles, and ???!
Looking for more easy cleaning tips? Check out these Arm & Hammer baking soda uses to help get your home sparkling!
Thanksgiving may be over for another year, but we'll soon have even more cleaning ahead since Christmas is just around the corner!
Make sure you're ready by grabbing your favourite cleaning supplies, rolling up your sleeves and creating a space that will wow your guests this holiday season!