Over the last few months my weight has been creeping up bit by bit, and that's something I'm determined to change. My diet is pretty healthy, but my occasional indulgences in a decadent meal or an extra glass of wine have resulted in my being just a little heavier than I would like. So for the last week, I've been committing to a healthier lifestyle, including daily exercise, plenty of water and a wholesome diet rich in protein and fibre.
I never realized until I started tracking my food intake just how hard it can be to get the recommended 25-38 grams of fibre daily. Even with a big bowl of bran cereal in the morning and a cup of Metamucil before supper, I still sometimes don't get enough daily fibre. That's why I'm so excited about the new Meta Fibre Bars from Metamucil! I have a light snack about twice a day, and these bars are the perfect way for me to add fibre to my diet and get a sweet treat at the same time!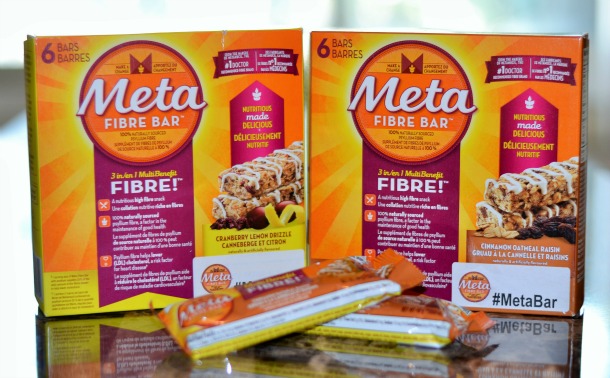 Available in two delicious varieties, Cranberry Lemon Drizzle and Cinnamon Oatmeal Raisin, new Meta Fibre Bars boast four grams of fibre per bar and have just 150 calories. I especially loved the Cinnamon Oatmeal Raisin flavour; it tasted just like a moist and chewy oatmeal raisin cookie! And best of all, the fibre in the bars didn't just help me meet my dietary requirement; it filled me up too!
Want to increase your own fibre intake in a delicious way? Metamucil is very generously offering one lucky Mommy Kat and Kids reader a prize pack containing five boxes of Meta Fibre Bars, a $40 value! To enter to win, just leave a blog comment about which variety of Meta Fibre Bars you're most excited to try.
It's only been five days since I started my healthy eating and daily exercise plan, so I haven't seen any visible results yet. But even in that short time, I feel better and have more energy than I did before! I know that getting enough fibre is playing a huge role in my overall well-being, and I'm pretty happy I can do that in a delicious way with Meta Fibre Bars. Grab a box at your favourite grocery store and see how tasty getting your daily fibre can be!