My family and I are all big fans of snacking and because of that, we love discovering new and delicious snack foods to enjoy. From a savoury new chip flavour to a unique chocolate treat, we're willing to try almost anything once! That's why I love the idea of the Treats subscription box service.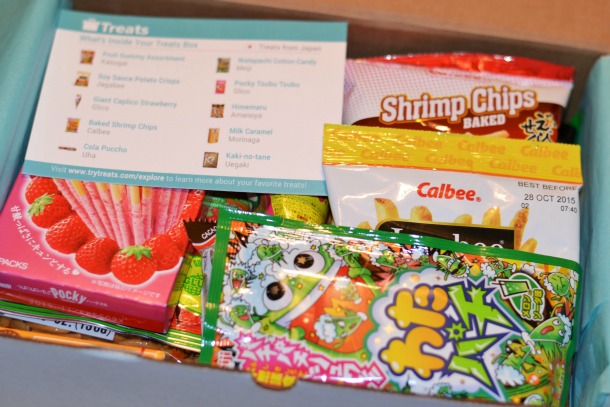 There are a lot of subscription box programs that offer monthly snacks, and I've had the chance to try a few of them in the past. What makes Treats different is that the company features snack foods from different countries each month, so each shipment of treats is also a glimpse into another culture. I recently had the chance to review a Treats Premium Pack featuring 8-10 snacks from Japan and the whole family was excited about giving the goodies a try!
The box featured a great blend of snacks including cookies, crackers, candies and chocolate. Deciding what to try first was the biggest challenge, but since we were enjoying a family game night and in the mood for chips, we decided to snack on the Himemeru rice crackers first. They were salty, crunchy and absolutely delicious. Before we knew it, we'd finished the entire bag. Next we tried the Calbee Baked Shrimp Chips and while I didn't mind them, the shrimp flavour was a little strong for my tastes.
The Kinder Happy Hippo treat was my personal favourite. The crunchy wafer filled with chocolate cream was similar to the Kinder Bueno chocolate bars that I sometimes enjoy here in Canada, but with a fun hippo shape that added extra appeal. I have to say that this is one treat I'd be buying far too often if I could get it in Canada!
My boys, on the other hand, fell in love with the crunchy Strawberry Pocky sticks at first bite. These little treats are one of Asia's most popular snacks, consisting of a wheat stick coated in a creamy, melt-in-your-mouth coating. The strawberry flavour on each little stick is deliciously tasty, and the boys wanted to eat the entire package of the tasty sticks.
I had such a great time trying these tasty and original treats with my family, and I loved the idea of introducing them to the flavours that people in other countries enjoy in such a delicious way. Whether you're looking for a great gift for the foodie in your life or just a few new snacks for yourself, a Treats subscription is sure to satisfy. Check out the website today and get ready to fall in love with some new and unusual snacks!