Halloween is just ten days away and if you're still looking for the perfect costume, why not make the celebration a family affair? Costume Express has some great ideas for themed family costumes and since The Avengers: Age of Ultron movie came out this summer, superhero-themed costumes are sure to be a popular pick.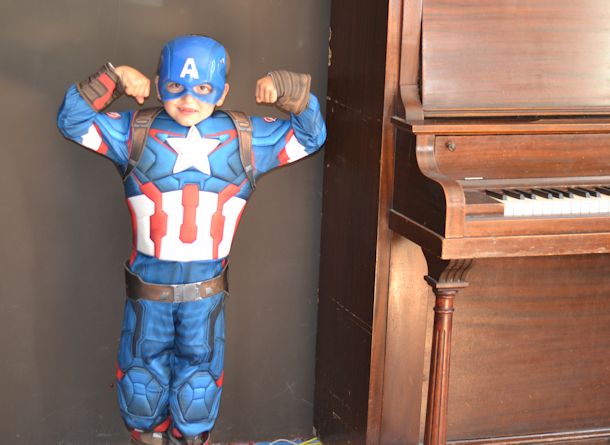 My youngest son received a Captain America costume about a month ago for his birthday and since that meant we already had the start of a theme, my oldest son and I decided to choose coordinating costumes. Luckily, Costume Express was there to help with an Avengers Iron Man costume for Zackary and a Black Widow costume for me!
So why Costume Express? The prices are low, the selection is incredible and, most importantly for this busy mom, the shipping is cheap and fast! Even if you're making a last-minute decision on your child's costume this year, Costume Express can get you the perfect outfit in time for the big day. And the quality of these costumes is fabulous! Benjamin loves the realistic mask that came with his costume, while Zackary enjoys the pretend muscles built into his suit.
As for me, I appreciate the flexible sizing on the costumes that will let my boys get enjoyment out of their outfits in the coming months as well. The costumes have a lot of stretch so that even after a growth spurt, they'll be wearable for at-home play. And my women's medium costume has enough flexibility that I'll be able to wear it regardless of gaining or losing a few pounds.
For tons of great costume ideas, make sure to check out the website for a selection of top costumes for everyone in your family. You're sure to find the perfect inspiration for your costumes this year! Then order a few, snap some pics and get ready for a fun-filled Halloween night!