My boys love gaming systems and while I understand the appeal (I'm a bit of a gamer myself), I don't like how long they sometimes spend sitting and staring blankly at the television. As for the games themselves, some have cleverly incorporated educational content into the games, but others provide almost no intellectual benefit. So what's a mom with two game-crazy kids to do?
Turn to the LeapFrog LeapTV, of course! My boys have had LeapFrog hand-held gaming systems for years now and I've seen for myself how effectively the systems combine fun and learning. Now, LeapTV is taking the benefits one step further with a gaming system that's designed to get kids moving as they play and learn!
The system uses a motion-sensing camera and a controller designed especially for smaller hands. Audio instructions within the games ensures that even children too young to read can join in the fun. And with more than 100 educational game cartridges, downloadable games and videos, there's no end to the fun kids will have with this system!
To me, the highlight of the LeapTV system is the great variety of games that are available for it. From LeapFrog Sports, featuring the company's own Leap and Lily, to licensed games like Ultimate Spiderman and Sophia the First, there's something for every child in this game library.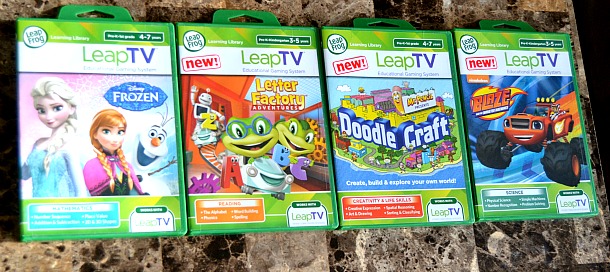 Looking for some of the newest games to pair with the LeapTV? Disney Frozen lets kids play along with Queen Elsa, Anna and Olaf as they explore a magical festival of mathematics. With five different games to choose from, children between four and seven will build crucial addition, subtraction and shape recognition skills.
For the future scientist, Blaze and the Monster Machines is a STEM-based game designed for children between three and five years of age. The goal is to gather track pieces and use them to build a stunt track in the Monster Dome. Then, children can use the controller to steer their way through the course and test the results of their work!
And if you're shopping for a little artist, Mr. Pencil Presents DoodleCraft is guaranteed to please! Children between four and seven will love creating their own unique island destination by earning blueprints and then constructing and customizing buildings. Finding hidden objects, using unique art tools to add patterns, paint, stickers and more to buildings and even recycling waste means kids will do plenty of moving and creating while playing!
The LeapFrog LeapTV is available now for just $59.99 and with Christmas coming, it's the perfect gift for any preschool or young school-aged children on your shopping list. Best of all, you'll be able to know that your gift is helping to develop young bodies and minds in a very fun way! Find the system at major stores across North America and get ready for plenty of dancing, moving and learning on Christmas morning!