Do your kids prefer weird and gross to cute and cuddly? Do they laugh hysterically at rude noises and bad smells? Does just saying the word "fart" cause a reaction in your house? Then this Christmas, the perfect gift may just be The Ugglys Pet Shop toys! These bizarre pets may not seem lovable, but kids can't get enough of their weird wackiness.
Recently I received an assortment of The Ugglys Pet Shop figurines and accessories to review, and with two school-aged boys in the house, I was pretty sure they'd be popular. I liked the collectible size of the pets and I have to admit that they really were pretty cute, in a gross way! Just like real pets, there were cats, dogs, birds, monkeys and lizards to choose from, all with their own unique style.
The Ugglys Pet Shop collection also features fun stackable houses, vehicles and other accessories for hours of playtime fun. In fact, the Pet Shop building even boasts gross noises and can be expanded with additional houses to create a mansion of weird and fun creatures!
If you have a child that would love to add The Ugglys Pet Shop animals to their toy collection, you're in luck! One lucky Mommy Kat and Kids reader is going to win a prize pack containing an assortment of The Ugglys Pet Shop products worth $50! To enter to win, just leave a blog comment about your child's favourite animal.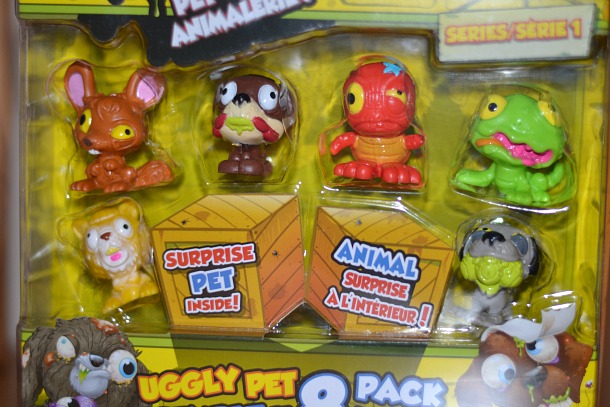 Personally, I can't help but find these oddball pets appealing, but maybe that's part of being a mom of boys! As much as I can see the appeal of cute and cuddly pets, the idea of these gross and silly critters is just so fun and original that kids and adults alike are both sure to love them. Find The Ugglys Pet Shop characters and accessories at stores across Canada and add a little big of "uggly" to your child's stocking!