One of my favourite things about being a parent is getting to share some of my own childhood with my boys. From food to activities to television shows, it's such a great feeling seeing my boys get excited about the same things that used to fill my heart with happiness at their age. Looking for ways to share a few special moments with your kids? These are my top three ways to let my kids see what I loved most as a child!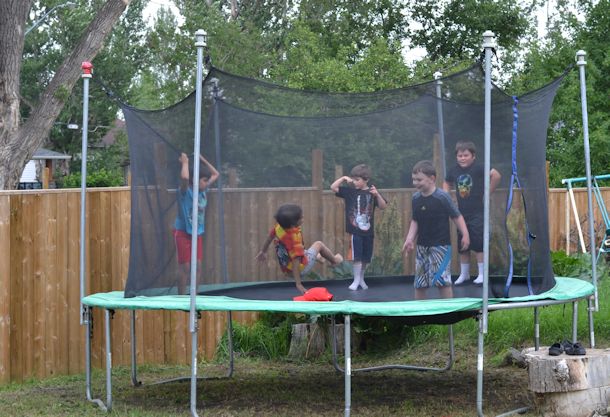 Grandma's Special Dinners
When I was young, my mom had a few meals that were only made on special occasions. Her famous Shrimp Curry Crepes, luscious Spinach Lasagna, Chocolate Chip Meringues…we knew that our favourite dishes were pretty much only going to be served when we made a special request on our birthdays or other occasions. Now, I share those foods and memories with my boys by occasionally whipping up some of the same meals for our own dinners! And in a slight rebellion, I usually do it on an ordinary day instead of a special occasion…to make that ordinary day special!
Retro Television
I was a bit of a television addict in my youth and thanks to Netflix, I still have access to tons of my favourite shows! Even better, there are some brand new takes on my old favourites to let me sit back and relive some of my childhood memories in an updated way while my kids discover the characters I once loved for the first time. The highly anticipated Fuller House, available on Netflix February 26, is the perfect example. Watching the original Full House series after school was a tradition my siblings and I had for years. Now I have all the fun of seeing the Tanners in their later years in this "perfect for families" series, while my boys get to follow along with the updated family adventures too!
Getting Moving
Growing up in a small prairie town meant that I had plenty of opportunities to play outside, whether it was an unstructured game of tag with friends or a baseball tournament. Now that my boys are older, sharing some of my favourite outdoor activities with them isn't just healthy, it's also a way of stepping back into my own childhood for a few minutes! An outdoor game of hide and seek at the park used to be one of my top picks at playtime, but it's a game that's just as much fun to play as an adult too. And teaching my boys to use a baseball glove, swing a bat or throw a football lets me feel like a kid again while they exercise and build some new skills!
From laughing at television shows to chowing down on delicious food, the real benefit of sharing my childhood moments with my boys is the bonding we're able to do together as a family. My boys learn about me, I learn about them and we all have fun. That means our entire family is stronger and happier as a result! Whether you decide to hit the hockey rink with your kids or show them the movie you loved as a child on Netflix, letting them catch a glimpse of your inner child is beneficial for everyone!