When I was a kid, I used to love watching the Peanuts specials during the holidays. Like so many people, A Charlie Brown Christmas was my favourite. But I loved the Halloween special almost as much, and the Easter special was tons of fun too! Once I had children of my own, I was eager to introduce them to Charlie Brown and his friends. But while both boys enjoyed the specials, the characters were somewhat drowned out by new and modern cartoon heroes.
Now, that's all changed! The Peanuts crew is back and better than ever with the release of The Peanuts Movie on Blu-ray and DVD. With modern animation bringing new life to the old school characters, it's a must-see experience for the whole family! Recently I received The Peanuts Movie Limited Edition Gift Set along with some adorable Peanuts merchandise so that we could have a special movie night and I couldn't wait. Here's a brief synopsis of the movie:
Dream big and laugh along with good ol' Charlie Brown, Snoopy, Lucy, Linus and the rest of the beloved Peanuts gang as you've never seen them before – in a brand-new feature film from the imagination of Charles M. Shultz and the creators of Ice Age. Join everyone's favourite eternal optimist, Charlie Brown, as he embarks on a heroic quest, while his beagle pal Snoopy takes to the skies to pursue his archnemesis, the Red Baron. It's a hilarious and heartwarming adventure that proves every underdog has his day!
My boys had already watched the movie on a recent flight, but they were only too willing to watch it again…especially when they saw that the entire Peanuts cast would be joining us thanks to the toys we received along with the Limited Edition Gift Set! They chose their favourites and we sat down to enjoy the movie together as a family. But first, I printed off some fun activity sheets for the boys as well. Click the pictures below to access the full-sized images of these sheets and print them off yourself to get your family in the Peanuts spirit!
Zackary and Benjamin were just as captivated by the movie as they had been when they watched it before, and I loved seeing my childhood heroes in a whole new way. The story was classic Peanuts hilarity at its finest and I was once again a child laughing at the antics of Charlie Brown, Linus, Lucy, Sally and the rest as they played in the snow, danced it up at school and showed off their talents…all while Charlie Brown tried to win the heart of the little red-haired girl. I have to admit, the ending had me in tears!
Want to treat your family to a special nostalgia-filled movie night? Twentieth Century Fox Home Entertainment is here to make that happen! One lucky Mommy Kat and Kids reader is going to win their own The Peanuts Movie Limited Edition Gift Set, a $40 value! To enter to win, just leave a blog comment about your favourite Peanuts character!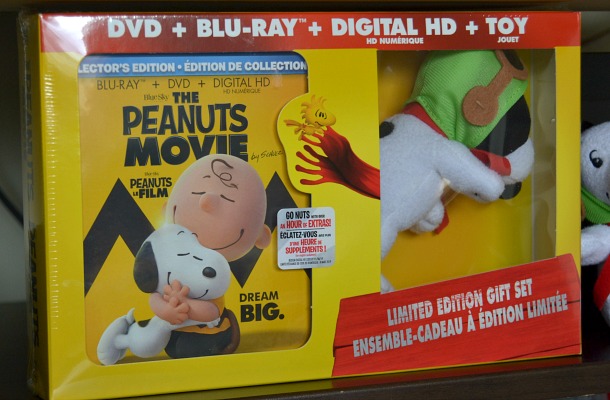 Just like the original Peanuts specials, I'm sure that this movie is going to be one of those timeless favourites that I can watch over and over again. And the fact that I get to share it with my boys is an added bonus! Grab your copy of The Peanuts Movie today and enjoy it this weekend with your family. Seeing these childhood friends hit the big screen is something that the whole family will love, even if you didn't watch the original shows. And the message of kindness, honesty and hope is one that helps remind us all that we're perfect just the way we are!