A few weeks ago, my fiance and I were setting the table for dinner and he mentioned that one thing we've really mastered since moving in with one another is the family dinner.
Without fail, the four of us manage to sit down to a home-cooked meal almost every night. And even on nights when Jeremy's job takes him to work, the boys and I have a family dinner of our own.
Making meals that we enjoy as adults, but that are still kid-friendly, is a big help when it comes to making family dinner a priority. And since we're a typical busy family, having quick and easy meals in our repertoire is a must.
That's why Canadian Beef is a frequent choice for our dinner table! Whether we're cooking up succulent burgers, tender steak or spicy tacos, beef is the perfect fast and delicious choice for the whole family!
Looking for a great recipe for those busy weeknights? This easy Peanut Beef takes just twenty minutes to make and is a surefire crowd pleaser! Serve it over rice or vermicelli and tailor the vegetables to suit your family's tastes for a meal that kids and adults will both enjoy!
What I love about this recipe is that it introduces my boys to some different tastes, but is still undeniably kid-friendly. After all, who would say no to peanut butter for supper?
I like sprinkling fresh cilantro on my own beef along with the peanuts, while my boys prefer just beef and vegetables with plenty of the spicy peanut sauce. I occasionally use carrots and onion in the mix as well, but broccoli and red pepper are definitely the favourite choices in this house!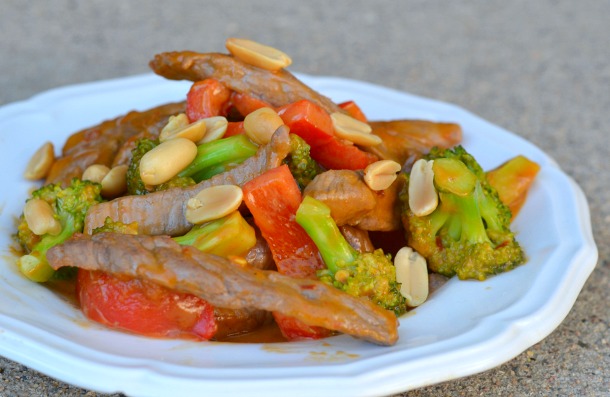 Sitting down to that tasty meal of Canadian beef always reminds me just how hard our Canadian beef farmers work, too. My dad was a rancher for years before going to law school where he met my mom, and his stories of life on the farm have given me a glimpse into the work and challenges of Canadian beef farmers. In fact, the Canada beef industry contributes almost $25 billion to the Canadian economy!
And with the use of high energy grains and careful land selection, Canadian beef has a lower impact on the environment than ever before. But of course, most importantly for me as a parent, it's a protein-packed meat that my entire family loves!
Beef is such a versatile choice for quick dinners that it's no wonder we make it part of our dinner routine so often. Check out the Canadian beef website for more great recipe ideas and to learn about the Canadian beef economy.
Looking for other quick and easy recipes that your kids will love? This Ground Pork Casserole can be made in the Instant Pot or your slow cooker, and is easy to customize to suit your family's tastes!
Easy Peanut Beef
This simple beef with a spicy sauce is a great quick dinner choice!
Ingredients
1/4 cup peanut butter
1 garlic clove, minced
1 tbsp. soy sauce
1 tsp. honey
1 tbsp. Sambal Oelek chili paste
2 tbsp. water
1 tbsp. coconut oil
1 lb. Canadian beef strips
1/2 cup broccoli florets
1/2 cup chopped red pepper
1/4 cup chopped peanuts
Instructions
Combine peanut butter, garlic, soy sauce, honey, chili paste and water in small bowl. Mix until smooth.
Meanwhile, heat oil in nonstick pan over medium-high heat. Add beef and saute until cooked through.
Add vegetables and saute for an additional 2-3 minutes, until veggies are tender-crisp.
Add peanut sauce and mix until meat and veggies are coated with sauce. Serve over rice or vermicelli topped with chopped peanuts.
Nutrition Information:
Yield:

4
Serving Size:

1 grams
Amount Per Serving:
Unsaturated Fat:

0g