There are some foods that instantly remind me of summer and kiwifruit is one of my favourites. Its tangy yet sweet flavour is a great compliment to so many dishes and also makes a tasty and healthy snack all on its own!
Recently I had the chance to create a recipe with a type of kiwifruit I hadn't heard of before: Zespri SunGold Kiwifruit. With distinctive bright yellow flesh speckled with black seeds, it has a sweeter flavour than the more commonly known Zespri Green Kiwifruit. I couldn't wait to use it to create something delicious.
Since summer food is so full of colour, I love creating recipes that make the most of those colours. And of course, everyone knows that strawberry and kiwi always make an appealing flavour combination!
I decided to use the traditional pairing in a new way: Strawberry Kiwi Spinach Salad with Balsamic Kiwi Vinaigrette. This light and refreshing strawberry spinach salad is bursting with flavour and has become my new favourite summer side dish.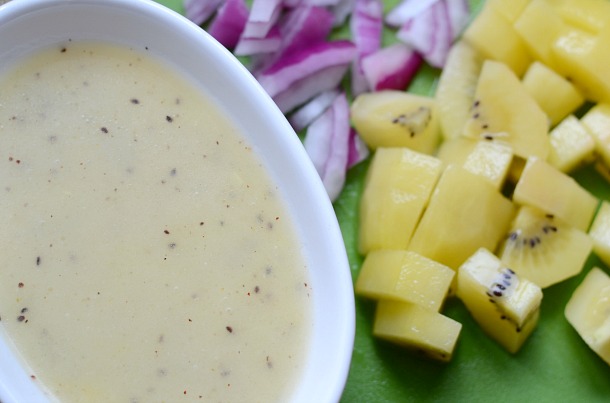 I used white balsamic vinegar for the dressing because I wanted to ensure that the bright colours in this salad had a chance to show off. The lighter vinegar created the perfect dressing and since it's naturally sweet, there's no need for any added sugar in the recipe! Regular balsamic vinegar would work just as well for those that don't mind the pink tinge it would add to the salad.
The bright yellow, firmly fleshed Zespri SunGold Kiwifruit added just the right amount of tangy sweetness to the salad and was such an ideal compliment to the other flavours. And since Zespri Kiwifruit is packed with fibre, vitamin C, vitamin E and potassium, it added plenty of nutrition to the salad too.
For other great recipes, make sure to check out the Zespri Kiwifruit website! And if you're just looking for a quick treat instead of a side dish, remember that Zespri Kiwifruit makes an easy and healthy snack. Just cut a kiwifruit in half, scoop and enjoy!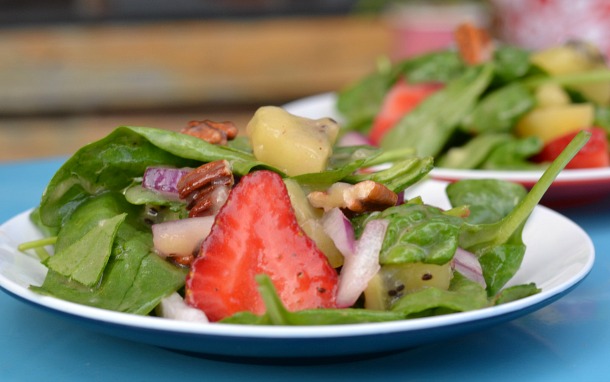 This salad was such a fun summery way to celebrate the deliciousness of Zespri SunGold Kiwifruit and I'm so glad I got the chance to try this variation of the green kiwifruit that I've loved for years.
Zespri SunGold Kiwifruit is available from May to October at stores across Canada, so pick some up on your next shopping trip and give this tasty salad a try. And if you prefer coleslaw to greens, make sure to check out my super-popular Japanese Coleslaw Asian Salad!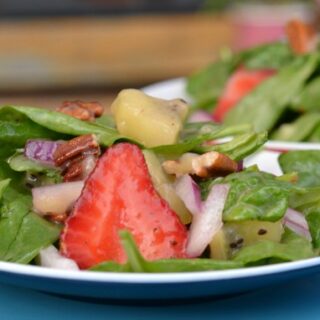 Strawberry Kiwi Spinach Salad with Balsamic Kiwi Vinaigrette
A fresh and flavourful summer salad packed with the nutrition of spinach and kiwifruit.
Ingredients
6 cups baby spinach
3 Zespri SunGold Kiwifruit, peeled and chopped
1 cup strawberries, sliced
1/2 red onion, chopped
1/2 cup pecans, chopped and toasted
2-3 tbsp. white balsamic vinegar
1 tbsp white wine vinegar
1/2 cup olive or sunflower oil
salt and pepper to taste
Instructions
Combine spinach, 2 chopped kiwifruit, strawberries, onion and pecans in large bowl. Toss gently to combine.
Place remaining kiwifruit in small bowl and puree using an immersion blender. Alternatively, mash well with a fork until as smooth as possible.
Add white balsamic vinegar and white wine vinegar. Blend well until thoroughly combined.
Whisking constantly, gradually drizzle oil into dressing until fully incorporated. Add salt and pepper to taste.
Pour dressing over salad and toss until coated. Serve immediately.
Notes
Regular balsamic vinegar may be substituted for white balsamic vinegar.
Zespri Green Kiwifruit may be substituted for Zespri SunGold Kiwifruit.
Nutrition Information:
Yield:

4
Serving Size:

1 grams
Amount Per Serving:
Unsaturated Fat:

0g