One of the things I love about summer vacation is that I can spend time teaching my boys some of the valuable skills that aren't covered in school.
And as somebody that loves to cook, I always enjoy getting into the kitchen with Zack and Ben so that they can learn how to make a few foods on their own.
Baking is my personal favourite kid-friendly cooking choice since the boys can help measure and mix the ingredients, so when Trudeau sent me some of their top bakeware items to test out, I decided to use the Trudeau Mini Muffin Pan to whip up my favourite bacon and corn muffin recipe with the boys.
Bacon and Corn Muffins may sound a little odd, but they are hands-down my favourite muffins ever.
My mom used to make them for us as kids and the combination of sweet corn with the salty and smoky bacon is a match made in heaven.
In mini form, they make a perfect bite-sized snack that the entire family loves! I cooked the bacon while the boys measured wet and dry ingredients into bowls. The finished bacon corn muffin recipe was a hit.
The Trudeau Mini Muffin Pan was the perfect choice for these muffins since the pan made it so easy to pop each one out thanks to the silicone design.
I especially liked that the pan still had a metal frame for structure, yet also provided me the convenient food release and even cooking of silicone.
I've wanted a mini muffin pan for quite awhile and now that I have such a great one, I'm sure I'll be making bite-sized treats much more often!
The muffins themselves came out tender, delicious and beautifully golden-brown. I filled a bag with them and took them on our recent road trip for breakfast since their small size and lack of muffin papers minimized any mess.
As an added bonus, their small size means that usually I just pop them in my mouth as they are, rather than adding butter like I normally do with the larger bacon and corn muffin recipe. Less calories and fat in my diet without compromising taste is a win in my book!
I was thrilled with how easy to use the Trudeau baking products were, and I can't wait to check out some of the other items in the Trudeau collection.
Whether you like making pies, cakes, cookies or muffins, Trudeau bakeware will help ensure great results every time. Check out the website for the complete collection of products and make something tasty with your kids this summer!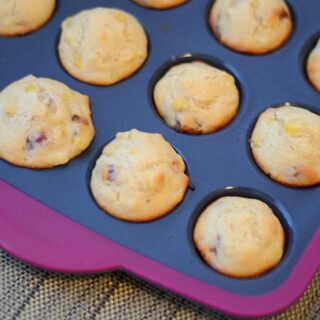 Bacon and Corn Muffins
Savoury muffins that combine sweet corn and smoky bacon for an addictive breakfast or snack!
Ingredients
5 slices bacon
2 1/2 cups flour
1 tbsp. baking powder
1/2 tsp salt
1 egg
1 cup milk
1/3 cup vegetable oil, or melted butter
1/2 cup maple or other syrup
1 can 12 oz/341 ml whole kernel corn
Instructions
Preheat oven to 400 degrees.
Cook bacon until crisp. Crumble and set aside.
Combine flour, baking powder and salt in large bowl until combined.
In separate large bowl, whisk egg until light. Blend in milk, oil, syrup and corn.
Add liquid ingredients to flour mixture, stirring just until moistened. Fold in bacon.
Spoon mixture into greased muffin pans and bake 10-15 minutes, until skewer stuck into muffin comes out clean.
Cool and eat.
Notes
If desired, bake in mini muffin pans for 20-25 minutes. Makes 24 mini muffins.
Nutrition Information:
Yield:

12
Serving Size:

1 grams
Amount Per Serving:
Calories:

284
Total Fat:

10g
Saturated Fat:

2g
Trans Fat:

0g
Unsaturated Fat:

7g
Cholesterol:

24mg
Sodium:

340mg
Carbohydrates:

44g
Fiber:

1g
Sugar:

13g
Protein:

6g