I can't believe how quickly the start of the new school year is creeping up. And with all the vacationing we've done this summer, I'm feeling a little less prepared than usual. Yet, even though I still have notebooks, pencils, markers and more to purchase, I am doing a great job on my boys' new school wardrobes. And part of that is because of the new styles and low prices available at Giant Tiger!
I've already shared my experience shopping for women's fashions at the popular bargain store, and the clothes I bought gave me new appreciation for the store's high quality garments. Now, Giant Tiger has also debuted three exclusive lines for children just in time for school. Monkey Bars offers trendy and durable clothes for boys and girls in sizes 2T-6X, Bella & Birdie features hip girls' fashions in sizes 7-14 and Survival Gear boasts stylish boys' fashions for sizes 8-16.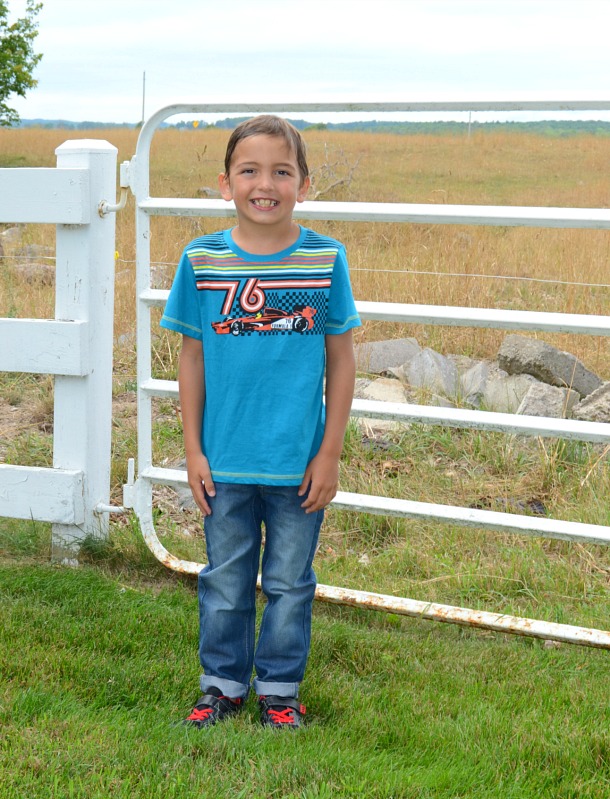 I'd already bought my boys some great casual recess clothing, so I wanted my next purchases to be more stylish jeans and tops along with indoor shoes for both boys. I started by picking out a pair of Monkey Bars jeans for Benjamin and I loved that they had a soft pull-up waist rather than a button and zipper. Benjamin tends to find jeans uncomfortable, mostly because of the tight waist. These jeans offered him flexibility but still looked trendy. I paired the pants with a cute blue Monkey Bars racing t-shirt and a pair of black and red ACX shoes. Benjamin loved his new clothes so much that he put them on immediately, even though the temperature was over thirty degrees Celsius that day!
Zackary, at ten years old, is a little more involved in choosing his clothing. He decided on a pair of sleek Survival Gear skinny jeans along with a light grey Survival Gear snowboarding t-shirt. Finally, a pair of grey and black Survival Gear shoes finished off his look. I loved the outfit but personally, I was a little worried that he'd find the skinny style of the jeans uncomfortable once he'd worn them for a full day. Luckily, if that does happen, Giant Tiger offers a "Happiness Guarantee" on all the new kids' clothing lines! If my child outgrows, outlasts or simply changes his mind about an outfit, I can return the item at any time, with receipt, for a full refund!
To help you get ready for the new school year, Giant Tiger is also hosting a fun-filled #GTBack2School Twitter party! Come join in the fun on Thursday, August 18 at 9pm EST to chat about back-to-school shopping, get some tips for a smooth new school year and learn more about the new Giant Tiger clothing collections. Best of all, you'll have the chance to win a share of $400 in Giant Tiger gift cards! RSVP here and mark your calendar for some fun back-to-school conversation!
I adore the boys' new outfits and the prices were as great as the clothes themselves. With shirts priced at $4, jeans priced at $10 and shoes priced at $18, I definitely wasn't breaking my budget on these school clothes! If you're looking for fun and fashionable outfits for your kids this year, check out the new Giant Tiger clothing lines and see what you think. And make sure to also follow Giant Tiger on Facebook, Instagram and Twitter. Heading back to school in style has never been such a bargain!
Disclosure: I am participating in the Giant Tiger campaign managed by SJ Consulting. I received compensation in exchange for my participation in this campaign. The opinions on this blog are my own.