For the last few days, I've had a blast testing out the Braun PureMix blender. From smoothies and milkshakes to soups and sauces, there's so much I can do with this versatile machine. I especially love using it to crush ice; the special pulsing setting for crushed ice gives perfect results every time!
But as much as I loved using the blender for basic recipes, I really wanted to get a little more gourmet with my Braun PureMix recipe creations. So I decided to create a gourmet appetizer and dessert with the blender: Tomato Bruschetta and Chocolate Mousse!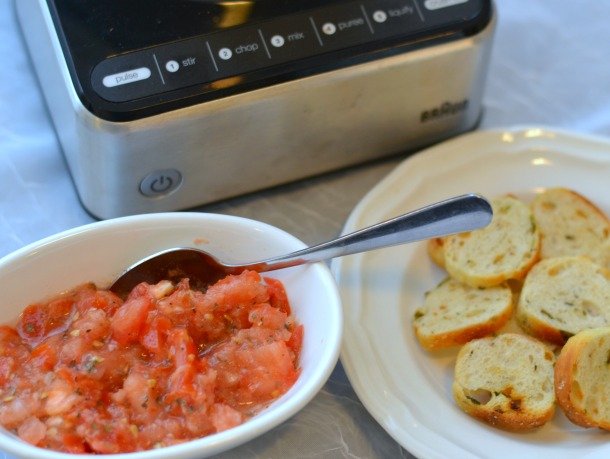 Tomato Bruschetta
A simple bruschetta recipe that can be made in a blender to serve on baguette slices.
Ingredients
3

Roma Tomatoes

quartered

1

clove

garlic

1

tsp.

olive oil

1/2

tsp.

balsamic vinegar

1

tsp.

dried basil or 2 tbsp. fresh basil leaves

½

tsp.

salt

¼

tsp.

pepper
Instructions
Add garlic to blender and pulse on the Chop setting for a few seconds until slightly chopped.

Add remaining ingredients and pulse on Chop setting for about ten seconds, until diced and combined.

Empty bruschetta into cheesecloth-lined bowl. Squeeze cheesecloth gently to remove excess liquid.

Transfer bruschetta to serving dish and serve with baguette chips.
The key to this flavourful bruschetta was using the Pulse setting on the Braun PureMix to ensure that the vegetables didn't end up liquefied. Squeezing out the extra liquid after blending ensured the perfect consistency for spooning the mixture onto baguette chips, though using a firm tomato variety such as Roma tomatoes also helps ensure the bruschetta isn't too watery. For a real gourmet touch, fresh basil is divine. But dried basil works in a pinch and still tastes great!
Chocolate Mousse
Smooth and rich chocolate mousse made in minutes in a blender!
Ingredients
200

g

dark chocolate

¼

cup

boiling water

½

cup

whipping cream

1

egg

1

tsp.

instant coffee powder
Instructions
Break chocolate into squares and place in blender.

Use Chop setting to chop chocolate into small squares.

Add boiling water and use Puree setting to blend until chocolate is melted and creamy.

Add remaining ingredients and blend on Puree setting for a few seconds until ingredients are combined. Scrape down sides of blender with spatula and blend for about one minute, until mixture is rich and creamy.

Spoon into serving dishes and refrigerate until firm.
Now technically, this isn't quite a mousse since it's missing the light and airy texture of a true mousse dessert. But after that first bite, I promise nobody will fuss about the name. This dessert is rich, creamy and decadently chocolatey, the perfect end to any dinner party. The Puree setting actually worked better than the Liquify setting for blending this creamy chocolate confection since it whipped the cream a little more gradually to ensure a perfect texture.
The entire family loved both my appetizer and my dessert, but what I loved wa that the recipes would also be suitable for serving to company thanks to their rich and complex flavour. And with the Braun PureMix blender, both recipes can be prepared in just minutes! When a fancy dish is this easy to make, inviting company over may just happen more often!
The Braun PureMix's six different settings (including the Crushed Ice setting) and thermal resistant pitcher make it so handy for all kinds of kitchen cooking. I've been especially impressed by how handy the Chop setting is. Whether I need to dice vegetables for a dinner dish or chop chocolate for this delicious mousse, it's done in seconds with this blender!
The Braun PureMix is available in stores throughout North America and with the holiday season fast approaching, it's a great addition to your kitchen arsenal. Cooking all your favourite dishes, from basics to gourmet creations, is easier when Braun is in your kitchen!
This is a sponsored conversation written by me on behalf of De'Longhi, Kenwood, Braun. The opinions and text are all mine.