When it comes to cooking, I'm a bit of a nut for having the newest and best appliances to create the perfect culinary creations. Whether it's a small accessory like a milk frother or something bigger like a waffle maker, great food is easy with great tools on hand. And that's why I couldn't wait to test out the new Braun PureMix Blender! With the ability to pulse, blend and liquefy both cold and hot ingredients and bonus Smoothie2Go cups for busy mornings, it sounded like the perfect addition to my kitchen arsenal.
One of my favourite features on this sleek blender is its Crush Ice setting. Margaritas and other crushed ice beverages are a favourite in our house, but properly crushing ice for those beverages is something I've never been able to figure out. The Braun PureMix Blender uses a pulsing cycle to ensure ice is properly and evenly crushed, minus the large chunks and melted cubes I've sometimes encountered in the past. I tested it with a handful of ice cubes and in less than a minute, I had crushed ice worthy of a fancy restaurant cocktail!
Next I wanted to see how the blender would handle a simple fruit smoothie, since the drink is a favourite breakfast for my boys. I tossed frozen fruit and milk into the blender, attached the lid and selected the Liquify setting. The blender whirled the combination into a creamy and delectable drink in slightly over a minute and created a drink with an addictive light and airy texture. The Liquify setting worked great for smoothies, so I could tell immediately that it would be ideal for milkshakes as well. But best of all, the Braun PureMix comes with two Smoothie2Go cups and a special blending attachment lid, so by pouring my ingredients into the cup and using the lid, I can still have a healthy breakfast on even the busiest days!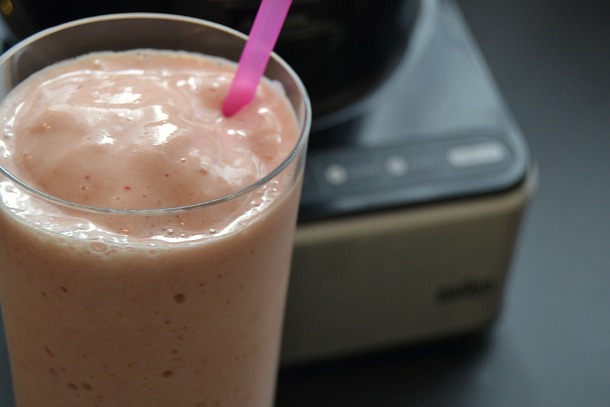 Finally, I decided to test out a few of the different blender settings at once by making a quick Kale and Carrot Soup. I absolutely love cream soups but without a good blender I could only make them by cooking the vegetables until they were as soft as possible and then mashing them with a fork. With the Braun PureMix's special Thermal Resistant Glass Pitcher giving me the ability to blend hot liquids, I knew the quality of my soups was going to improve greatly! I started by cutting three carrots, a few leaves of kale and half an onion into large chunks and using the Chop setting to dice the vegetables. Then I put the vegetables in a pot with about ¾ of a cup of water and cooked them at a simmer until they were tender, about ten minutes. (Pro Tip: use the water to rinse the blender, then add it to the pot for no wasted vegetables!)
After the vegetables were tender, I added about a cup of evaporated milk and heated the soup for another few minutes. Then it was time to test out the blender's ability to create a perfect cream soup! It's important to remember when blending hot liquids to not add more than three cups to the pitcher, and this soup created the perfect amount. I made sure the lid was securely attached and then chose the Liquify setting to blend the mixture into a rich, creamy texture. The finished soup was perfectly smooth and I was especially impressed with how well the kale was incorporated into the soup since it tends to be quite a tough vegetable. With a little sour cream on top for richness and some grated carrot to add colour, the finished soup was a perfect appetizer or light lunch.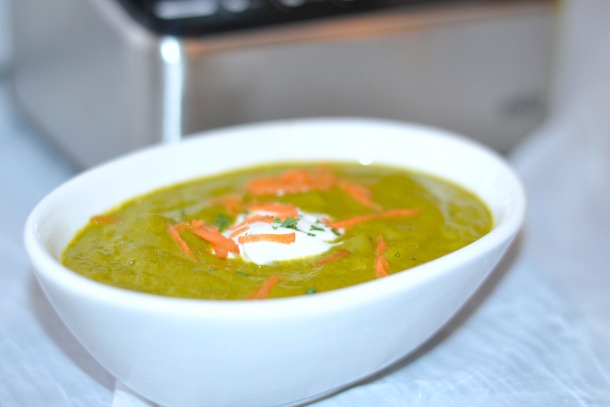 I'll be using the Braun PureMix Blender to create a tasty gourmet recipe so keep an eye out for the upcoming post in a few days! But I can already tell that I'll be using this blender quite a bit now that I've seen how versatile it is. The ability to safely blend hot liquids is so convenient and I can't wait to try making pancake batter with the blender's Stir setting. If you want a blender that can go from hot to cold and from chopping to pureeing with ease, this one is a great choice. Find it at stores across North America and see how easy it can be to create gourmet appetizers, soups, cocktails and more with help from Braun!
This is a sponsored conversation written by me on behalf of De'Longhi, Kenwood, Braun. The opinions and text are all mine.