Every year when Christmas rolls around, my boys make a long wish list of all the gifts they're hoping to find under the tree. And every year, there are fun-filled toys from Hasbro on that list! Hasbro has so many brands that my active boys love and if you're on the hunt for the best Christmas gifts for your little men this year, these are my top toy choices!
NERF N-Strike Mega Mastadon Blaster
This battery-powered blaster is sure to provide hours of fun both indoors and out. My boys love the challenge of hitting a target with the bouncy NERF darts, so I'll often set up a paper target outdoors and let them blast away to their heart's content.
This blaster is especially fun since it doesn't use hand pumping to build air pressure. The blaster features a rotating drum that holds 24 NERF darts and motorized blasting action. When cold weather has my boys wanting to stay indoors, bundling them up, snapping on some safety goggles and pulling out these blasters is a sure-fire way to ensure they'll get fresh air and exercise!
Marvel Action Figures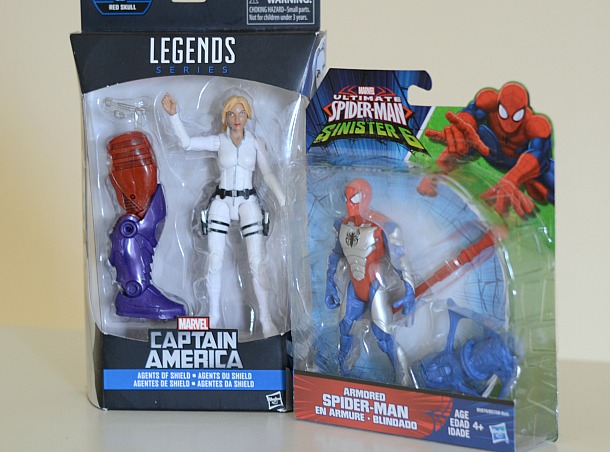 If your child loves all things Marvel, the assortment of action figures from Hasbro will encourage tons of imaginative play. Choose from the Marvel Legends collection, featuring 6-inch scale figures with build-a-figure pieces in every pack, 3.75-inch figures with new vehicles and full-scale, premium role-play items, the Marvel Ultimate Spider-Man collection, containing 6-inch action figures, cycles and battle packs or the Marvel Avengers Titan Heroes collection boasting 12-inch characters including Iron Man, the Hulk, Captain America and more.
The various accessories with each action figure help to bring games to life with added interaction and with some of the figures also featuring Build-A-Figure pieces, kids that love building can have even more fun collecting and constructing a new toy!
Hasbro Canada also offers tons of other popular top toys, from Sesame Street to My Little Pony to Star Wars, so you're sure to find something for every kid on your holiday list. Check out the website for tons of great gift ideas and then dive into your holiday shopping this year!