Like most kids, I loved grilled cheese sandwiches when I was young. The sandwich of my youth was the classic processed cheese slice on white bread flattened down as much as possible and cooked to a golden brown.
I still love the idea of grilled cheese, but my tastes have matured since those days. So I decided it was time to make my grilled cheese sandwich gourmet!
With two cheeses, artisan bread and a creamy tomato and roasted red pepper soup served on the side, this sandwich was everything I had hoped it would be. If you've been looking for a top-shelf grilled cheese, look no further!
This sandwich was my first experience trying the popular "mayo instead of butter" concept on a grilled cheese sandwich. The bread crisped up nicely and I couldn't taste a difference as far as the flavour went.
Because I made this sandwich with cheeses that had quite a strong flavour, mayo worked well as a spread to give me the crispy texture I wanted without altering the flavour. If I'd used milder cheeses, I think I would have preferred sticking with butter, since the more mellow taste would have allowed a hint of the delicious butter to come through.
I used an Ace Bakery Roasted Garlic Oval for the bread, and it was the perfect choice for adding gourmet style to my two cheese grilled cheese. The texture was perfect, firm without being dry. The bread crisped beautifully in the pan. And the roasted garlic blended with the cheese just right.
To finish off the meal, I added a cup of tomato and roasted red pepper soup. It was store-bought soup so it wasn't anything too spectacular, but it did compliment the sandwich nicely.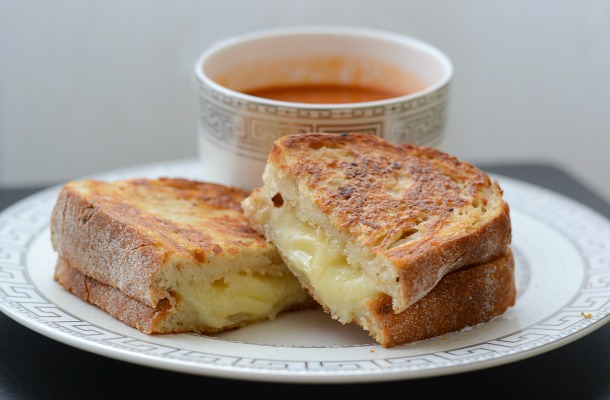 Overall, this artisan grilled cheese sandwich was everything I wanted it to be. Gooey, flavourful, rich and delicious, it was definitely not the flattened white bread and processed cheese sandwich of my youth!
If you long for the carefree days of grilled cheese sandwiches and tomato soup, but still want to indulge your adult side, this sandwich is for you! Give it a try and see just how gourmet a two cheese grilled cheese can get!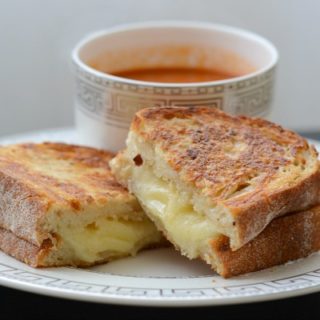 Gourmet Grilled Cheese with Two Cheeses and Roasted Garlic Artisan Bread
Grilled cheese goes adult with this decadent sandwich packed with rich and complex flavours.
Ingredients
2 slices hearty bread (I used Ace Bakery Roasted Garlic Bread)
2 tsp. butter
3 oz. sliced Gruyere cheese
2 oz. grated fresh Parmesan cheese
2 tbsp. mayonnaise
Instructions
Spread inside of bread slices with butter. Add Gruyere cheese to one slice and top with grated Parmesan. Add second slice of bread, butter side down.
Spread outside of bread with mayonnaise.
Brown in a skillet over medium-high heat until cheese is melted and bread is toasted, flipping halfway through. Cut and serve with tomato soup.
Nutrition Information:
Yield:

1
Serving Size:

1 Servings
Amount Per Serving:
Calories:

1010
Total Fat:

74g
Saturated Fat:

33g
Trans Fat:

1g
Unsaturated Fat:

35g
Cholesterol:

174mg
Sodium:

2171mg
Carbohydrates:

39g
Fiber:

2g
Sugar:

4g
Protein:

47g