Even though my boys are both obsessed with electronics and video games, they still also have a deep love for imaginative play. Listening to the two of them making up stories together or acting out wild scenarios always puts a smile on my face, and the fact they're not staring blankly at a screen is a bonus! So, I love discovering toys that will help my boys enjoy imaginative play even more! That's why I was so excited to discover Pacific Play Tents.
Pacific Play Tents focuses on encouraging activity and imagination with its fun and colourful play tents, tunnels and more. Recently I had the chance to review the Jungle Safari Tent and Tunnel Combo, and I couldn't wait to see how my boys would like it. With a fun jungle print and a design suitable for both indoors and outdoors, I was sure it would be a hit with both boys.
The tunnel was ready to use right out of the box; my youngest son just unfastened the cloth straps to pop it open. The tent took a little more preparation as it used a basic two-pole system to assemble. I got Benjamin involved in helping with the assembly and I liked that he was able to learn the basics of setting up a tent as we worked together. But it was after the tent was assembled that the fun really started!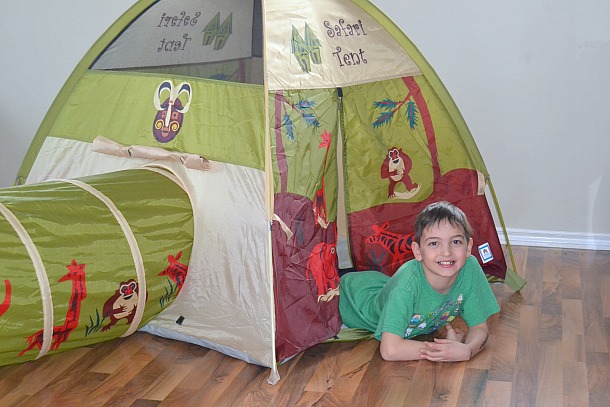 Benjamin loved crawling in and out of the tent through the tunnel, peeking out the top mesh windows and closing the main door to play inside. In fact, he had so much fun in the tent that he filled it with toys and snacks, made a sign for the door and designated it his "new room!" For the next few days, I often went hours without seeing him as he was always playing in the tent.
To help your little ones have some active fun, Pacific Play Tents is very generously offering one lucky Mommy Kat and Kids reader their very own Jungle Safari Tent and Tunnel Combo, a $70 value! To enter to win, just leave a blog comment about why you'd love to win this prize.
As much fun as my boys had with this tent inside, I know they'll love it even more when the snow melts and they can set it up outside as well. And Pacific Play Tents also offers innovative bed tents that turn an ordinary bed into a fun-filled fort, interconnecting tunnels to encourage physical activity and even parachutes for group play! Check out the complete range of products online and see which one your kids would want to play with all day!