With the winter cold finally coming to an end, I've been in the mood for some extra indulgence.
I know that hot summer days are just around the corner but for the moment, we're still dealing with cold nights, freezing winds and a few too many grey days to suit me.
Luckily, a little pampering with the Live Clean Spa Therapy line has me feeling relaxed, refreshed and ready to tackle even the gloomiest days with a smile!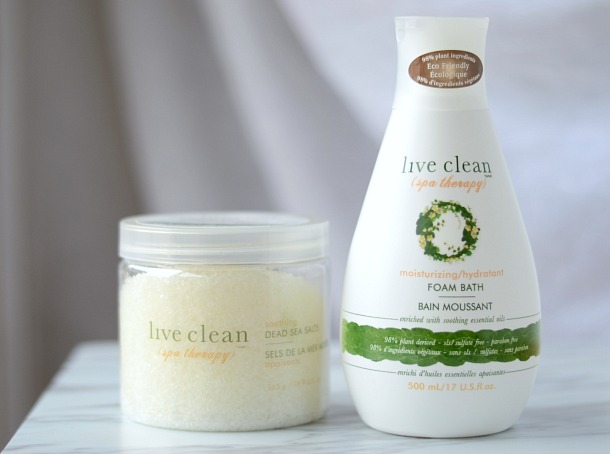 The Live Clean Spa Therapy collection consists of body wash, body scrub, dead sea salts, foam bath and body lotion.
All the products have a delicious light citrus and ginger scent and are enriched with nourishing ingredients including Aloe Vera, Jojoba Oil and Chamomile.
And of course, like all Live Clean products, they're free of parabens, phthalates, SLS and mineral oil!
My personal favourite products are the Live Clean Spa Therapy Foam Bath and Dead Sea Salts. The two products combine to make one incredibly blissful experience when I'm in the mood to unwind with a hot bath.
I love how soft and nourished my skin feels afterwards and since the sea salts help detoxify the body, I generally feel more energized the next day as well!
If your skin is in rough shape after the winter and you've been looking for some soothing and nourishing products to help, this collection is sure to put a smile on your face.
The light scent and rich formulas will have you feeling like you just enjoyed a relaxing day at the spa…without ever leaving the house!