As somebody that loves to travel, I absolutely adore discovering handcrafted trinkets from around the world. Whether it's a treasure discovered on a vacation, like my embroidered Romanian blouse and Irish crystal glasses, or something shipped to my door like my painted salt and pepper shakers from the Palestine Territories, those little mementos let me enjoy the world's beauty in the comfort of my own home. But on my quest for the world's most stunning handmade goods, I sometimes forget how many beautiful arts and crafts are created right here in my own country of Canada!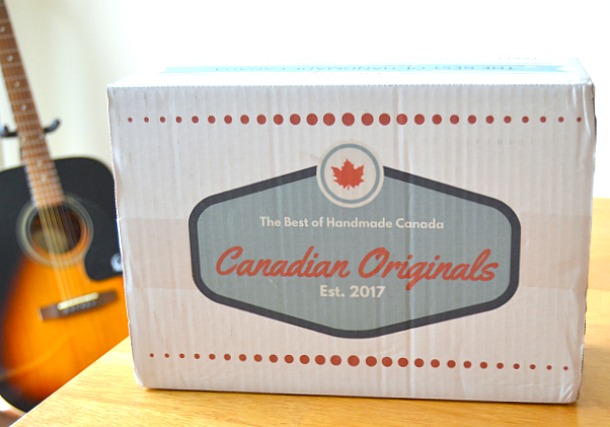 That's why I'm loving the idea behind the Canadian Originals subscription box. Each month, a box packed with artisan goods created by talented Canadians arrives at the lucky recipient's front door to enjoy. From food to beauty products to wall art, the variety means the whole family will find products to love. And discovering great new products and companies right here in Canada is always a treat! I recently received the debut July Subscription Box, celebrating Canada's 150th birthday, to review and I couldn't wait to check out the contents.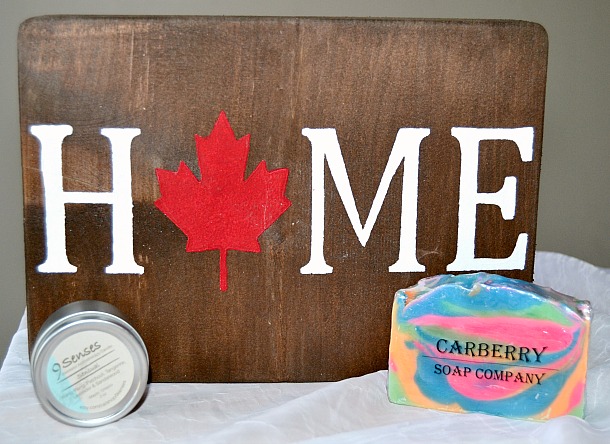 Even though I had known to expect variety, I was still blown away by how much of it this box had. Jewelry, collectible coins, wooden wall art and handmade soap were just the start of this box's treasures, all boasting a distinct touch of Canadiana. The Maple Leaf Necklace from Hidden Gems by Raquel was one of my personal favourites. The golden leaf was highlighted beautifully by sparkling red and white beads to create an accessory perfect for any occasion.
I also adored the Home Wall Décor Plaque from Kylee's Keepsakes. Since we're currently building our dream home, I'm already brainstorming a future spot for the stylish wooden sign. And I'm a little bit ashamed to admit just how quickly I finished the Sea Salt Caramels from Hugo and Nate Confections! A rainbow slice of Carberry Soap, a 9 Senses beeswax travel candle, a print of Andrea Hill's beautiful Canada map artwork and a Canadian Mint Anniversary Edition fifty-cent piece finished off the box.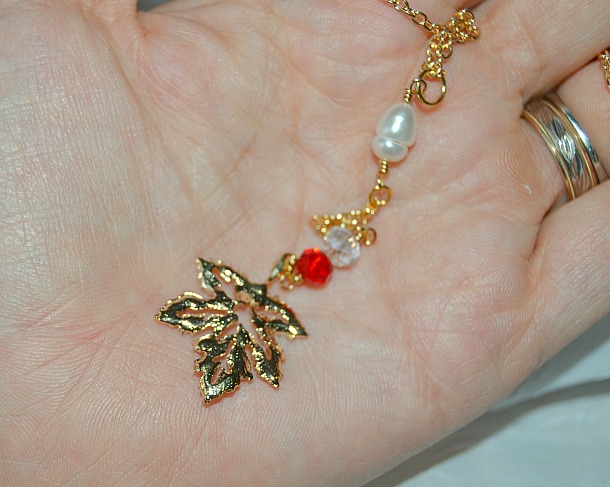 Want to show off your Canadian spirit too? Canadian Originals is very generously offering one lucky Mommy Kat and Kids reader their very own Canada 150 July Debut Box, a $55 value! To enter to win, just visit the Canadian Originals website and sign up for the company's email newsletter! (You can sign up by entering your information into the popup screen when first visiting the website or by scrolling to the bottom of the homepage and filling in the form.)
I adored the debut box from Canadian Originals and it really has me wanting to see what other amazing handmade Canadian items will be featured in coming months. And for around $50 a month, depending on the subscription I choose, I can be constantly surprised and delighted by beautiful Canadian treasures. There's even a few limited-edition boxes for gift giving; I'll be asking family for the Canadian Originals Baby Box when our little one is born next month!
Best of all, the boxes really do provide something for everyone at an amazing price. I know from my past shopping that $50 would normally have only been enough for me to purchase two or three of these unique items…not to mention the time spent hunting for them! I was so much happier having an entire box of useful and beautiful handmade Canadian items arrive right at my front door. To order your own Canadian Originals subscription box or surprise somebody you love, visit the website today. You may be amazed at the treasures our country has to offer!