When my husband and I are having lunch at home together during the week, we have a few favourite meals we like to make. And a charcuterie board is always one of our top picks.
Meat, cheese, crackers and a few garnishes combine to make a lunch that feels like a gourmet treat.
Roasted garlic is one of our all-time favourite additions to a charcuterie board. For months, we bought it by the spoonful from our local grocery store's deli section. But then we tried making it ourselves, and I was thrilled with how easy it was. If you love garlic, you've got to give this simple oven roasted garlic recipe a try!
Making roasted garlic is as easy as cutting off the top, rubbing it with a bit of olive oil and baking it in the oven. If you're making lots of it, put each bulb in a muffin tin and cover the top with foil. If you're just making one bulb, wrap it loosely in foil on its own.
Then, when the garlic reaches that perfect golden-brown colour, let it cool and either serve immediately by squeezing the garlic out of each clove or refrigerate until needed.
While we prefer our oven roasted garlic spread onto crackers along with our favourite meats and cheeses, it's also delicious added to dips and sauces!
Now that I've made this roasted garlic recipe at home, I won't be buying it too much. It's not often that five minutes of preparation and a bit of time in the oven yields something this delicious!
If you want to serve up a lunch that will wow your guests, just add this roasted garlic to sandwiches or serve it with your favourite cheese, meat, olives and crackers.
But no matter how you choose to use it, one thing is certain. This roasted garlic recipe is a garlic-lover's dream come true!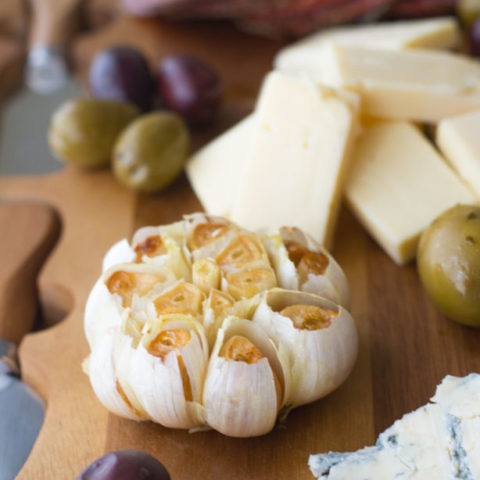 Oven Roasted Garlic
Simple and delicious roasted garlic to serve with a charcuterie or use in dips and sauces.
Ingredients
1 bulb garlic
1 tsp. olive oil
Instructions
Preheat oven to 350 degrees.
Carefully cut off top of garlic bulb and rub cut edges with olive oil.
Wrap garlic bulb loosely in foil and bake for approximately 30 minutes, until golden brown.
Remove from oven, let cool and serve.
If desired, refrigerated roasted garlic until ready to use.
Nutrition Information:
Yield:

2
Serving Size:

2 Servings
Amount Per Serving:
Calories:

22
Total Fat:

2g
Saturated Fat:

0g
Trans Fat:

0g
Unsaturated Fat:

2g
Cholesterol:

0mg
Sodium:

0mg
Carbohydrates:

1g
Fiber:

0g
Sugar:

0g
Protein:

0g