Visiting New Orleans, the city of live music and delicious food, has been a dream of mine for a while.
But, I soon realized that there was a lot more to Louisiana than just the Big Easy and decided that I should make a trip with the whole family to explore the best attractions Southern Louisiana has to offer.
Our first stop was Cajun Country and the heart of Cajun Country is Lafayette. This family-friendly city about two hours away from New Orleans has a laid-back vibe that was instantly appealing.
After checking into our room at the beautiful SpringHill Suites Lafayette South, we were ready to explore the best kid-friendly things to do in Lafayette, LA. And luckily, the city has something for everyone!
For Younger Kids – Children's Museum of Acadiana
Families with toddlers, preschoolers or young school-aged children will adore this hands-on children's museum.
Packed with everything from a kid-sized grocery store to a real ambulance, children are invited to climb, touch, play and pretend to their heart's content.
While the Children's Museum of Acadiana was a little young for our almost-13-year-old son, our other two boys loved spending a few hours playing inside.
At nine, Benjamin was a little old for the museum as well, but he made a few friends and had a great time playing with them. He especially loved "saving lives" in the museum's ambulance!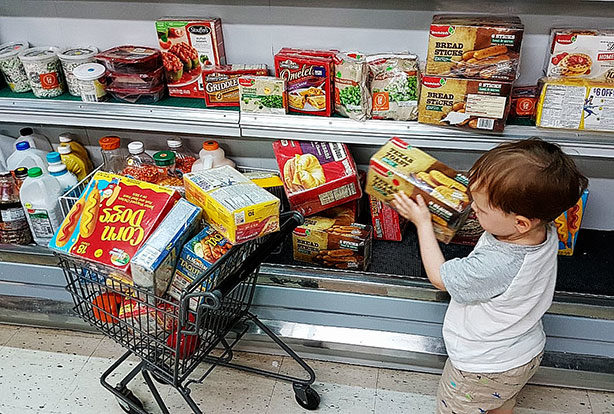 Baby Cormac, though, was in his element in this fun-filled spot! He started out playing with the building blocks just through the front door, then moved on to brushing the giant teeth in the dentist's corner.
He filled dozens of cups with imaginary soda in the miniature restaurant and then finally went on a grand shopping spree in the grocery store!
Watching him play had the whole family smiling the entire time we visited the museum. And as a natural mimic, I knew Cormac was thrilled with finally being able to do everything Mom and Dad did…with items that were just his size!
For a few hours or a whole afternoon, the Children's Museum of Acadiana should be a must on your list of things to do in Lafayette, LA for families with younger children.
For School-Aged Kids – Vermilionville
Located just past the Lafayette Airport is the heritage village of Vermilionville, and I fell in love with it as soon as we stepped inside.
The village is dedicated to preserving and sharing the history of the Acadian and Creole people that lived in the area from 1765-1890.
The village features some traditional Acadian houses, a chapel, a schoolhouse, a trapper's cabin and a forge. But while the houses themselves are rich with history, it's the people inside that truly bring Vermilionville to life.
Each building has a craftsperson that performs activities from the time period of the village and shares information about its history.
In the first house we walked into, we learned about spinning wool into thread, and how that thread was then used for weaving.
Next, we popped into the schoolhouse where we learned from a First Nations man about how schools had once banned the French language.
Both my older boys were shocked to learn that teachers would make you kneel on rice or corn in the corner if you were caught speaking French!
From the local blacksmith, we learned about making snake hooks to help you safely remove snakes from your property.
And in the Maison Boucvalt, we heard some of the traditional Acadian music sung in French and played on accordion. It was a toe-tapping good time that really showcased one of the key characteristics of the Acadian people…their love of lassiez bon temps rouler!
After stopping by a local family house where the boys learned about how they would have lived and worked as children in 1765, we finished off our visit with a stop at the animal pen, where we fed the donkey and sheep. Cormac loved looking at the animals, but I think he was happy that they were behind a fence!
Vermilionville was one of our favourite things to do in Lafayette, LA for the whole family, and I loved that my boys learned so much as they were exploring the village.
This is a place that has really mastered the art of keeping kids engaged as they learn. The weather building at the beginning even had a special display that let the boys play with a cloud and make their own tornado!
While younger children will have a great time at Vermilionville, it's school-aged and older children that will get the most out of the experience.
And for those that visit on Saturday or Sunday, there's even the experience to take in live Cajun music jam sessions and dances!
For a Mouthwatering Plate Lunch – Laura's 2 Soul Food
This hole-in-the-wall restaurant is an institution in Lafayette and if you're planning on heading there for lunch, you'd better get there early!
The restaurant specializes in soul food plate lunches served with your choice of sides and rice covered in gravy. And by the time we got there at 1pm, every side was sold out except the (incredibly delicious) creamed corn!
Laura's 2 is owned by Madonna Broussard, the granddaughter of the original Laura, and it's kept the same welcoming vibe and hearty food that makes it one of the top things to do in Lafayette, LA.
I couldn't resist trying the fried chicken and with my first bite, I fell in love! It was hands-down the juiciest fried chicken I've ever had, and the batter was positively addictive.
My husband and oldest son tried the fried pork chops instead and both of them also raved about the food. In fact, after travelling all over Southern Louisiana, my husband maintains that Laura's 2 was one of the best restaurants we visited on our entire trip.
And I'm inclined to agree. The delicious food served takeout style in to-go boxes and the friendly and welcoming cooks create the perfect plate lunch experience. And I may never eat rice without gravy again!
For a Cool Afternoon Break – Parc Sans Souci
When the heat of the day is starting to slow everyone down, a quick visit to Parc Sans Souci will perk everyone up again!
Featuring a large spray park that's open from 11am to 5pm most days, it lets kids of all ages cool down as they run, jump and splash through the water.
Spray parks like this are especially nice for families like mine with kids that cover a wide range of ages. Toddlers and preschoolers can have just as much fun as older kids…no swimming skills required!
Among the many things to do in Lafayette, LA, this one is a surefire crowd-pleaser.
The park is also a popular spot for photos; the large letter display in front of the spray park spells out the name of the city…with one letter missing!
Both my boys were happy to jump into place and create a "Y" to finish off the word. From the moment we arrived in Lafayette, we felt embraced by the city and this photo was the perfect visual representation of that feeling!
For Mid-Day Refreshment – Snowballs at the Snowball Factory
Louisiana is the home of the Snowball and whether you've eaten them before or not, you need to try one here! We made the quick half-hour drive to New Iberia's Snowball Factory to try our tasty treats. And they were well worth the trip!
We bought the boys each a small Snowball, but there was nothing small about them! The heaping helpings of flavored crushed ice were the perfect cool-down on a hot day and both boys loved them from the first taste.
We tried the Blue Bubble Gum and the Tutti Frutti, but there were over 50 other flavors to choose from!
For Tweens and Teens – Shadows on the Teche
While in New Iberia, we decided to also take a tour of the historic Shadows on the Teche, a house built for a former plantation owner in 1834.
In the days of sugarcane plantations, it was common for plantation owners to have a house in town for entertaining. The plantation wives also usually lived in this house when pregnant.
Shadows on the Teche was no exception and had been built for sugar producer David Weeks. Visiting this house was our first real glimpse into the lives of slave owners in the southern states.
The house had been occupied by Union troops during the civil war and the women living there had retreated upstairs and refused to come down until the war ended.
It was an interesting experience for us to contrast that brave attitude with the fact that the house's occupants had been slave owners.
Since most tweens and teens in Canada study the book Underground to Canada at some point, a house like Shadows on the Teche is an engaging way for them to actually see a bit of the history they read about in the book.
And any older school-aged child that's studied slavery and the American Civil War in school will find the tour through this house an interesting one.
For a Toe-Tapping Good Dinner – Randol's Restaurant
Like much of Louisiana, Lafayette has deeply musical history. In fact, Lafayette is considered the Zydeco capital of the world!
Cajun and Zydeco music tend to have an upbeat, high-energy country feel to their songs, which is partly why dance halls are such an important part of Cajun Country's heritage.
And while there are tons of places to catch live music each week, one of the most popular spots is Randol's Restaurant! While it's a bit of a tourist destination, its advantage is that there's always live music playing.'
On the night we visited, the Lee Benoit Family Band was strumming up a storm as my boys headed onto the dance floor.
The food itself was traditional Cajun fare, which meant there was plenty of seafood, plenty of deep-fried dishes and plenty of spice!
I couldn't decide what to try, so I tried some of everything with the seafood platter. The fried catfish was especially tasty and having seafood that was clearly fresh was such a treat for a family like ours that lives so far from the ocean.
We also tried the Fried Alligator as an appetizer and once again, the freshness was instantly apparent. We'd tried alligator in the past at a Cajun restaurant in Banff, Alberta and it had been tasty, but quite chewy. The tender bites of alligator at Randol's melted in the mouth and paired perfectly with the spicy dipping sauce.
Over our two days in Lafayette, we had time to check out a few other attractions as well, from the Tabasco Factory Tour to the Conrad Rice Mill.
And finding all these things to do in Lafayette, LA left me sure of one thing…we hadn't given ourselves nearly enough time in Cajun Country!
But this is also a spot that I know we'll be visiting again. The friendly people, fun atmosphere and top-notch food and music make Lafayette, LA a perfect destination for families.
And the city actually celebrates Mardi Gras just as heartily as New Orleans does…except that the celebration is completely family friendly!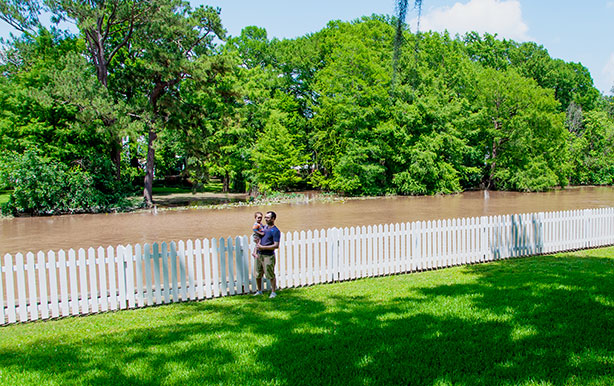 If you're planning a trip to New Orleans with your family, I highly recommend taking a few extra days to explore the many things to do in Lafayette, LA.
The laid-back vibe and family-friendly activities will help make your vacation one you'll remember for a lifetime!