For most of my thirties, I enjoyed skin that was firm, youthful and healthy looking. The most irritating issue I had to deal with was some hormonal acne every month. But overall, I loved my skin.
Then I gave birth to my youngest son and suddenly, I felt like middle age had arrived with a vengeance. My skin had lost its healthy glow, had developed fine lines around my eyes and mouth, and overall seemed to have gone from youthful to tired.
But I'm on a mission to get my glow back, and BeautySense.ca recently offered to help by sending me some of its amazing SkinCeuticals serums. The company focuses on providing high quality skincare, hair care and bath and body products shipped right to my door. And with over 4000 different products to choose from, there's great choices for every woman!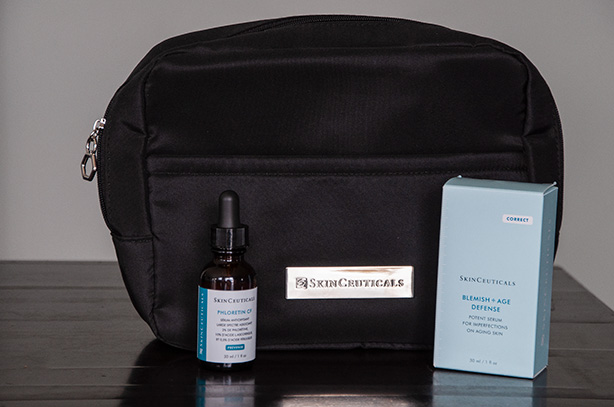 I received the SkinCeuticals Blemish+Age Defense serum and Phloretin CF serum to review. The products arrived with an adorable SkinCeuticals makeup bag and a few samples of other products to test out.
A good serum is something I've recently realized is a must for my aging skin, but finding one that both fights the signs of aging and helps prevent my hormonal acne breakouts isn't easy. Luckily, SkinCeuticals has products for every skin concern!
The SkinCeuticals Blemish+Age Defense serum combines dioic acid with alpha and beta hydroxy acids to help prevent blemishes, reduce wrinkles, unclog pores and prevent skin darkening from UV exposure. I started using it every night after washing my face for bed.
After just over a week, the difference is incredible. Many women swear this is the best adult acne product on the market and after using it myself, I can see why! My skin has been perfectly clear since I started using it and is also noticeably smoother as well.
The SkinCeuticals Phloretin CF serum I chose as my morning serum, as it was designed specifically as a daytime antioxidant. The Phloretin and Vitamin C help to brighten skin tone, improve discoloration and protect the skin from free radicals. This serum is also recommended for people that deal with adult acne.
Like the Blemish+Age Defense serum, this SkinCeuticals serum soon had me wowed. It does take longer to see any difference in discoloration (most reviews mention about a month, minimum), but I noticed my skin had a healthy glow and was smoother to the touch after just over a week.
And best of all, when I buy my refills of these must-have SkinCeuticals serums at BeautySense.ca, I can earn points towards free products and discounts in the future! Plus, every single order has free shipping across Canada, no minimum purchase required!
BeautySense.ca has products from tons of other top brands as well, including bareMinerals, NuFace, LASPA and Esthederm. Every order also includes a minimum of three samples; a great way to discover new must-have products.
I adore both of the SkinCeuticals serums I received and combined with my current favourite cleanser, tinted SPF moisturizer and night cream, I feel like I've finally found a winning skincare routine to help keep my face looking vibrant and youthful. My toddler sometimes leaves me feeling like an old woman at the end of the day, but there's no reason my skin needs to show it!
Whether you're deciding between micellar water and toner, looking for high quality natural makeup, or treating your man to the best beard care treatments, BeautySense.ca has products you'll love at great prices.
Check out the website and find your favourites!