While most people know that Anaheim, California is the home of Disneyland, far fewer people know that Buena Park, just 15 minutes away, is the home of Knott's Berry Farm, the oldest theme park in the United States. And while Knott's Berry Farm is by far Buena Park's biggest attraction, it's only one of the many kid-friendly activities the city has to offer!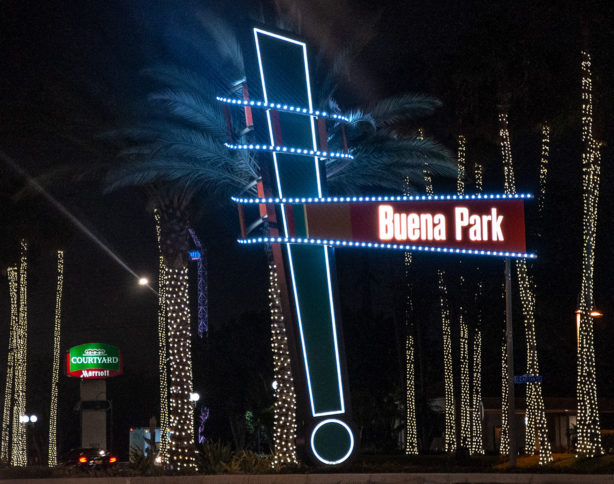 Recently, my family had the chance to visit Buena Park for two days to experience all the highlights of the area. And we were blown away by how much fun we had from start to finish when in Buena Park! Wondering if it's a place your own family might love? This two-day itinerary has all the highlights you may want to check out!
Enjoy Unlimited Pizza and Playtime at John's Incredible Pizza
To make sure our family was well fed and ready for fun, we started our time in Buena Park by visiting John's Incredible Pizza Co. This franchise is a favourite in Southern California and the Buena Park location is conveniently located in the Buena Park Downtown Mall.
The all-you-can-eat Pizza Buffet was a fun and delicious way to kick off our visit, and we enjoyed feasting on classic pizza varieties like Hawaiian and Pepperoni, as well as more unique pizzas like Alfredo and Spicy Peanut Butter pizza! The buffet also offered a full salad bar, nachos, pasta, soups, sides and all kinds of tempting desserts…including a soft serve ice cream machine!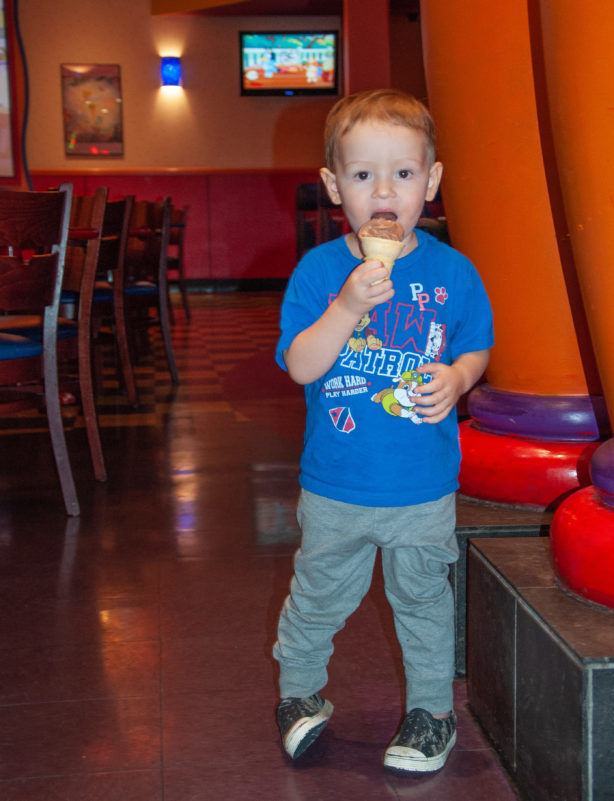 For my boys, one of the highlights of their meal was getting to choose which of the five theme rooms to eat in. My oldest son Zackary, a huge sports fan, loved enjoying a basketball game and all the themed décor in the Hall of Fame room. My middle son Benjamin preferred the trendy surfing vibe of the Vertical room. And two-year-old Cormac loved the bright colours and cartoons playing in the Toon Time room.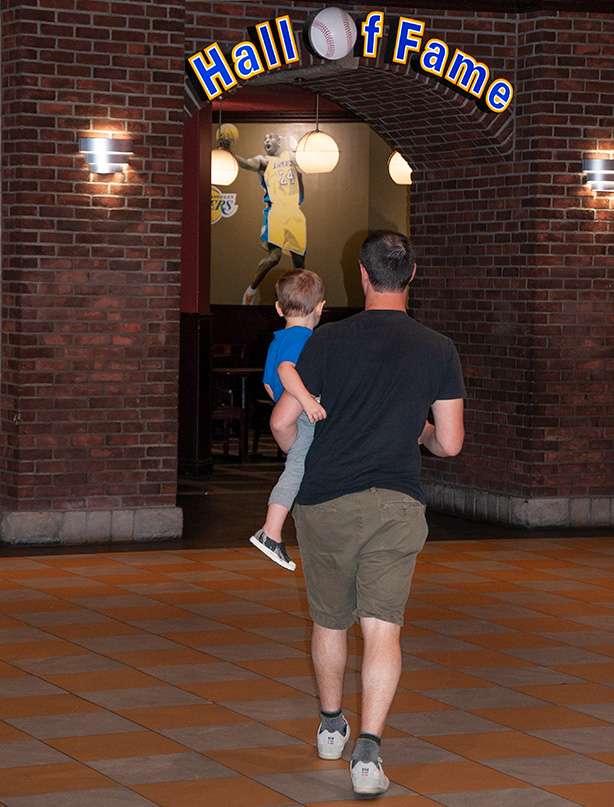 But the best thing about John's Incredible Pizza is that when the food is done, the fun continues with over 100 different arcade games and rides…plus the chance to collect tickets for various toys and prizes!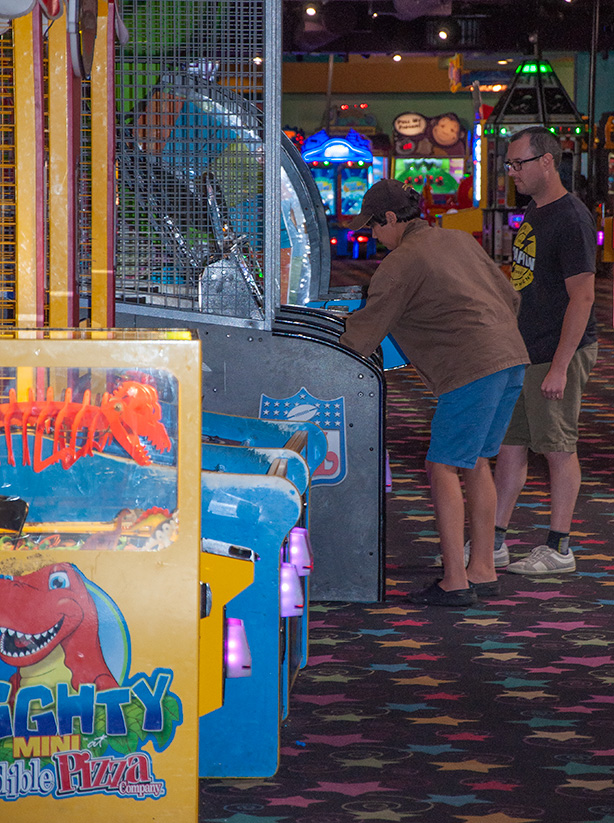 My two older boys had a blast trying the different games and seeing how many tickets they could win, while my youngest enjoyed some of the rides and the free Kiddie Land play area.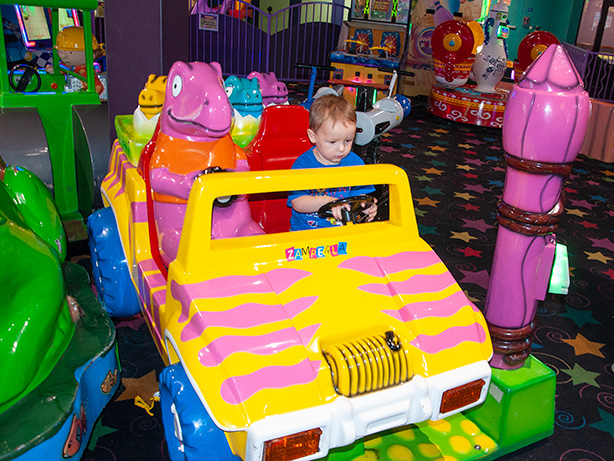 Of course, I couldn't resist joining in the fun as well! I played a few games, both with my boys and on my own, and helped Benjamin win some tickets for a ball that he'd set his heart on getting. In the end, we just managed to get the tickets we needed and he claimed his prize!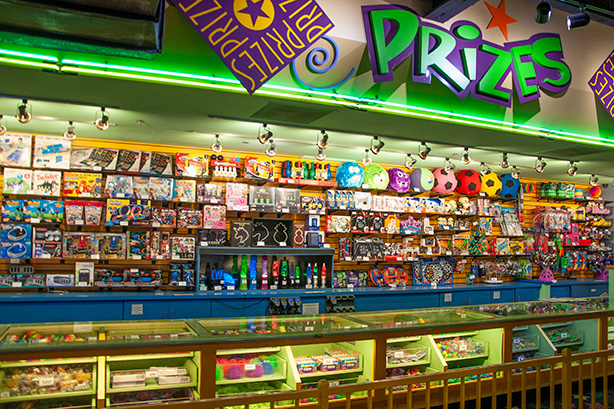 Delicious food and the best selection of games I've ever seen made John's Incredible Pizza Co. a hit with the whole family. But after so much eating, we decided it was time to get some exercise!
Bounce to the Roof at Big Air Trampoline Park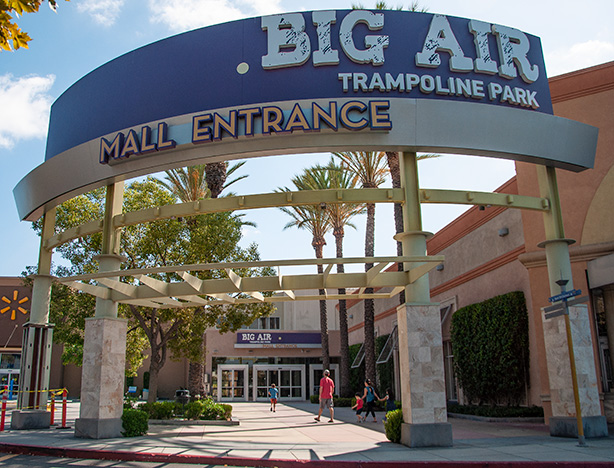 After our pizza feast, we headed to the Big Air Trampoline Park located in the same mall, just a few minutes' walk away. My older two boys had been to trampoline parks before, and couldn't wait to get bouncing. Personally, I was most excited about finally getting my husband out jumping, too!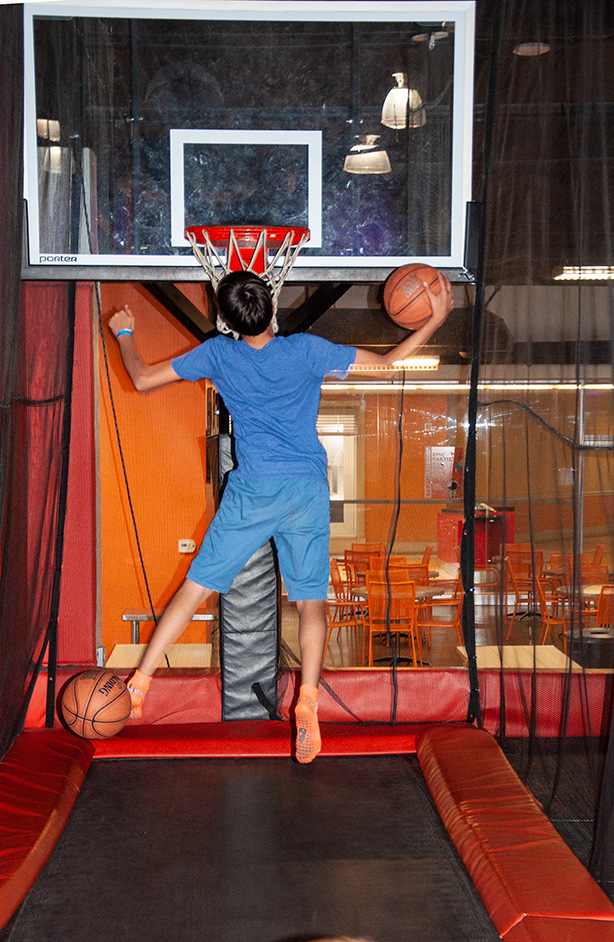 Trampoline parks are always a hit with kids, but Big Air Trampoline Park really is in a class by itself. With all kinds of different jump areas, there's something for everyone, from the Lil' Air trampoline area for younger kids to the Big Slam dunking nets for basketball fans.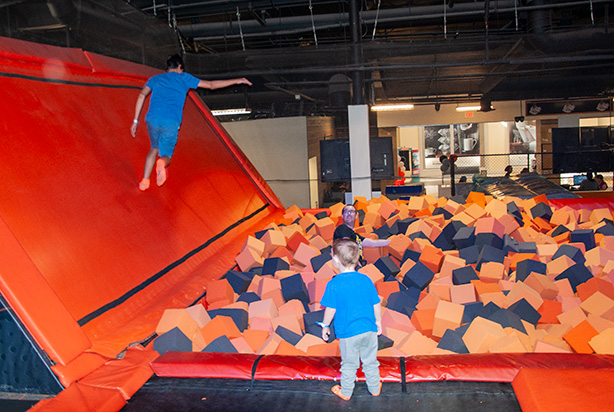 My own personal favourite was The Pit. I loved jumping as high as I could on the trampolines before flying into a pit of foam cubes…and occasionally running along the trampoline walls before falling into the pit instead!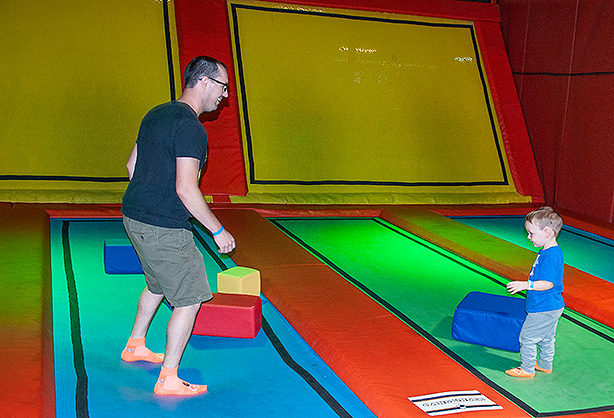 My husband was soon jumping around just as much as the boys, and it was a blast to see how much fun he had! He had a great time jousting with the boys on the Battlebeam, a beam set over a pit of foam that they tried to knock each other off using padded bats. He played an intense game of Airstrike with them, a fun point-based game of Dodgeball. And he even tried out the X Wall rock climbing challenge, though he fell off pretty quickly!
My boys, on the other hand, flew around both courses in no time, and at one point even ended up racing for the end of their courses at the same time. The X Wall has a fun timed setup; climbers need to hit each green button along the course before it turns red to light up the next button.
The only minor disappointment of our one-hour jump time was that the Bullpen was out of order when we visited. Riding a mechanical bull is actually something I've done before and it's a lot of fun, so I highly recommend giving it a try!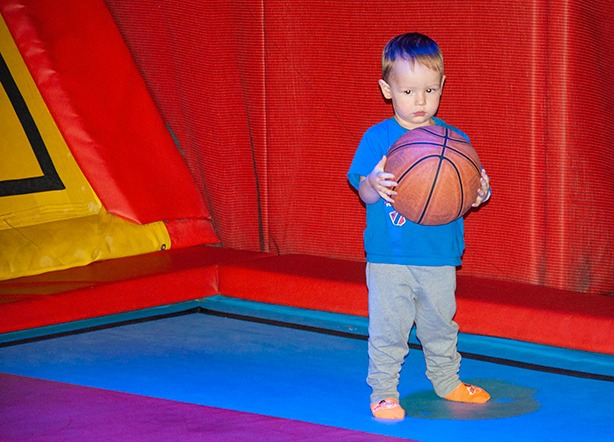 We managed to try everything and pack a ton of fun into our one-hour jump time, and it was definitely a highlight of our trip. And as an added bonus, we all got a great workout! With so many different courses, games and areas to explore, Big Air Trampoline Park is a kid-friendly must in Buena Park!
Sail the High Seas at Pirate's Dinner Adventure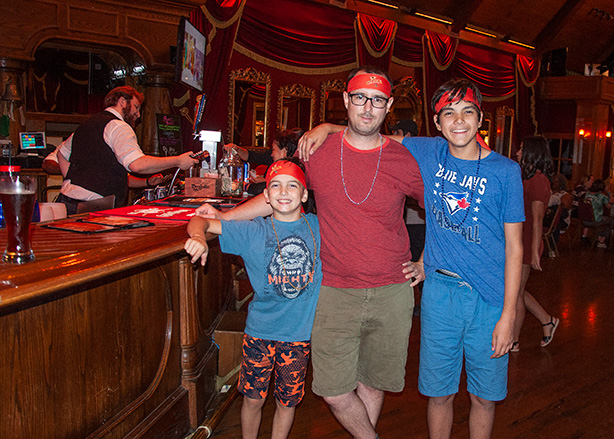 After so much exercise, we were all ready to eat. And dinner comes with a show at the Pirate's Dinner Adventure! I'd heard of the show before and always wanted to check it out. So when we had the chance to visit on our first night, I couldn't wait.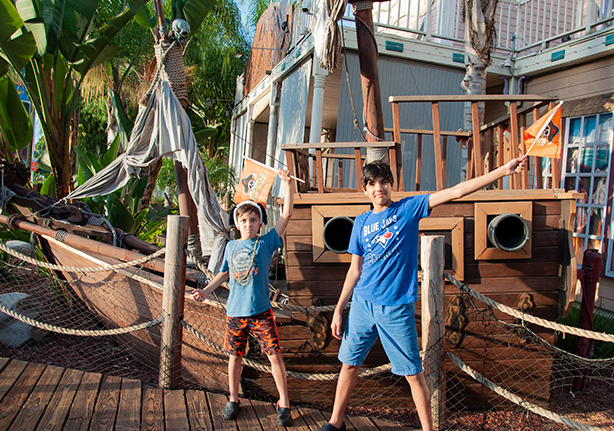 When we handed in our tickets, we got pirate bandanas, flags and beads and got ourselves decked out in true pirate fashion. After a quick photo by the pirate ship on display in front of the building, we headed inside to browse the items for sale and enjoy a pre-dinner drink.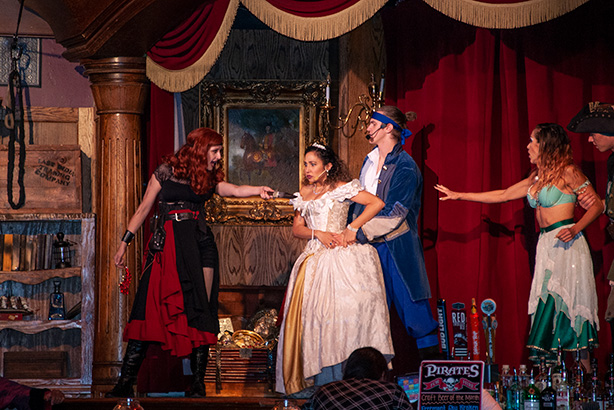 The show started in the lobby, as the princess of the land came out to greet us all, show us a treasured necklace and introduce us to her friend the mermaid. But the introduction took an unexpected turn as pirates came flying through the sky on ziplines, stole the necklace and took the entire room hostage!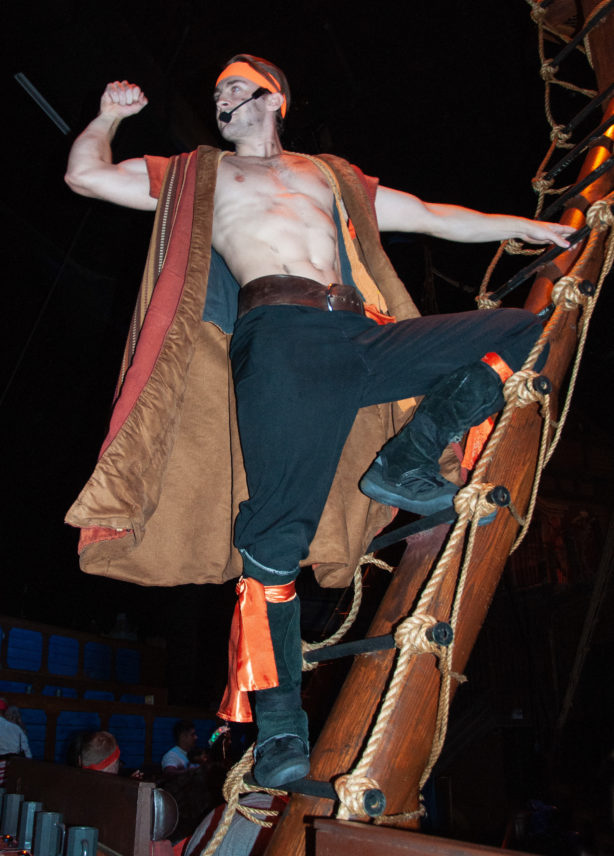 With that exciting debut, the audience was divided into groups among the pirates and we headed to our seats with Andre, the orange pirate, leading the way. As soon as we found our spot and settled in, Andre approached Benjamin to request his help during a boat race around the pirate ship. And shortly after, I was chosen as Cannon Master and given a job throwing "cannon balls" up to Andre later on!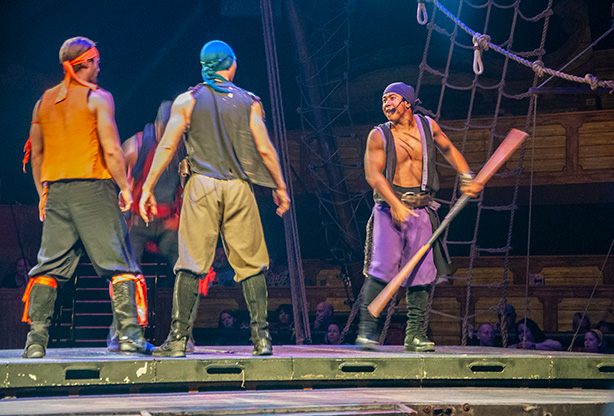 That was our first hint that this would be no ordinary dinner with a show. And sure enough, within the first few minutes of the show, we learned just why Pirate's Dinner Adventures is hailed as the world's most interactive dinner show!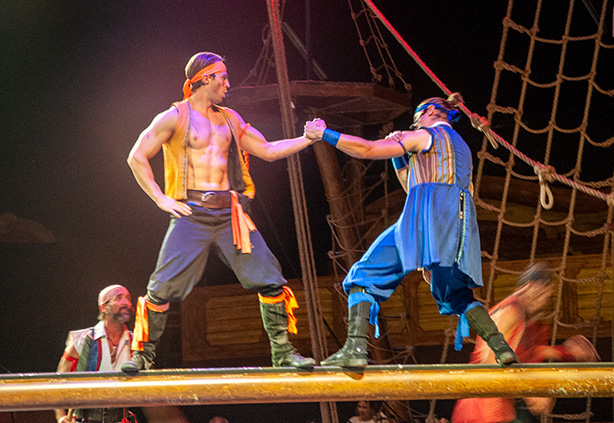 From helping to hoist the sails of the ship to helping our pirate win competitions, we were involved in the show from start to finish. Benjamin took his job of helping to row the boat very seriously when the time came, and was so excited when he and Andre won!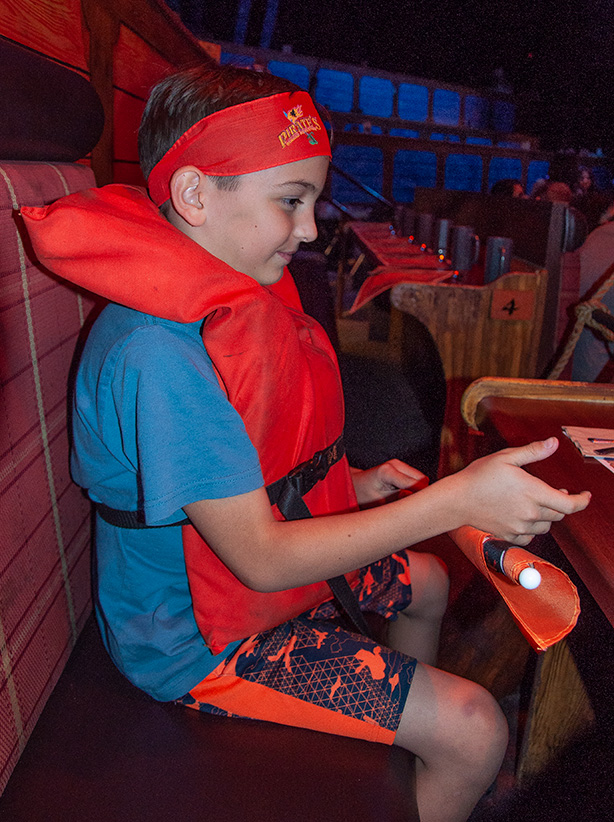 My own performance as Cannon Master, however, was not nearly as impressive…though I think I did give people a laugh when I accidentally threw one of the bouncy balls into somebody's plate!
Meanwhile, the pirates faced off in battles, sang songs, performed amazing aerial shows and eventually saved the day when the giant Kraken appeared. Both older boys were captivated by the show from start to finish, and my husband and I had a lot of laughs at the jokes and wisecracks of the pirates.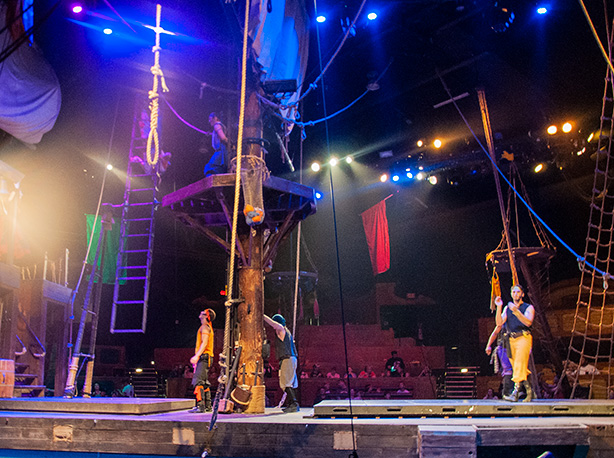 The Pirate's Dinner Adventure was easily the most entertaining dinner experience I've ever attended, and I loved the way that everyone had a chance to be part of the fun. After all, who hasn't wanted to be pirate at some point!
Snuggle in with Snoopy at Knott's Berry Farm Hotel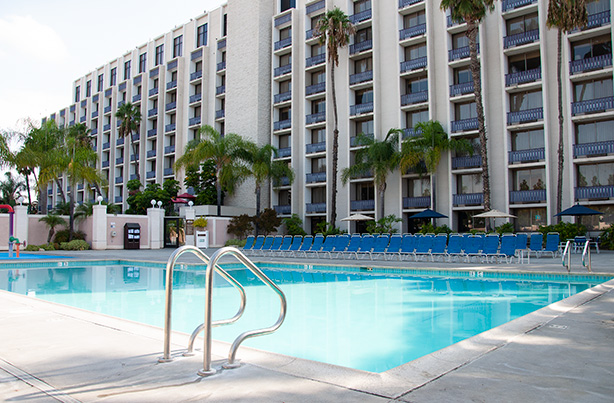 For the two nights we stayed in Buena Park, we stayed at the Knott's Berry Farm Hotel. And there were plenty of features that made it a great choice for our family of five!
The fun started as soon as we checked in; we stayed in one of the 16 Camp Snoopy theme rooms in the hotel! With Snoopy headboards, Peanuts art on the walls and a Snoopy stuffed animal for each of the boys, we fell in love with the adorable place as soon as we walked in. The hallway leading to the room was even decorated with Peanuts cutouts on the walls and paw-print carpet!
Being in a room with a pool view meant that both boys wanted to get outside and swim almost as soon as we checked in. And while the two of them are old enough to swim on their own, it was nice to be able to keep an eye on them from our window while they enjoyed the spacious pool and the splash park!
One of the best things about our room for me, though, was the fact that it featured a pull-out sofa in addition to the two queen beds! Finding a good room for a family of five can be hard and of course, having to book two rooms instead can quickly skyrocket vacation costs. That simple addition of a pull-out sofa to the room solves that problem and helps make a good vacation even better for a big family like mine.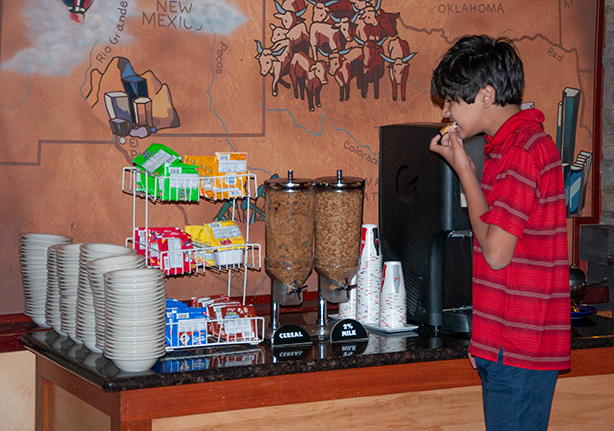 The Knott's Berry Farm Hotel also features a fitness room, sports courts, the on-site Amber Waves restaurant and a location that's just a few minutes' walk away from Knott's Berry Farm itself. And of course, Snoopy is a frequent visitor of the hotel! Not only can he be found at the Amber Waves restaurant each day, he comes to tuck kids into bed each night between 8-8:30pm in the Camp Snoopy rooms!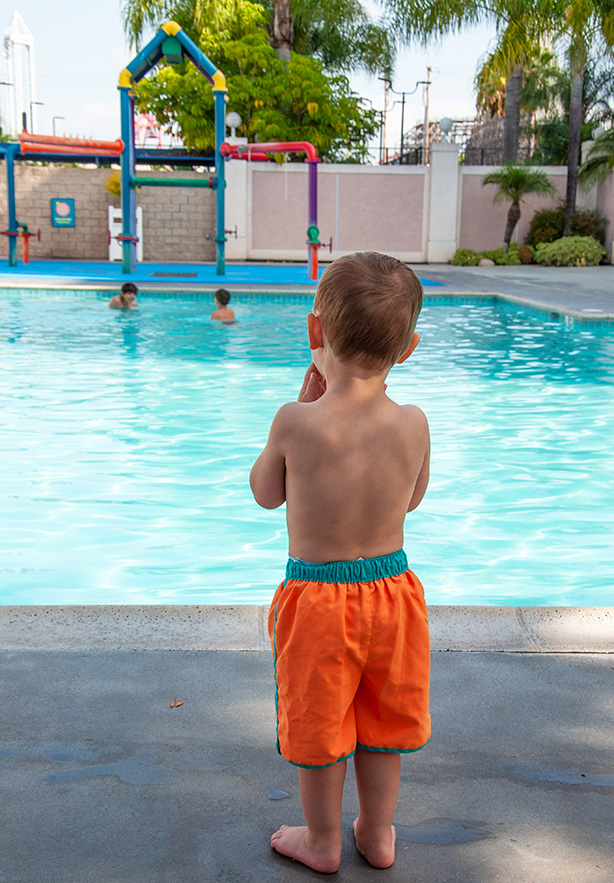 We had the chance to enjoy the pool, a buffet breakfast at the restaurant and, of course, plenty of time relaxing in our adorable room while at the hotel. And I couldn't have dreamed of a more kid-friendly home base for our time in Buena Park. For those making a journey to Disneyland, there's even a complimentary shuttle!
Try a Cuban Culinary Experience at Porto's Bakery & Café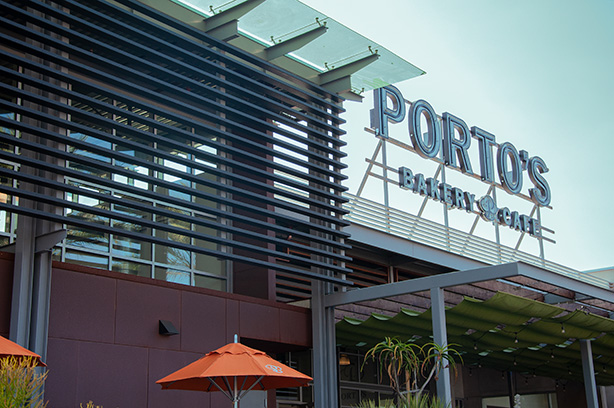 When it comes to good food, Porto's is in a class of its own. In fact, a few years ago it earned the number one spot on Yelp's Top 100 Places to Eat in the US! We kicked off our second day in Buena Park by heading there for breakfast…and a few other treats!
Walking through the door is the only proof a person needs as to just how popular Porto's really is. Even first thing in the morning, there are long lines of people waiting for their Porto's favourites. And eating there is brag-worthy; I saw people taking selfies of themselves with their Porto's boxes to share online after getting their food!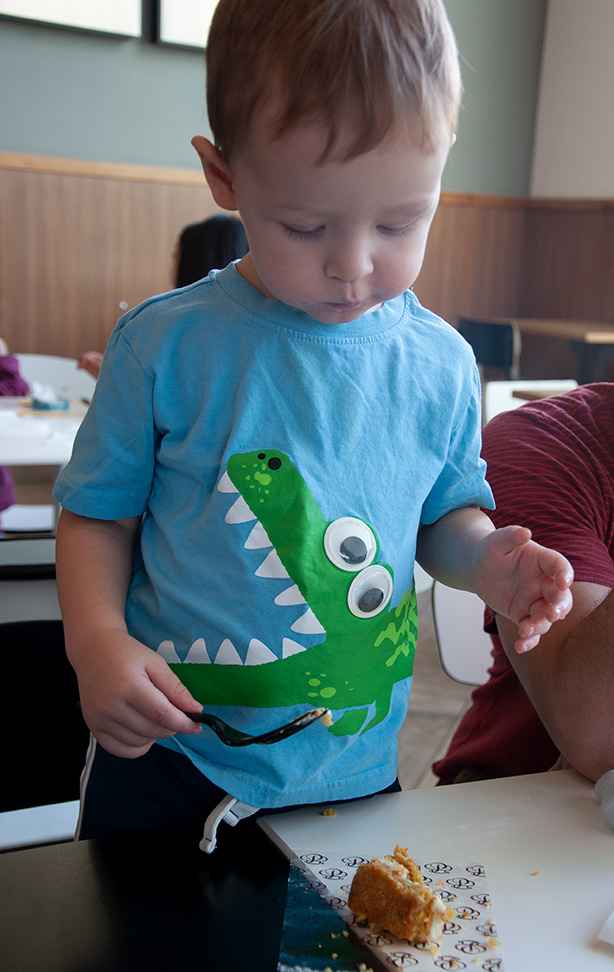 The bakery features an assortment of must-try Cuban delicacies and we couldn't resist trying them along with our breakfast. The potato balls are a staple of the chain and after one bite, we learned why! Each tender little morsel is filled with seasoned ground beef and then breaded and fried for an addictive crispy exterior.
We also enjoyed chicken croquettes, ham croquettes, Cuban meat pies and chicken empanadas. The flaky pastry and Cuban seasonings gave every bite an explosion of flavour. To round out our breakfast, we shared a Breakfast Wrap, featuring roasted pork, guacamole and black bean spread, and a Chorizo and Egg Sandwich, featuring egg, Chorizo sausage and cheese on freshly baked Cuban bread.
The mind-blowing assortment of sweets offered by Porto's Bakery & Café was irresistible, so we treated ourselves to dessert after breakfast too! We shared carrot cake, opera cake and a fresh fruit tart between us so we could taste a few of the bakery's top treats. We enjoyed each decadent delicacy and the moist and rich carrot cake was an especial favourite with the boys.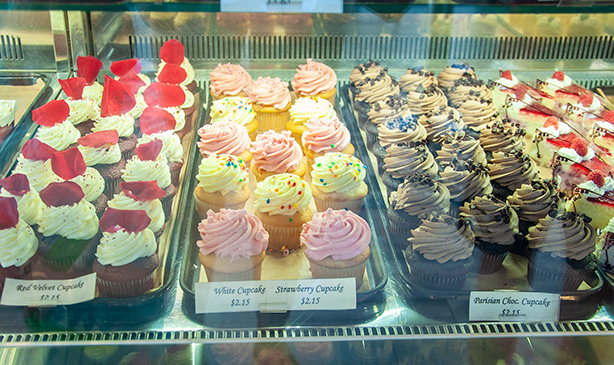 After digging into all that food, I realized that perhaps one of the biggest reasons Porto's Bakery & Café has become such a Southern California favourite is its prices. The bakery prides itself on offering delicious food at a reasonable price and it does that very well. Our family of five enjoyed an absolute feast for about $30!
Go Ride Crazy at Knott's Berry Farm
Our second day in Buena Park was dedicated to exploring Knott's Berry Farm, and we couldn't wait. Our family is no stranger to amusement parks; we've explored Disneyland, Walt Disney World, Universal Studios, LEGOLAND, Canada's Wonderland and SeaWorld in the past. But exploring the oldest amusement park in the United States promised to be an extra special experience!
As soon as we walked through the gates, we saw Snoopy taking photos with visitors and jumped over to get that perfect shot. I was thrilled that we got to start off our visit with the must-have memento before checking out the many rides that the park has to offer.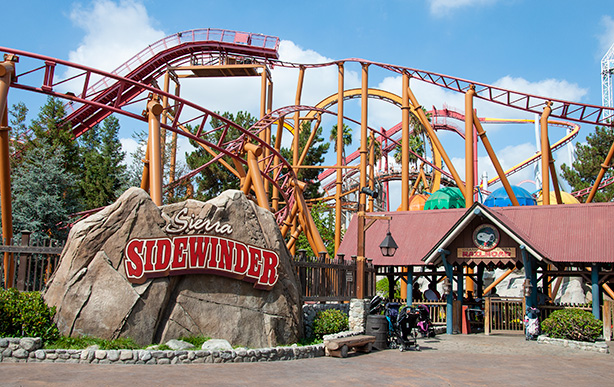 My family is full of thrill-seekers, which is partly why we love amusement parks so much. We'd done our research the night before and knew there were a few rides that we absolutely had to try. But of course, we also wanted to find some fun activities for two-year-old Cormac! So we started off our exploration at Camp Snoopy, the section designed for younger visitors.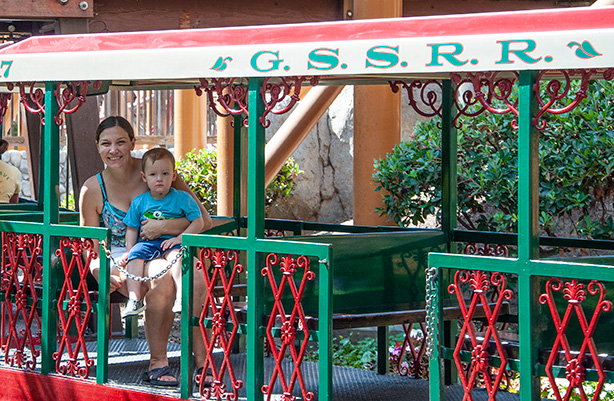 Cormac was happy to get on the Grand Sierra Scenic Railroad, a miniature replica of a steam locomotive, and take a little trip past all the Peanuts characters in Camp Snoopy while sitting beside me. And in the meantime, the two older boys tried out the Sierra Sidewinder, one of the slightly more mellow roller coasters in the park.
Next, I took Cormac on a journey into the air on Charlie Brown's Kite Flyer. It was adorable to see how seriously he sat in the seat as we sailed up into the air…and how big his grin was when the ride came to an end! He fell in love with the ride and wanted to go again and again.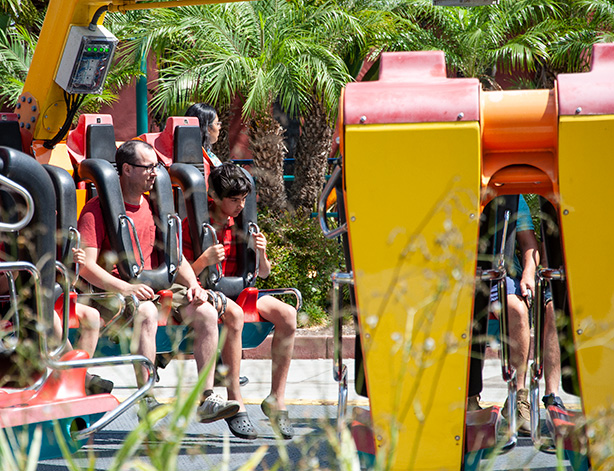 But the rest of the family wanted some adventure, and there were plenty of places to enjoy that! We headed to the Mexican-themed Fiesta Village next and all took a turn riding the quick and intense Montezuma's Revenge coaster. This ride features thrills and chills as it shoots the coaster up to the end of a steep track…and then comes plummeting down again backwards!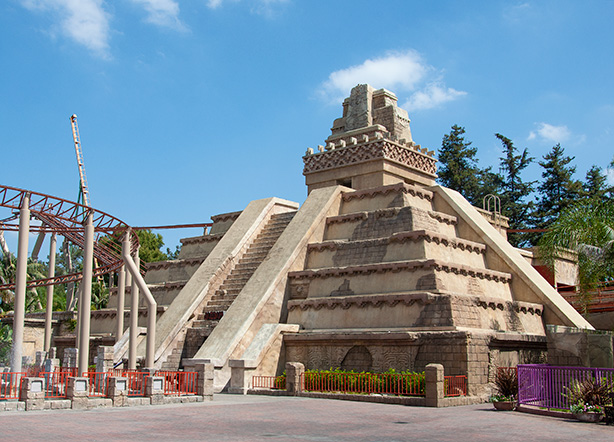 We also tried the Jaguar coaster, which had more of a traditional roller coaster track that ran through a Mayan pyramid, before heading over to the ocean-themed Boardwalk area. When it comes to thrills, this is definitely one of the best spots in the park!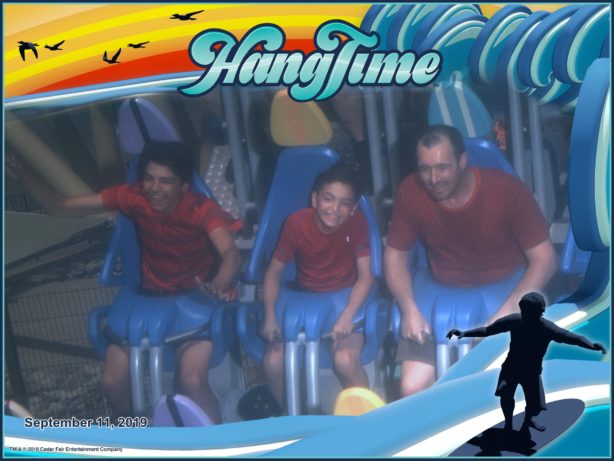 From the Xcelerator, a coaster that launches like a rocket and goes from 0-82 mph in 2.3 seconds, to Hang Time, California's first and only dive coaster that hangs vertically 150 feet high before plunging downwards, we loved how exciting and unique the coasters were!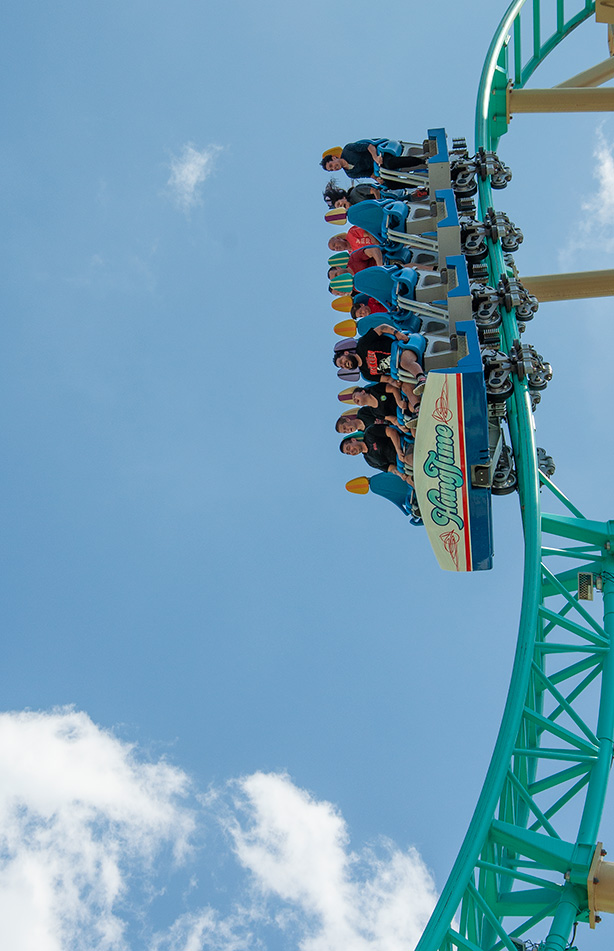 Then all five of us hopped over to Voyage to the Iron Reef, an interactive 4D ride that let us face off against the Kraken Queen. We've tried similar rides at other parks, but this one really went above and beyond! My husband told me after that he thought it was the best 4D shooting ride he's ever been on!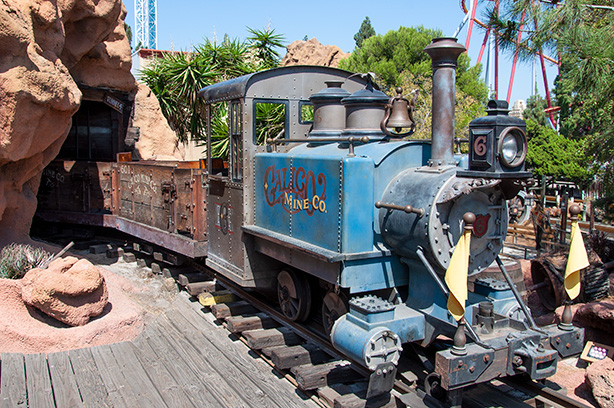 After that, we headed to the Ghost Town to try a family-friendly ride that we could all enjoy together. The Calico Mine Ride was Knott's Berry Farm's first major ride and took us on a trip through a gold mine full of animatronic miners and fun special effects.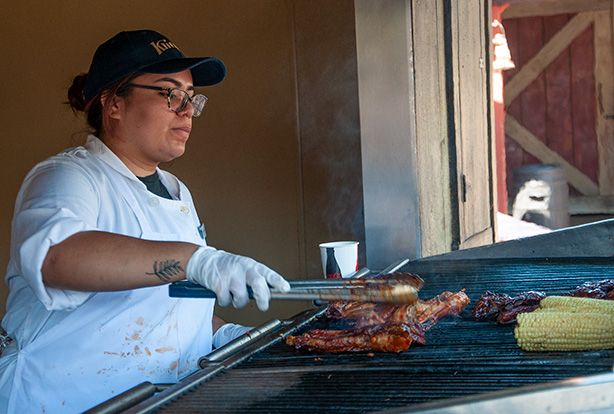 While exploring the Ghost Town, we decided to stop for some lunch at Fireman's BBQ. There are lots of great places to eat in Knott's Berry Farm, but we couldn't resist the authentic flavour of flank steak, ribs and corn cooked over an open grill.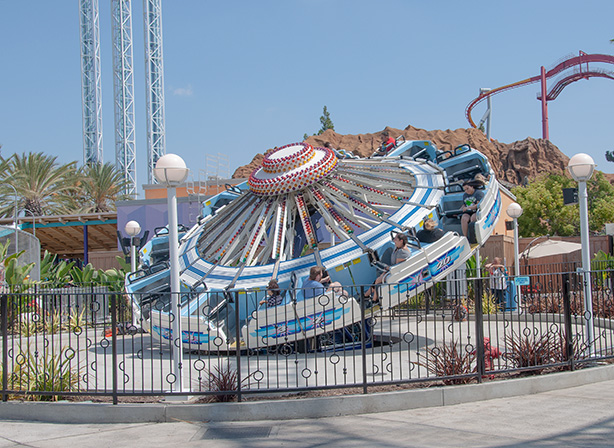 Knott's Berry Farm also has various shows featuring the Peanuts gang that run throughout the day, as well as other fun events, like heists of the Calico Railroad train by the Ghost Town bandits! There are tons of other great rides too, and in our day at the park, we tried almost all of them!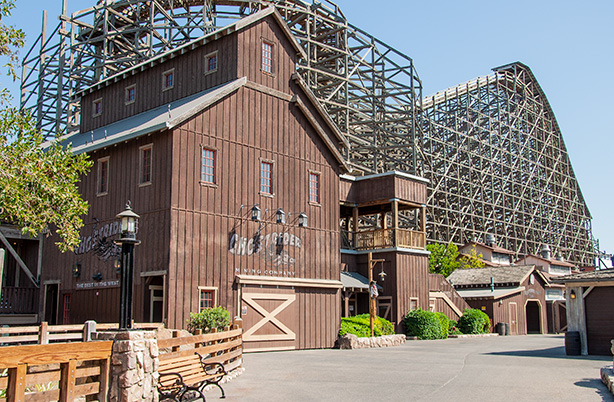 From the hanging Silver Bullet roller coaster to the wet and wild Calico River Rapids to the many classic carnival-style rides like the Merry-Go-Round and the High Sierra Ferris Wheel, Knott's Berry Farm impressed us all with just how much variety it had. The park even has the longest and tallest wooden roller coaster on the West Coast!
Spending a day at Knott's Berry Farm is a must for families that love rides, and it rivaled any amusement park we've visited with the quality and number of rides it offered. And the celebrations are guaranteed to be even better in 2020, when Knott's celebrates its 100th anniversary!
Join the Knighthood at Medieval Times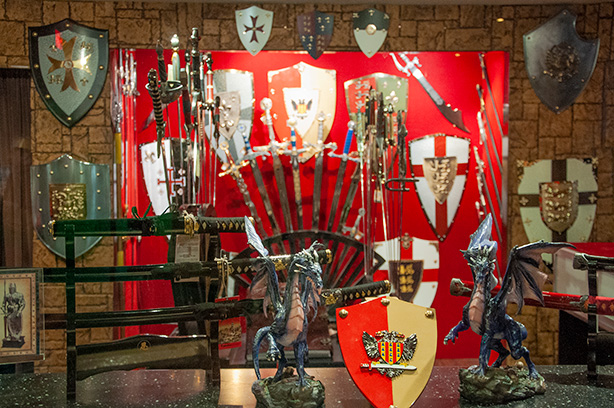 Like most kids, my boys are fascinated by the times of kings, queens, knights and heroes. And there's no better place to enjoy all those things than Medieval Times! For our second night in Buena Park, we headed to the Medieval Times castle to enjoy a royal meal and a tournament.
When we handed in our tickets, we learned that we would be cheering for the Green Knight. And shortly after the tournament started, it became clear that our knight was the villain of the show! It was a lot of fun getting to cheer for the bad guy for a change, and we all took on our role of villains with enthusiasm.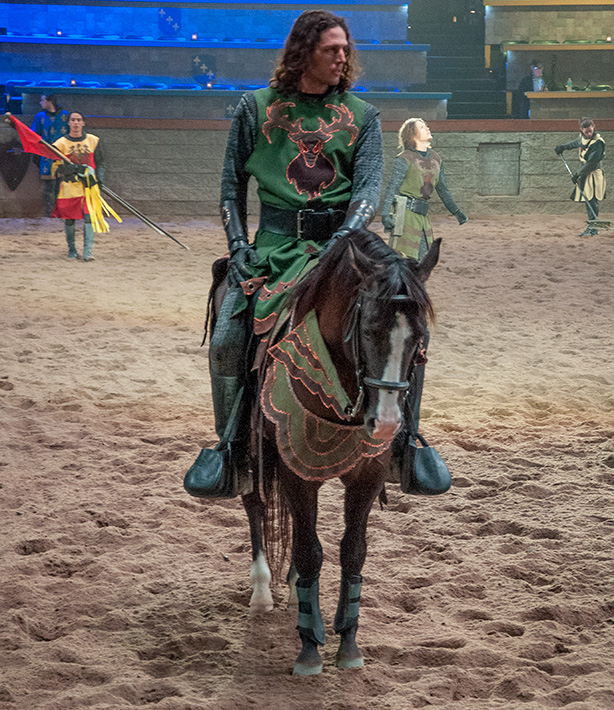 One of the highlights of Medieval Times is the food, since it's served in true medieval style without cutlery. Our waiter added some extra fun to the experience as he served our "Dragon Blood" tomato soup and "Roasted Baby Dragon" main course, which he told us tasted just like chicken!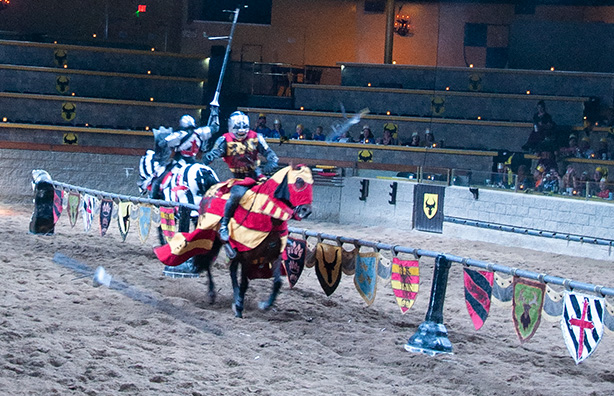 And then as we ate, we watched performing horses, a falcon's flight, jousting and swordfighting! I loved that the boys had the chance to see these ancient sports performed so well; watching the lances shatter during the jousting was so impressive, and seeing the sparks fly during a swordfight had the boys on the edge of their seats.
Of course, as we expected, good eventually triumphed over evil and our knight was defeated. But we had so much fun that we didn't mind at all. Medieval Times was an adventurous experience from start to finish, and we can't wait to go back and cheer on a new knight someday soon.
If you're planning a family trip to Southern California, whether it's to visit Disneyland, Universal Studios or just the gorgeous beaches around Los Angeles, you'll be glad you added a couple of days in Buena Park! With great restaurants, activities and entertainment, it's sure to be a spot where you make all kinds of memories.