Finding ways to make my busy lifestyle a little healthier has been a priority for me since we added our rambunctious youngest child to our household over two years ago. Baby Cormac does not leave me much free time for self care!
But some innovative products and services have been helping to keep my health on track. These are the ones that I'm loving most in 2020 so far!
BalanceONE Probiotics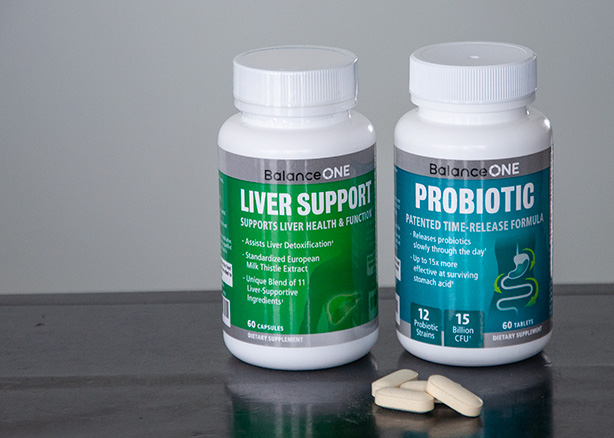 Adding a probiotic supplement to the diet is one of those things that can be incredibly beneficial to digestion and overall health. The downside is that probiotics often don't provide any noticeable benefits until they've been used for a month or more.
But a high quality probiotic supplement like this one will often start to provide benefits sooner. And I love that they don't require refrigeration or cause sour stomach! With 12 different probiotic strains, BalanceONE Probiotics are up to 15 times more likely to survive stomach acid, to help you feel better sooner!
UltraFiber Chewable Tablets
Most Canadians only get about half of their recommended daily fiber, but the new UltraFiber chewable tablets make it easy to increase that daily intake!
Their sweet orange flavour makes them part treat and part supplement, with each tablet containing 700mg of chicory root fiber. Just make sure to drink a full glass of water with each one!
BalanceONE Liver Support
After holiday celebrations, I know my liver could probably use a little extra support. And this BalanceONE Liver Support daily supplement is a great way to do that.
Containing milk thistle, turmeric, dandelion root and other natural ingredients shown to help improve liver health. Milk thistle is actually one of the only herbs consistently proven to improve liver function, so make it a must every day!
30 Days to a Healthier You Program
Sometimes a bit of support can make a world of difference when it comes to increasing overall health. Getting a month of daily emails from Randa Derkson Nutrition was just the push I needed to start taking charge of my nutrition and exercise.
Each email contains an easy, actionable step to help increase your health in just 30 days. Some take just minutes, others might take an hour, but all of them worked together to help me look and feel better when the month had ended!
One of the things that I've learned being so busy in the last couple of years is that any little healthy addition to my day can help me feel better overall. And all these things have been a help in living healthier…no big time commitment required!