Black Friday is here, and if you've been dreaming of grabbing a new luxury watch a great price, now is a great time to do that!
Moonphase watches are one of the hottest trends right now, and if you love them as much as I do, you'll want to keep reading! Filippo Loreti is offering some of the best possible prices on moonphase watches you can buy on Black Friday. Here are my top five moonphase watch choices!
Venice Moonphase Silver Watch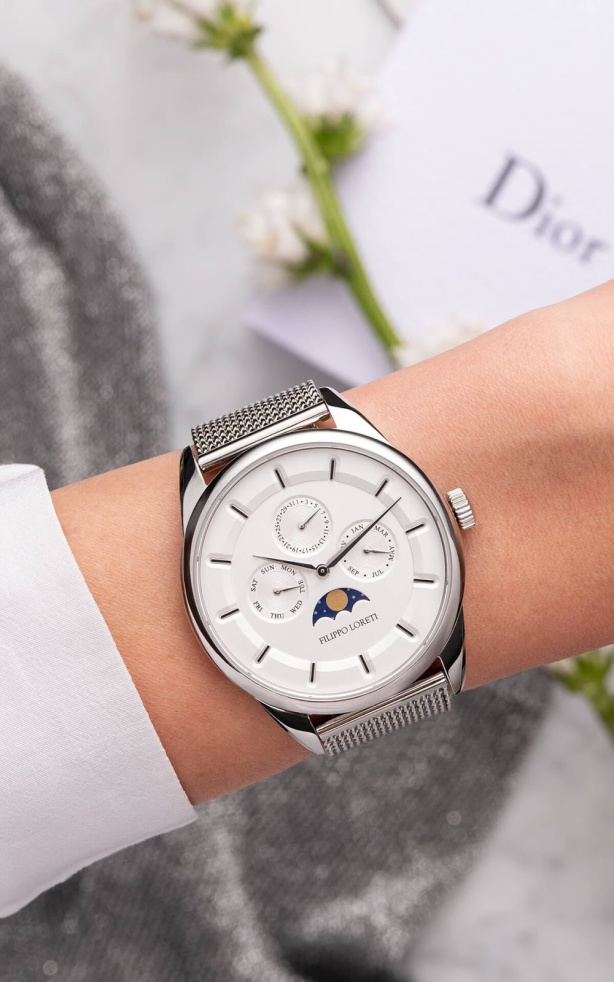 This classic stainless steel watch will make the right statement on any occasion. It is a simple watch that is designed for those that love a timeless look. The white dial has a perfect silver rim. The moon phase is the most noticeable feature on the dial, but it is supported by date of the month wheel, as well as month wheel.
The attractive dial of this watch is supported with a high-quality stainless steel mesh strap. The package also comes with a ten-year international warranty.
Venice Moonphase Black Gold Watch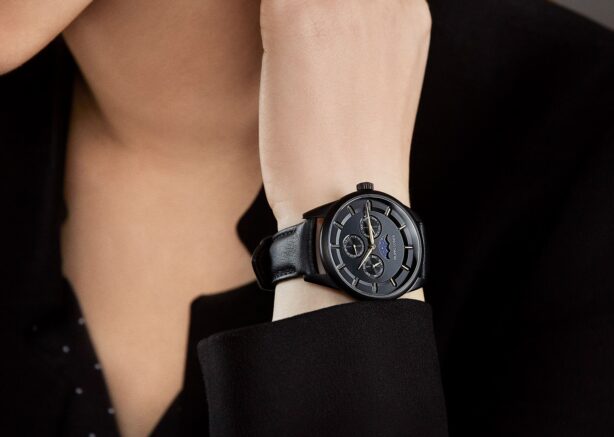 This is another classic moonphase watch that will appeal to those that enjoy opulent styles. It is a properly-finished black watch that is inspired by St Mark's Basilica in Venice. The architectural artwork on the caseback is beautiful. Among a few other features, the moon phase complication makes the watch outstanding.
The Venice Moonphase Black gold is one of the best affordable moonphase watches on the market. The strap material is Italian leather, and the watch is water-resistant up to 50 metres.
Venice Moonphase Emerald Watch
Like the previous choices, this is an affordable moonphase watch with features that complete the most fashionable looks. The most striking thing about this watch is the emerald dial. The elegant moonphase complication adds a touch of sophistication to the design.
Considering the price this watch is being sold at, it may just be the best Black Friday deal you find. It will be appreciated by any fashionable individual, so you can confidently buy it for a loved one if you're gift shopping.
Venice Moonphase Blue Gold Watch
This ultra-trendy watch demonstrates Filippo Loreti's desire to give every watch lover a luxury watch at the best possible price. It is a beautifully-designed watch that will catch everyone's attention instantly. The blue dial is complimented by a blue Italian leather strap that feels cool and comfortable around the wrist.
The quality of this watch is simply impeccable. The case material is the standard stainless steel for luxury watches. The glass is sapphire crystal, which is resistant to scratching. And the colour makes it the perfect accent piece for any outfit.
Venice Moonphase Rose Gold Blue Mesh Watch
As a huge fan of rose gold, I believe this is easily one of the most attractive moon phase watches under $500. If you are an ardent watch lover, you will definitely be taken aback by the affordable price Filippo Loreti is offering on this watch.
The moonphase complication is only one of the features that make this watch so gorgeous. The Rose Gold Mesh is a major attractive feature, and the sapphire crystal glass is scratch-resistant and enhances the durability of this Filippo Loreti watch.
Why Buy Filippo Loreti Moonphase Watches?
It can be easy to go overboard when it comes to buying luxury watches, but sometimes, luxury can still come with a great price tag! For individuals looking for affordable moonphase watches, there's simply no beating Filippo Loreti.
One of the biggest selling points of Filippo Loreti watches is the fact that they are not mass-produced. Instead, they are made for customers as orders are placed, resulting in a luxury moonphase watch made just for you. But because the company bypasses middlemen and sells directly to customers, they can offer their watches at surprisingly affordable rates.
Filppo Loreti watches are unarguably one of the most affordable quality watches on the market. And on Black Friday, they are going to be even more affordable! Choose your favourite style from this collection, or check out the website to find other options. No matter which you choose, people are sure to be blown away by your new watch!