There's nothing quite like experiencing the beauty and serenity of nature. And introducing the wonders of nature to your child is sure to be a special experience as well!
But it's important to also teach your children how to respect nature and act in a way that respects animals, plants, and the environment.
Sometimes, depending on where you live, sharing that information might be as easy as walking out the front door and enjoying your natural environment.
But with so many families living in urban areas, sometimes it might be harder to connect with nature and find ways for your kids to do the same.
If you're looking for ways to start teaching your kids about how important nature is, you're in luck! There are multiple easy ways to foster an appreciation of the world in your kids.
Try these tips to give your children a love for nature and the great outdoors:  
Set a Tree-Hugging Example
Kids are very astute observers. If you want them to appreciate nature, you have to lead by example. Your habits and activities will set the tone for how they approach and appreciate their natural environment.
You can start by spending time with your children outside. Help them explore and discover different things in the outdoor world. It's as simple as capturing frogs, collecting leaves, and watching animals in their natural habitat.
Introducing plants in the home is another great way to pique interest. The kids can help you care for the plants by watering and pruning them when necessary. Adding plants to the home is a beautiful way to bring nature closer to your kids' everyday lives.
Alternatively, if you have some space outdoors, consider planting a garden in your yard that you and your children can care for together.
Let them choose some of their favorite vegetables to plant, and then work together to water the seeds, thin the seedlings, and harvest the ripe vegetables when they're ready!
Reduce, Reuse, Recycle
The decades-old environmental mantra is popular for a reason. It's one of the best ways to start teaching your kids that small changes can make a big difference.
Start by showing your children how to compare packaging and choose products that produce minimal waste. From there, teach them about ways some items can be reused and given new life.
Having a weekly or monthly craft night is a great kid-friendly way to do this. Save empty yogurt containers, paper towel tubes, and other items, then spend time using them to create some fun art projects together with your little ones!
Finally, start teaching your kids which items can be recycled and which can't. Have them look for the recycling symbol on various items and sort recyclable items for pickup.
Give Back Through Service
Joining in community efforts to beautify natural areas is a great way to get social while also gaining a deeper appreciation for the environment.
Look for cleanup drives in your area, habitat or stream restorations, or tree-planting events.
In addition to the fun of spending time with environmentally-minded people, taking part in a project like this lets kids immediately see the impact of their efforts in their own local area.
For slightly older kids, especially teens, consider trying a zero-impact camping trip. Organize a trip with your teens and their friends to help encourage a lifelong interest in an outdoor hobby they can all all enjoy together.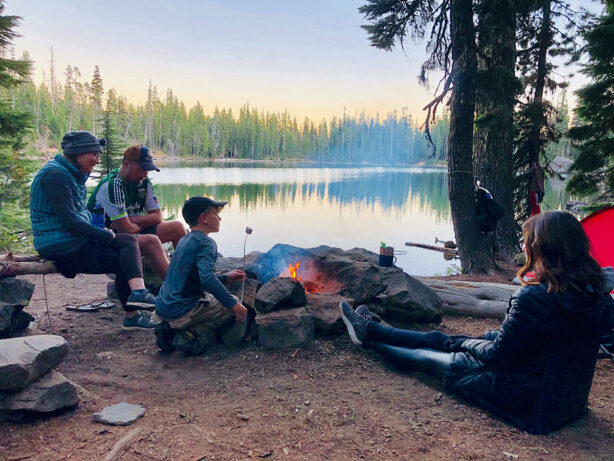 Family Time Outdoors
The best thing about fostering a love for nature is that it can be as easy as heading outdoors as a family.
Children love spending time with family and will also likely feel safer in new environments with you. Plan to try something new outdoors as a family, like hiking, biking, or kayaking.
Ensure your kids wear the proper attire when they spend time outdoors, including appropriate prescription sunglasses for kids and toddlers, long pants for hikes in rougher areas, kid-safe bug spray, and sunscreen.
Planting a Seed of Principles
With climate change impacting weather around the world, changing our current policies to support the environment is more important than ever.
That's why raising our children to appreciate the environment should be a priority. In the future, they are the ones that will help shape environmental policies.
Researchers found that environmental interest wanes as children get into their teens. As they reach puberty, their interests change and their focus is often more strongly on extra-curricular activities and social interactions.
But spending time in nature has benefits beyond simply protecting the earth. Time spent outdoors promotes physical and mental wellbeing. The fresh air and sunlight boost the immune system and promote overall personal health.
With a little support from you, your children will grow into healthy adults with ecological values that support a world with clean air, water, and soil.
Nature is Calling
Teaching kids to appreciate nature is surprisingly easy, and is a great way to create a life-long love of the world around them.
Use their natural curiosity to get them started exploring the environment, and follow their lead as they start to develop their own outdoor interests.
Fostering a love for nature is something that will benefit your child's future and the world!