Whether it is your child's first birthday or their sweet sixteen, every parent wants to make sure their child's big day is as memorable as possible.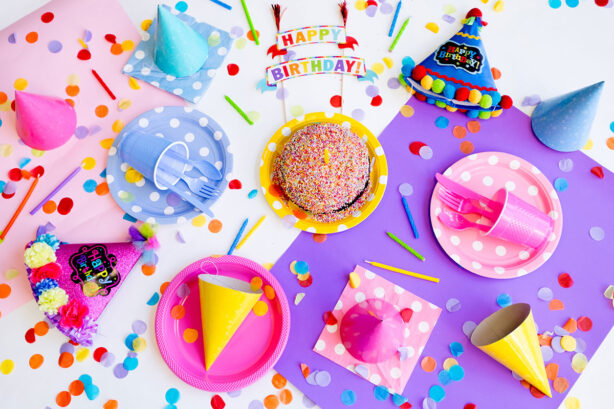 Celebrating a birthday is a special moment for a child, so wrap those gifts, stock up on Frozen or Toy Story balloons, and follow these steps for kids birthday party planning for an event that's sure' to put a smile on your child's face!
1. Budget
The most important first step when planning any party is to make sure that you have a budget in place. Party expenses can add up quickly, so knowing what you want to spend beforehand can help you plan more effectively.
Once you have your price set, you can divide up the money between food, cake, entertainment, a venue, and decorations.
You may decide to splurge on one thing and cut back on something else. The important thing is that by setting a budget first, you won't have your costs spiral out of control.
2. Guest List
Deciding who is going to be invited to the party is important for a few different reasons.
First of all, a larger guest list usually means higher costs. Secondly, you want to make sure your child is happy with the people that are being invited.
If your child is old enough, ask them who their must-invite friends are, and then decide if you'd like to add more people or limit the number.
And if you are planning to have your party somewhere other than your house, make sure to check with the venue about any potential restrictions on numbers.
3. Venue
Depending on where you host your party, the venue can quickly become the biggest expense on your budget.
A trampoline park, arcade, or pool are sure to be a hit with kids, however, and many locations will offer a birthday party package that provides admission, food, and potentially even party favors for one price.
If you'd rather splurge elsewhere, then a party in your house is always a popular option as well.
It may require more planning as far as entertainment and food, but not having to pay for a venue can make the work well worth it for some!
4. Cake
If there's one surefire way to make a child's birthday party memorable, it's with the cake! And these days, there are lots of great options for a wow-worthy cake regardless of your budget.
If you like baking, then creating your own cake is definitely the least expensive option. It also lets you bake something that your child is sure to like.
For those with a larger budget, hiring a professional baker to create a custom cake is also a popular option. The cake can be made to fit the theme of the party and your child will get the fun of having a cake that's completely unique.
Finally, if you want an option that's both easy and affordable, there's nothing wrong with a big store-bought cake! Most store bakeries will personalize the cake for free, and can even add a photo image to the cake for a small extra charge.
No matter what option you decide to choose, just remember that it's better to have too much cake than too little!
5. Entertainment
When it comes to kids' party entertainment, the list of options is almost endless. From clowns and magicians to DJs and face painters, you're sure to find something that fits your child's interests.
If you've decided to splurge on professional entertainment, it should be the first thing you book. Good entertainers are often very busy, so you want to ensure the person you're hiring is available.
If you want to keep the entertainment more affordable, pick up some small prizes and plan some party games and crafts instead.
6. Menu
If there's one place in your budget that you can minimize for a children's party, it's the food. Kids tend to be light eaters, so there's no need to go all-out.
Stick with inexpensive and kid-friendly favorites like hot dogs and pizza, along with some fresh fruit and veggies, and you likely won't need much more.
After all, the cake is the real food highlight of any kids' party!
7. Treat Bags
Every kid loves getting a few special goodies after attending a party, and treat bags don't have to be expensive to put smiles on little one's faces.
While dollar-store novelties may be popular, they're also often low quality and buying a variety of them can add up quickly.
Instead, consider buying each child one or two larger items that can be used and enjoyed for a longer period of time. A nice water bottle, play dough, picture books, or personalized gear are always great choices.
Kids' birthday party planning takes some time, but going through the details step by stop can make the job much easier.
And the work will be worth it when you get the chance to help your child celebrate their big day in style.