Are you thinking about setting up a savings account to help you manage your money and keep track of your finances?
Saving money has always been an important part of planning for the future. In today's world, it is more important than ever to put away enough money for short and long-term goals.
Setting up a savings account is one way to ensure you're building up your money while still having access to your funds when needed.
This comprehensive guide will cover the steps and considerations you should take when deciding how to set up a savings account in today's era. Let's start with the main details:
What is a Savings Account?
A savings account, like most basic bank accounts, allows you to deposit and withdraw money as needed. Unlike a checking account, they're not designed for constant withdrawals.
Many savings accounts have no monthly fee, as long as you're only depositing money or moving it to other accounts with the same bank.
The money you deposit earns interest over time, which helps it grow. You can also take advantage of high-yield savings accounts, which offer higher interest rates than traditional ones.
Savings accounts can be used both for short-term savings, and long-term goals like buying a house or retirement planning.
They are also ideal for emergency accounts, because it's easy to access the money if unexpected expenses like medical bills or car repairs pop up.
What to Consider Before Opening a Savings Account
There are a few things you should consider before opening a savings account. Here are the most important things to research when deciding on your account:
Interest Rate: One of the most important factors to consider when choosing a savings account is the interest rate. Interest rates are usually higher for high-yield savings accounts, but be sure to compare different options and read the fine print before deciding on one.
Fees: Some banks charge fees for various services, including maintenance or withdrawal fees. Make sure to read the terms and conditions of the account you're considering to ensure there aren't any hidden fees.
Minimum Balance Requirement: Some banks have a minimum balance requirement for opening an account. Others may require you to maintain a certain amount in your account at all times to avoid monthly fees.
Customer Service: Make sure the bank you choose has customer service that is helpful and easy to reach. You'll also likely want to ensure you can access your account online to make managing your money easier.
Recommendations: Ask friends, family, or coworkers if they have any recommendations for banks and savings accounts. This can help you narrow your choices and find the right bank.
Additional Services: Different banks offer different additional services, including mobile banking and account monitoring. These features can be very useful if you want to keep an eye on your money and manage it from anywhere.
Once you have researched and found the right account, it's time to open your savings account and start making deposits. The steps for opening an account will vary depending on the bank but are usually quite simple.
How to Set Up a Savings Account
Going through how to open a savings account is one of the most straightforward banking processes offered. Here are the steps you need to take:
Choose a Bank or Credit Union – The first step is to choose an institution that offers savings accounts. Make sure to research different banks and compare the features and fees each one offers. For example, you may want to open a savings account at a bank near you to easily access your money in person.
Fill Out an Application – Once you have chosen a bank, the next step is to fill out an application. This may include providing personal information, such as your name, address, and Social Security number. You will also need to provide proof of identity and possibly a copy of a recent utility bill or other proof of residency.
Add Funds – The last step is to provide funds for your savings account. This can be done by depositing cash or transferring money from another bank account.
Once you have completed these steps, your savings account will be set up and ready to use! You can start making deposits and earning interest on your money right away.
How to Maintain Your Savings Account in the Future
Once you open a savings account, it is important to stay on top of your finances and make sure you're getting the most out of your account. Here are some tips to help you maintain your savings account:
Set Financial Goals – Establish goals for how much money you want to save each month. This will help keep you motivated and on track with your savings.
Make Regular Deposits – Make sure to make regular deposits into your savings account. Even small contributions can add up over time and help you reach your financial goals. Pick an account that accepts direct deposits if you want to automate your savings.
Check Your Balance – Be sure to check your balance regularly and ensure there are no discrepancies or errors. This will help ensure that you earn the maximum interest on your money.
Review Fees & Interest Rates – Review the fees and interest rates associated with your account periodically. It's important to understand how any changes in the rates can affect your savings.
Keep Your Account Active – If you don't use your account regularly, it could be subject to fees or closure. Be sure to make regular deposits to keep the account active.
Can You Get a Loan From a Savings Account?
Yes, it is possible to get a loan from your savings account. However, this will generally depend on the bank, and the type of savings account you have.
Some banks offer loans that are secured by the money in your savings account. In this case, you can borrow against your savings without withdrawing any funds, and the loan will be repaid with interest.
It is important to remember that taking out a loan from your savings account can have both advantages and disadvantages.
On the one hand, it allows you to access funds in an emergency without liquidating other assets or investments. However, it can also put your future savings at risk if you cannot repay the loan.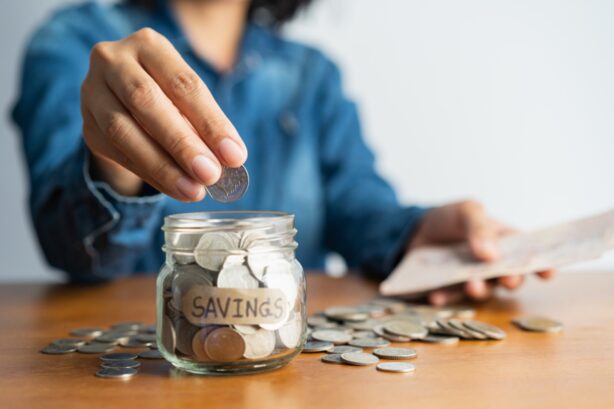 Setting up a savings account is relatively simple and can be an important part of your financial security. But, researching the different banks and considering their fees and interest rates before opening an account is important.
Additionally, maintaining your savings account by making regular deposits, checking your balance regularly, and reviewing fees periodically is essential for taking advantage of all its benefits.
You may be surprised by just how quickly your money starts adding up!